Big And Melty: 8 All American Cheeseburger Recipes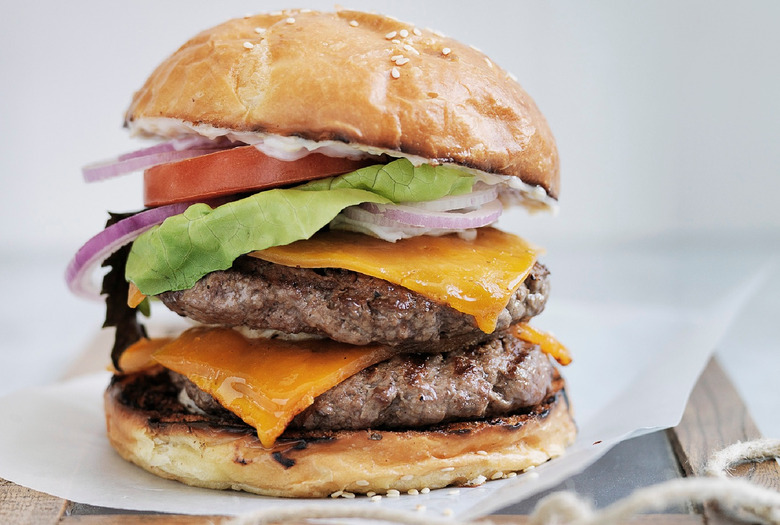 Grilling season is alive and well, and that means you're grilling burgers. So get familiar with our essential patty-forming trick and check out these recipes for a carefully curated selection of the burgers that have sustained us through the grilling months for years. See that double cheeseburger? It's as good as it looks, only better.
Recipe: Roy Choi's Los Angeles–Style Double Cheeseburger
For many Korean-Americans and Southern Californians alike, Roy Choi is a hero. With his empire of taco trucks, called Kogi, he was an innovator in the use of social media. Who would have thought Twitter could bring 150 hungry people to a supermarket parking lot? Choi invented that. Ever eaten a Korean short rib taco, an appealing mashup of Asian and Mexican culinary common sense? Choi invented that. Here's a double cheeseburger recipe from the L.A. chef that features a bit of Asian flair.
Recipe: Fried Onion and Jalapeño Bison Burger
In addition to being home to a rapidly growing restaurant scene, Nashville is host to some pretty great burgers, too. In my four years in the city as a college undergrad, I hit up local spots Pharmacy Burger Parlor and Burger Up almost weekly. Though difficult to pick just one, this bison burger from Burger Up is one of my all-time favorite patties. Health nuts even get to justify eating it by saying it's "lean meat." We'll look past the fried onions and jalapeños, obviously. —associate editor George Embiricos
Recipe: Harlem Shake's Classic Cheeseburger
Though named after a popular Internet meme from 2013, the Harlem Shake is anything but a fad. That is, if you ask Jelena Pasic, the owner of Harlem Shake, a restaurant that embraces the Harlem of old, bringing high-quality, affordable fare to local residents and visitors alike. "Our burgers are great because we pay special attention to the quality of meat and the mix of cuts that we use," she says. We asked Pasic for her unique recipe that includes a blend of sirloin, chuck and brisket (though you're fine to use one or the other).
Recipe: Beef Tartare Burger
We love the New York Times food section, so we picked up a copy of The Essential New York Times Grilling Cookbook, with recipes from the past century (or so) of outdoor cooking. All your favorite authors contributed recipes, but we're crazy about this beef tartare burger from Mark Bittman's The Minimalist for the Grill: Burgers Beyond the Basic.
Recipe: Blue Cheese Stuffed Burger With Zin-Onion Marmalade
Sweet onions cooked in Zinfandel — hard to top this as a topping for a burger. For all its rich, complex flavor, this marmalade is fast and easy to make. The combination of blue cheese and Zin onions makes this one of my favorite burgers. Serve with a good Zinfandel. (Duh.)
Recipe: Beer and Bison Burgers
Bison, beer and a garlicky cheese spread add up to something special, but this recipe is also delicious when made with beef.
Recipe: The Husk Cheeseburger
When I opened Husk, I knew we had to have a cheeseburger on the menu. Everyone has their own idea of the perfect burger; mine was inspired by the drive-in that my family used to take me to when I was young. Robo's was the only real "restaurant" in my hometown, and my family just loved it. We would go there after my Little League baseball games. As a game wound down, I would be daydreaming about that burger, shake and crinkle-cut fries. It's probably the reason for some missed fly balls.
Recipe: Burgers With Caramelized Onions And Jalapeño Relish
If I'm going to eat a burger, it had better be worth it. So I decided to give the all-American classic an update by adding a bit of spicy chorizo and topping it with my zesty caramelized onion and jalapeño relish and a red pepper mayonnaise. When I'm asked what I'd eat for my last meal, this burger would definitely be on the menu.