What a hospitality professional chooses to make for family members speaks volumes. You might experience a rendition of an old family favorite recipe on the menu at their restaurant, but what they plate at home is more time-tested than any daily special. These recipes are what inspire them to cook at home, even when they've served others all day.

We asked three of our favorite industry experts to share their favorite family recipes, and what sharing a meal means to them. While each has a very different backstory, they all have one thing in common: wine. Wine is a vital part of the cooking and socializing experience, and a bottle of full-flavored, easy-to-drink J. Lohr Estates Seven Oaks Cabernet Sauvignon makes for an easy and delicious wine and food pairing every time.

Chef Zachary Stapelman of Chadwick's in Brooklyn, New York, summed it up best: "When you have the whole family together for hours at a table with a nice glass of red wine, it's such a time to feel loved and to share."

We're excited to share a few thoughts from these extraordinary individuals on what creates memories around the recipes they'll serve at home for the hundredth time this year. 
Chef Zachary Stapelman
Works at Chadwick's in Brooklyn, NY
"'Home' to me really means family, because wherever they are, that's home," offers chef Zachary Stapelman of Chadwick's in Brooklyn.
In the kitchen of this charming Bay Ridge restaurant, he's created a menu built around classic Continental American cuisine. You'll find hearty porterhouse and T-bone steaks, a variety of seafood and a myriad of other dishes that pair perfectly with another American classic, J. Lohr Estates Seven Oaks Cabernet Sauvignon, which is a staple on the restaurant's wine list.
Stapelman is a hometown boy, born and raised in Brooklyn, and for the last of many family gatherings, he's prepared his own version of a recipe handed down from his grandmother. It's known in the house simply as "flanken." Flanken designates a cut of the rib that's historically cheaper. It has heavy marbling and a tendency to be tough, making cooking via a "long and slow" approach best.
"My grandma made a thinner cut of short rib with a little bone still attached, and she would braise it," Stapelman says. "I've adapted it and do a thicker cut with no bone. I still do her braise – beef stock, onions, carrots, celery, fresh oranges and oregano — but I serve it over a wide noodle like a pappardelle topped with the beef, butter, peas, mushrooms and cream."
A great Cabernet Sauvignon plays to both the conversation in the living room and the cuisine created at Stapelman's home.
"My grandmother would put red wine in her flanken at the end," he says. "As I have gained a better palate, my wine ratios have changed. I now make a red wine reduction to concentrate that pungent flavor. Sometimes I use a port, but I prefer a Cabernet."
Another ace in the hole for this dish is the fact that you can "set it and forget it," Stapelman laughs. "It takes roughly half an hour to prep, and that's it. You can then enjoy chatting with guests — and, of course, a few glasses of wine."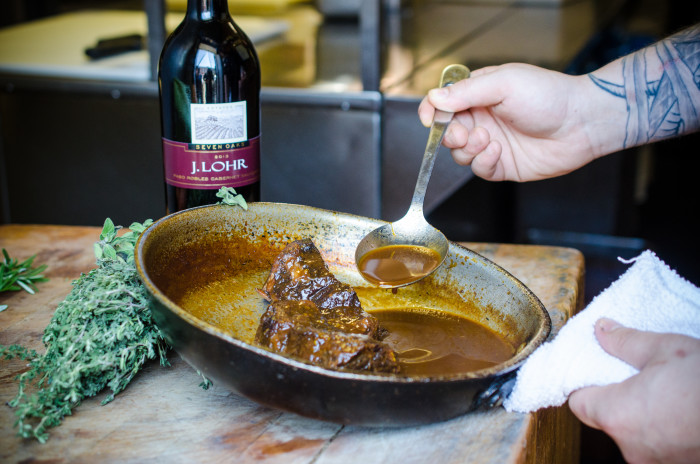 Cabernet Braised Short Rib Over Pappardelle
Courtesy of Zachary Stapelman
Serves: 5
Ingredients
4-5 pounds of short rib or boneless chuck short rib (depending on desired portion)
General recipe requires cooking oil, water, salt, pepper, and chives finely chopped for garnishing
Braise
1 orange, roughly sliced
1 onion, roughly chopped
1 head of celery, roughly chopped
1 large carrot, roughly chopped
7 cloves of garlic, crushed
Bouquet garni of your favorite herbs — I use fresh oregano, thyme, sage, and rosemary
2 tablespoons of tomato paste
2 quarts of beef stock
1 750-ml bottle of J. Lohr Estates Seven Oaks Cabernet Sauvignon
Pasta
2 packages of pappardelle
2 cups of chopped mushrooms
1 cup of peas
1/4 pound of butter
Chopped garlic
Picked thyme
Sour cream
Directions
Cut short rib into 12- to 15-oz. portions considering that each portion will shrink roughly 2 to 3 oz. during cooking process
Set aside ½ cup of wine and gently reduce the remaining wine in a small pot by around 80% until it becomes almost syrupy and viscous. You will know it's ready when it sticks to a spoon. While wine is reducing, in a separate large Rondeau or Brazier, begin your braise.
Turn on the flame and get the pot very hot, then add vegetable oil or canola oil. When pan is smoking slightly, add your mirepoix (carrots, onions, celery, garlic, and orange).
Roast in pan until caramelization occurs. The veggies will be getting brown and roasted. Add your herbs and stir them into the veggies. The herbs will crackle loudly at first; that is the moisture leaving them. When the crackling begins to soften, add the tomato paste and stir in, cooking for 1-2 minutes. Deglaze the pan with the ½ cup of wine to get the sauce from the pan. Add the beef stock, then add the wine reduction and stir it in. Turn down the flame after deglazing and slowly bring the braise to a simmer.
While the liquid heats, sear the meats!
Season the short rib with salt and pepper on all sides and sear all sides in a hot pan using vegetable or canola oil. As the meat is seared, you may add it to the liquid. Once all the meat is in the pot and the liquid has simmered, carefully place in a preheated 300-degree oven for 3-4 hours.
*Make sure all the short ribs are fully submerged in the liquid. If the liquid does not cover them, add water until they are covered.
When the time has elapsed, pull out the short ribs, allowing them to rest at room temperature. Strain the braise liquid through a fine strainer to remove sediment and reduce the strained braise liquid by 50% at a rolling boil. At home I like to cook the pasta in the braise while it reduces; the starch from the noodles will help to thicken the sauce as well.
Place the pappardelle in a pasta basket and cook it in the reducing braise liquid. Oil the pasta and set aside.
Set aside 1 qt. of braise liquid and place the short ribs back in the remaining liquid, reducing the rest until viscous and dark. Occasionally baste the short ribs. In the final pan sauté the mushrooms until roasted on one side. Add garlic and thyme, add 2 cups beef stock and 1 stick butter. Boil to a glaze, then toss in peas and pappardelle. Serve pasta with short rib on top. Spoon the reduced braise liquid over the short rib. Garnish with a small dollop of sour cream and chives.
Optional: Whip the sour cream with a touch of honey, chives, parsley, zest of one orange, zest of one lemon and salt and pepper to taste. Refrigerate before garnishing.
Pair with J. Lohr Estates Seven Oaks Cabernet Sauvignon and enjoy! 
Executive Chef/Co-Owner
Pino Coladonato
Works at La Masseria in New York City
"Every time we sit down at the table, it's a celebration," says Pino Coladonato, executive chef and co-owner of NYC's La Masseria. "My wife is a great cook. There's a harmony to cooking in a house. Everything is beautiful if you are doing it for kids or guests."
During the holiday season, this couple cooks for days. The morning typically starts at 6 a.m. to prepare a meal that will feed more than 40 family members and friends.
"I'm now two years into officially being an American citizen," Coladonato says. He moved to the U.S. from Puglia, Italy, back in 1979. "When I first came here, it's not that I didn't celebrate holidays, but once you have a family and kids, Thanksgiving, for example, becomes really something special," notes Coladonato. His European upbringing always influences what he prepares for friends and family. "We do a big turkey, but also a fried artichoke. It's a mix of Italian and American on the menu."
And for the Coladonato family, no table setting is complete without wine. "Being from Italy, anything goes with red wine. In the south, where I'm from, we drink a heavier red. But I like a California Cabernet for the flavors. When you drink it, it's really a pleasure — something special," says Coladonato.
A staple dish for Coladonato, which harkens back to the motherland, is based around veal and pasta — two ingredients that pair well with red wine and create a decadent dish that's perfect for entertaining. Chef Coladonato shares a recipe below that is family-approved, with nuanced flavors from the salty Parmesan melting on top to the herbaceous, fresh basil mixing with the fat of the veal hidden inside the pasta, creating a savory crowd-pleaser that's steeped in tradition.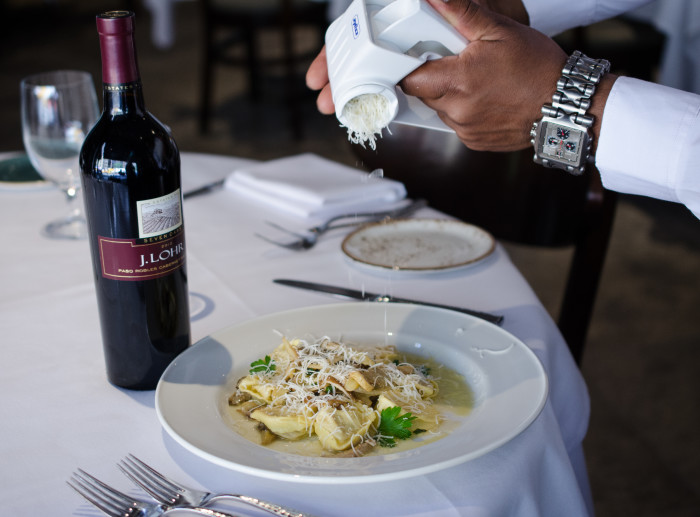 Agnolotti Piemontesi
Courtesy of Pino Coladonato
Serves: 3-4
*Note- This a "Nonna" (grandmother) recipe handed down through the family. All ingredient quantities are suggestions; there are no written rules.
Ingredients
12 ounces fresh egg pasta
8 ounces of veal shoulder
¼ cup carrot
¼ cup onion
¼ cup celery
One clove garlic
Fresh rosemary (couple sprigs)
Fresh sage (couple leaves)
1 pound mixed mushrooms (shiitake and oyster mushrooms work well)
¼ cup veal jus
Parmigiano (to taste)
Extra-virgin olive oil (for cooking)
J. Lohr white wine (splash, for cooking)
Pasta
2 cups durum flour
3 eggs
Pinch of salt
Special Equipment
Pasta roller
Pastry (bench) scraper
Pastry cutter, optional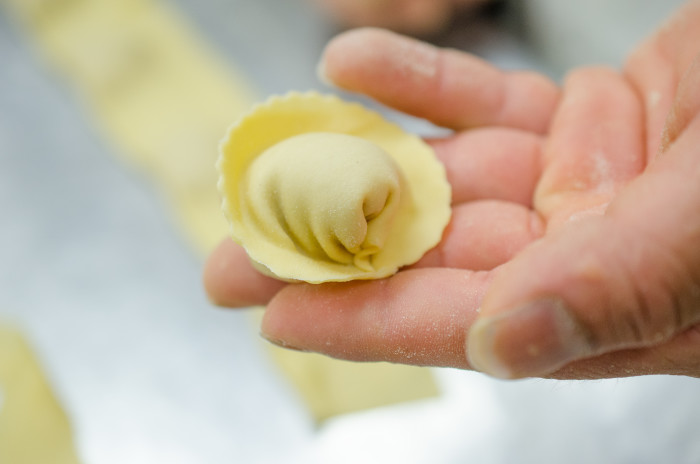 Directions
Pasta
Put the flour in a mound on a clean work surface and make a well in the middle that's large enough to hold the eggs. Break the eggs into the well and beat them lightly with a fork. Use the fork to draw the flour into the egg mixture slowly, moving in a circle around the inside rim of the well. Use your other hand to support the flour wall and keep the eggs from running out onto the surface. When enough flour has been mixed into the eggs so that they are no longer runny, put down the fork and use your hands to gather everything into one mass. Knead gently until a soft dough is formed, adding just enough flour if necessary to hold it together. Lightly flour the dough and set it aside.
Use a pastry scraper to clean the bits of dough and caked flour off the work surface and discard it. Wash and dry your hands. Flour the clean work surface. Knead the dough, gradually adding more flour if needed, until it is smooth and elastic, 8 to 10 minutes. Flatten the dough into a disk and wrap tightly in plastic wrap. Let rest for 30 minutes to hydrate.
Meanwhile, line 2 baking sheets with parchment paper or clean kitchen towels and sprinkle with flour.
Unwrap the dough and divide into 4 pieces. Work with one piece at a time, rolling and filling it before moving on to the next piece. Lightly flour the remaining pieces and keep them wrapped in plastic wrap until needed.
To roll the dough, set the pasta machine rollers at the widest opening and feed the piece through. Fold the dough, flatten it with your fingers, and feed it through the same opening again. Do this 6 or 8 times, flouring the dough if it becomes too sticky. This process will knead the dough and get it ready for stretching it thin.
Move the rollers to the next setting and feed the dough through, without folding, one time only. Continue to feed the dough through the rollers, moving one notch at a time, until the last setting has been reached and the dough is as thin as possible.
Place the long sheet of dough on a lightly floured work surface in front of you. Arrange teaspoonfuls of the filling in a single row along the pasta, about 2½ inches from the top edge. Leave about 1½ inches between each mound. Fold the dough up and over the filling, enclosing it, and cut in ½ moon shape. You can use a knife or a pasta cutter. Twist the two ends of the moon around the finger and pinch together to form the agnolotti.
Set the agnolotti on the baking sheet as finished. Repeat the rolling and filling until you run out of pasta or filling.
Filling
Preheat oven to 325 degrees. Place in a baking pan the veal, carrot, celery, onion and rosemary. Season with salt and pepper. Roast for about 20 minutes or until the veal is cooked through. Finely chop everything all together and add Parmigiano cheese to taste.
Sauce
In a large nonstick skillet, sauté olive oil and garlic until golden. Place sliced mushrooms, rosemary and sage. Season with salt and pepper. Make the mushrooms happy with some white wine and veal jus.
For Serving
Bring a large pot of salted water to a boil. Boil agnolotti for 3 minutes in salted water, working in batches if necessary. Drain the agnolotti and transfer them to the skillet with the sauce in it. Set the skillet over low heat, swirling the pasta in the pan to coat. Transfer the pasta to plates, drizzling any extra sauce over. Serve immediately with additional grated Parmigiano.
Pair with J. Lohr Estates Seven Oaks Cabernet Sauvignon and enjoy!
Wine Buyer
Staghorn Steakhouse in New York City
Thick curtains hang over the exterior windows. The facade is black and sleek. You enter and the noise, congestion and chaos of midtown Manhattan's fashion district falls off like a command to hush. The room is grand, long and amber-lit. The jewel of it exists in the very back, a glass-enclosed wine room just before the kitchen door. Here is where J. Lohr Estates Seven Oaks Cabernet Sauvignon has been stocked, poured and paired since the steakhouse opened its doors in 2006.
When discussing with Staghorn's wine buyer what he likes to eat and drink when not at the restaurant, what might surprise you is that it's not a steak. In fact, one of his favorite dishes, served at the restaurant and perfect for entertaining at home, is a Chilean sea bass, atop a red pepper emulsion with shiitake mushrooms, paired with Cabernet Sauvignon. "At home I might cook using a number of red wines, but if I'm planning on cooking and drinking while I cook, then I certainly prefer a Cabernet Sauvignon, and so do my guests," he says.
"There's no written rule that you have to have a white wine with fish and red wine with a steak," he laughs. "What? You do that because someone in Europe said so 200 years ago? Drink what your palate wants." Good advice from a man who knows how to impress guests with perfect pairings, whether at work or at home. One tip he offers up: "I think if you're going to pair a fish with red, it's best to choose a fish that you can grill – a swordfish, tuna or sea bass – so you get that nice char on the meat, like you would with a steak."
Wine takes center stage at any meal, and for him there's a deep penchant for California's liquid bounty, especially the Paso Robles area in particular. It's charmingly ironic, given that he hails from Europe.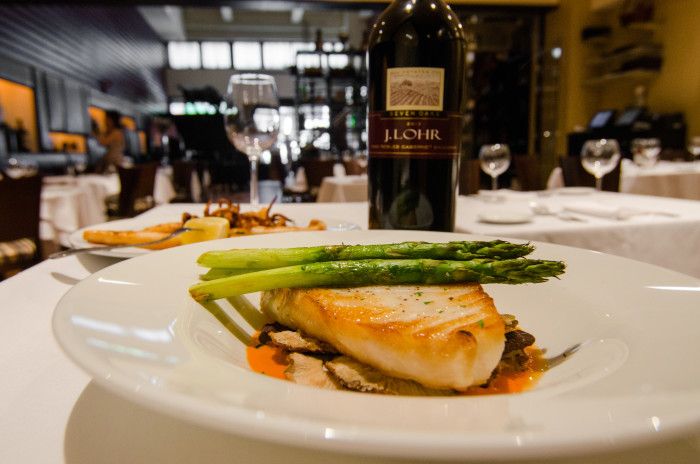 Pan-Seared Chilean Sea Bass
Courtesy of Jimy Cruz
Serves: 4
Ingredients
4 fillets of Chilean sea bass (10 ounes)
12 large asparagus spears
1 pound shiitake mushrooms
Salt and ground black pepper, to taste
Italian parsley, chopped for garnish
Red Pepper Emulsion
2 red bell peppers
1 cup vegetable oil
¼ cup extra-virgin olive oil (EVOO) plus more to cook with
2 tablespoons rice vinegar
1 teaspoon chopped garlic
Salt and ground black pepper, to taste
Directions
Asparagus & Mushrooms
On a metal plate, season asparagus and mushrooms with olive oil and black pepper. Roast in the oven at 350 degrees for about 5 to 8 minutes.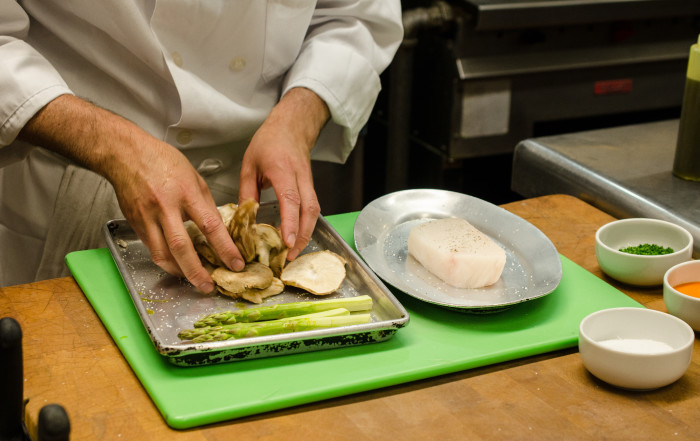 Sea Bass
Season the sea bass with salt and black pepper, add to a medium-hot pan on stove and cook for about 2 minutes (or till golden brown) and then flip over for 1 minute. Transfer sea bass to an oven at 350 degrees and roast for about 5 to 8 minutes.
Red Pepper Emulsion
Roast the two red bell peppers, clean and remove the seeds. In a small pan, slowly roast 1 teaspoon of chopped garlic with EVOO. In a blender combine bell peppers, garlic, vinegar, vegetable oil, EVOO and salt and pepper to taste. Blend for one minute.
Place sauce on the bottom of the platel place bass on top with asparagus on top of bass. Add chopped parsley.
Pair with J. Lohr Estates Seven Oaks Cabernet Sauvignon and enjoy!
---
The 2014 J. Lohr Estates Seven Oaks Cabernet Sauvignon is dark in color with a bright hue at release. Layered fruit aromas of cherry and plum are accented by an authentic barrel bouquet of hazelnut, dark chocolate and toasted pastry. Sturdy tannins strike the palate and finish with the high-toned fruit signature that typifies the Paso Robles appellation and make it the perfect accompaniment to the three recipes above.