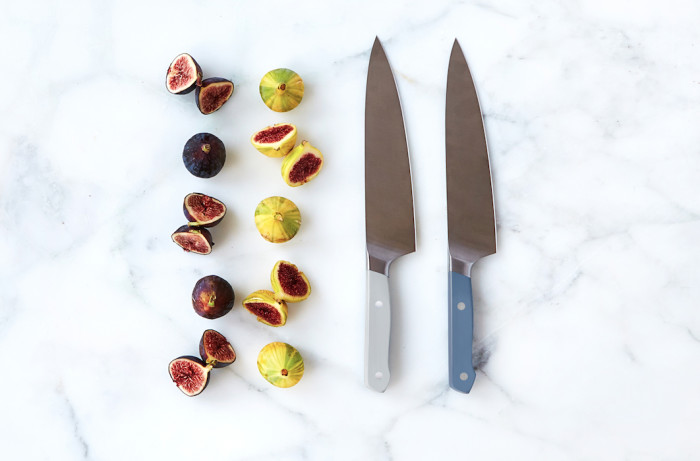 As an avid cook, gadget enthusiast and general nerd, I have a few closely held beliefs about cooking. Most of them revolve around how I prefer my tea, bourbon and sandwiches, but I also have strong convictions about my kitchen knives. Carbon steel or stainless? Japanese craftsmanship or German heritage? Ergonomic and counterbalanced handles? Ultimately you should pick the knife that works best for you and maintains a sharp edge. If that happens to be a neon pink santoku knife (preferred weapon of FR senior editor and test kitchen director Jess Kapadia), then I'm not one to judge.

As for me, I prefer a long-bladed, wood-handled chef's knife, at least eight inches long, composed of a blend of carbon and stainless steel. Decorative blade etchings, overwrought handle design, and trendy packaging are all strictly forbidden. Mature, well-conceived knife-making should foreground materiality and craftsmanship over kitschy design and innovations du jour. However, this isn't to say that modern techniques and materials aren't welcome. The ideal knife should do both: It should balance the rich legacy of the craft with modern advancements and chic design choices.

I tested three of the newest knives about to hit the market, all of which leverage advanced technology and modern production methods to improve and differentiate their product. All are entry level and priced to be accessible to home cooks, so you won't find expensive, bespoke pieces here. In fact, their modest price tags are part of their core argument: You don't need to spend silly amounts of money to get a reliable product worthy of a professional kitchen.

For a few weeks, these knives replaced those in my personal arsenal. They broke down countless birds, chopped mirepoix and minced herbs. All performed admirably, but since it's August, I decided to throw down the gauntlet and pit each product against the only true barometer of a great knife: a ripe summer tomato.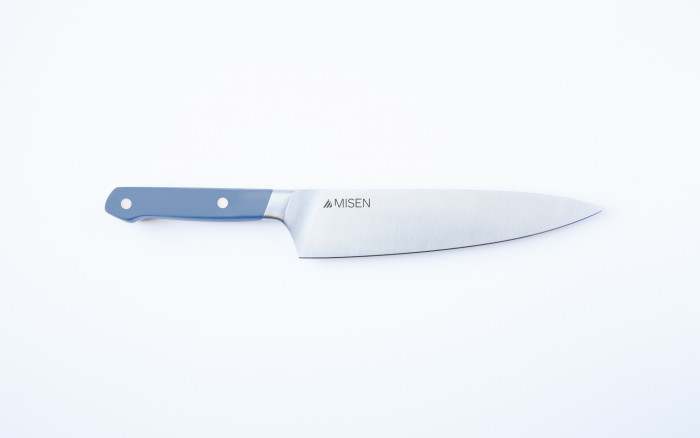 Misen
This knife was heavily lauded by the editors of Serious Eats for delivering superior performance through its straightforward design. There is no fancy business here. Instead of reinventing knife-making, which Misen argues is unnecessary, the manufacturers have rethought the distribution process. Distribution is expensive, and those costs are passed down to the consumer, resulting in higher retail prices. By using crowd-funding platforms like Kickstarter and selling its knives direct to the consumer instead of through third-party retailers, Misen is able to provide pro-caliber knives at a fraction of the cost.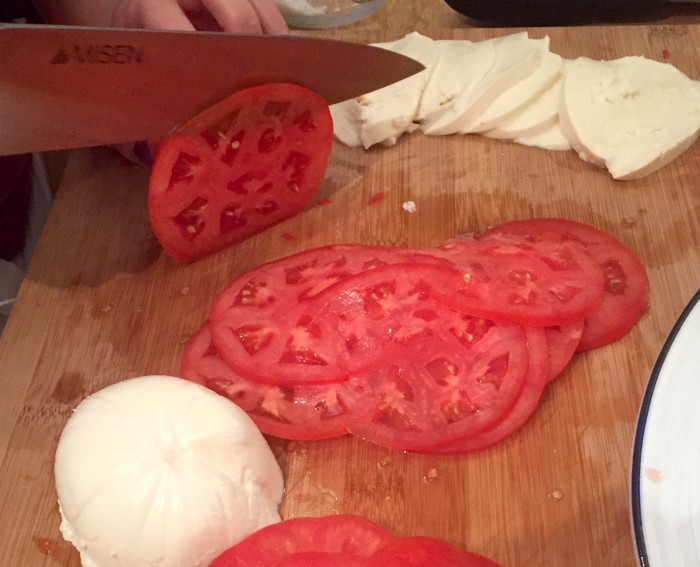 The knife itself is very similar to classic European design from brands such as Wusthof, with a few subtle improvements. Most Western-style knives have blade angles between 20 and 25 degrees. Misen's knife features a 15-degree blade, making for a sharper edge, a savvy decision that is noticeable during use. The bolster (where the blade meets the handle) slowly slopes to create a finessed, easier-to-grip transition from handle to blade. The design is smart and modest, lacking in flair but delivering on performance. Misen knives also come with free mail-in sharpenings, a thoughtful perk for those accustomed to toting knives to a sharpener and doling out $20.
Tomato Sashimi Grade: 8.5/10. This was the best knife of the three against the tomato. The long, slender blade created clean, even slices. The sharper edge was noticeable, too. The blade broke through the skin without a hitch. I wasn't able to get paper-thin pieces, but the Misen came the closest. 8-inch Chef Knife, $65; available for preorder at misen.co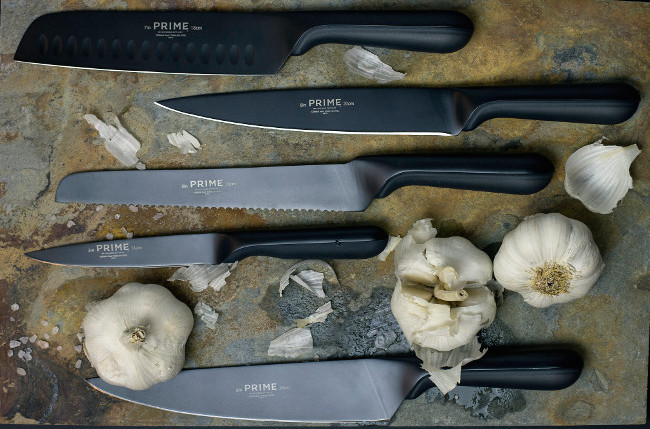 Prime by Chicago Cutlery
This knife is composed of stainless steel and coated in black oxide, making it the most aesthetically pleasing of the bunch and a refreshing departure from the commonplace steel and silver options. It also boasts a "Responsive Touch Technology grip," a term I assume the marketing team drafted when referring to the gel grip on the underside of the handle. The knife has a low-profile, thin bolster, which makes it slimmer and lighter to wield. For home cooks with novice knife skills, this is a great option because it's not intimidating, light and easy on the eyes.
Chicago Cutlery, on the whole, is positioned as an economy brand; however, the new Prime line is a nicely executed, understated foray into a higher-end product range. The matte black finish could easily have been a tacky failure, but instead it's a bold, appreciated design move. The thoroughly standard 26-degree blade edge was adequately sharp, as you'd expect from any brand-new knife, although I did need to resharpen after a full day's initial use. I didn't find that the "ergonomic" handle added anything to the experience, although for someone new to the kitchen, I can see how the softer grip would offer more stability and comfort.
Tomato Sashimi Grade: 7/10. The Prime wasn't as sharp as the Misen; there was a minor hesitation pushing through the tomato skin. I wonder if a little extra weight in the knife might have helped drive downward motion. Overall, a fine performance for the price. 8-inch Chef Knife, $89.99; available October 2016 at chicagocutlery.com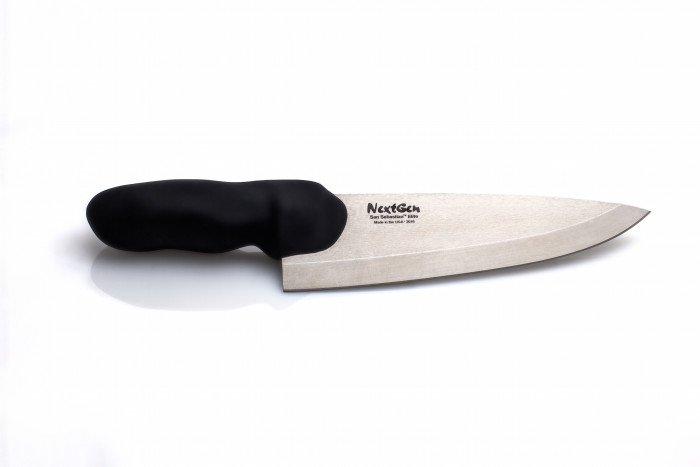 NextGen Knives 
NextGen uses 3-D printing technology to create silicone knife handles molded to left- and right-handed users. The handles are highly unconventional in appearance, like handfuls of Play-Doh that have dried into place. The result is a knife unlike anything on the market, often spurring extreme reactions. The team behind this fledgling brand knows it has a controversial product: Users either love it or hate it. The molded handle is either comfortable and conducive to chopping/slicing, or feels too foreign and interferes with it. The unique handle could easily feel like a cheap novelty, but much to my surprise I acclimated to the grip quickly and found it provided increased control, especially when working with dense or fibrous foods.
At three times the price of the Misen knife, the NextGen was by far the most expensive I tested, but it shows in the construction. The blade is thick and sturdy, like the offspring of a chef knife and a meat cleaver. It features a 17-degree edge, the second-narrowest of the group by only 2 degrees. In terms of brute efficiency, it was the most adept of all the knives, breezing through chicken bones and stubborn root vegetables without breaking a sweat…but how would it handle the delicacy of a tomato skin?
Tomato Sashimi Grade: 8.5/10. The NextGen proved too bulky to create the super-thin slices I was going for; however, it did withstand the heaviest amount of use before its initial sharpness started to fade. The grip also made it easier to get clean, even slices as the tomato whittled down to a small nub. 8-inch Chef Knife, $179.99; available now at nextgenknives.com
Verdict
I didn't have space in my kitchen for three new knives, so my friends snatched up the pieces (which is often the case when I test any new product). This time around, the dispersal acutely reflected the qualities of each knife itself — an observation worth sharing.
The Misen knife was taken by a friend who had no kitchen knife at all. In need of a reliable workhorse, the Misen piece was perfect. A low-maintenance tool with straightforward design and free sharpenings, it's the ideal springboard for building at-home culinary skills.
The Prime knife was immediately adopted by an amateur cook as an upgraded replacement to her existing entry-level piece. As suspected, she liked that the knife was light and slender. She preferred the chic appearance to her boring stainless option and wasn't intimidated by it, as she is with bulkier, larger knives that seem "too pro" for her. She is a novice cook but works at it regularly and is anxious to improve, so the knife was the ideal next step.
As for the NextGen, I scrapped my knife block and invested in a magnetic strip, which made just enough space for one more knife — so consider it the winner of this contest. I shocked myself that I kept it, but it makes a fantastic complement to my Japanese steel (yes, I'm that person who uses a handmade blade at home). It will be my new default for roasts, root vegetables, and powering through pounds of mirepoix for Sunday Sauce.
Author's note:
VMatter LiquiDiamond (revisited)
I tested the earliest version of this knife last summer, but for the purposes of this article, I retrieved it from my block. In the one year I've owned this knife, I've never sharpened it. This was the result of equal parts laziness and negligence. Yet I was curious. How would this knife, whose primary thesis was that it didn't need to be sharpened often, hold up against new products fresh out of their packaging? It was an unfair experiment, but I proceeded anyway.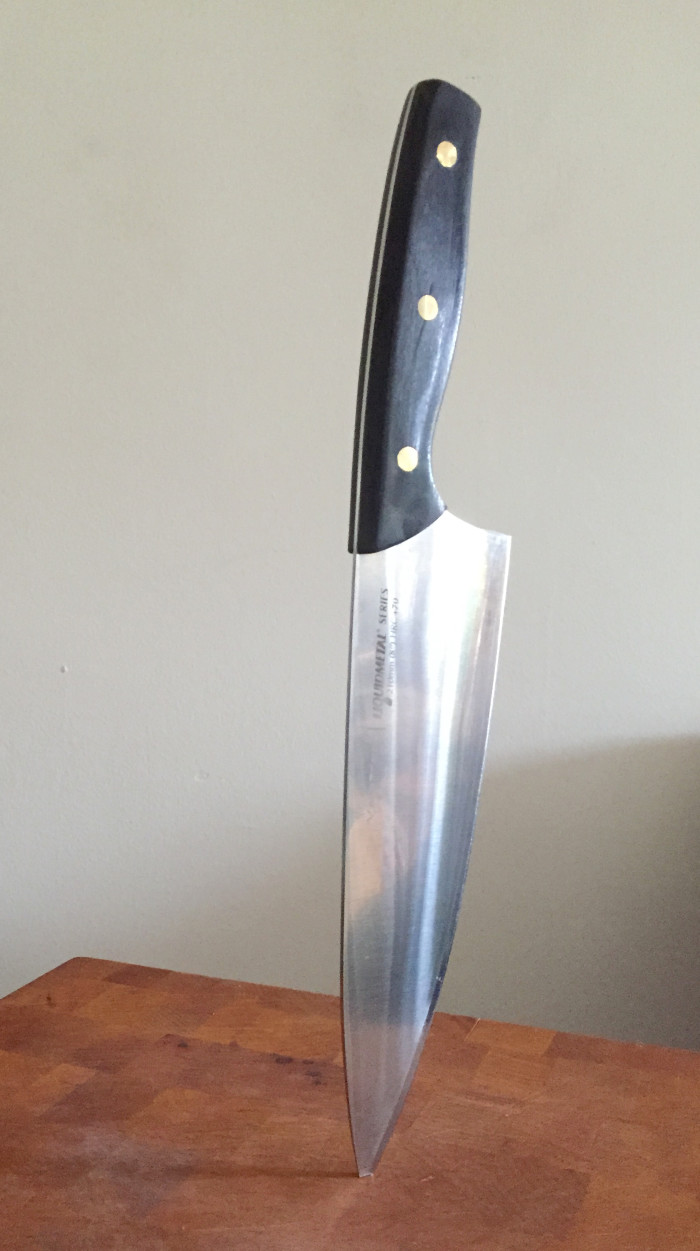 My expectations were low. Perhaps that is why I was so surprised? The knife hiccupped at the tomato test, as any unsharpened knife would. The tomato was bruised and slightly smashed because of the pressure required to break through the delicate skin. But I've certainly used worse, and for a knife long ignored, it performed better than anticipated.
This new wave of knife-makers are giving European incumbent brands a much-needed shot of adrenaline. There is a renewed, fierce competition for market share, and I can't wait to see where the next cycle of innovation takes us. Knives made from sea snails, anyone? 8-inch Chef Knife, $49.99; available at vmatter.com