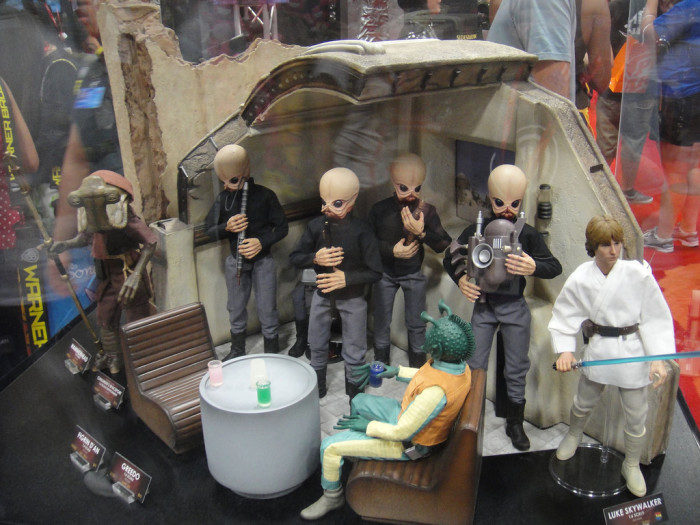 So many things to get excited about! Star Wars nerds and cookbook geeks can all rejoice. Want a new way to get your nutritional facts? Sage Project has you covered. Looking for a new alarm clock? Particularly one with a very sharp-sounding ringer? Read on!
This is the themed pop-up you've been looking for
Attention, all fans of George Lucas's saga about galaxies in turmoil: The land of glitz and glamour will be home to the Scum and Villainy Cantina this holiday season. According to the Nerdist, the Star Wars­–themed pop-up in Hollywood will dish up food and drink for all the nerdy fans. A reservation at the Cantina will include two drinks, a Scum and Villainy challenge coin, a souvenir glass, a two-hour visit and more. Walk-in customers will only be admitted from 11 p.m. to 2 a.m. If the Cantina is everything your little Star Wars–loving heart could ever imagine, you can use the challenge coin to return during walk-in hours for free. Reservations open on the Cantina's site next week, the Nerdist reports.
The new and improved nutrition label
The food label has been revamped, but that wasn't enough for Sage Project. The startup website has created over 20,000 personalized nutrition labels for fresh and packaged foods, according to Wired. The site's goal is to make it easier for people to know what they're ingesting in terms of nutrients, calories, ingredients and allergens. Each food's page also includes its native origin, an exercise equivalent and an animated GIF of a chocolate bar or pear doing that exercise. The smartly designed site is eye-catching, definitely, but will users be diligent in checking the facts on what they're consuming if it's not already attached to the packaging?
This is how photographers cooked in the 1970s
Nothing tickles us more than a vintage cookbook, and while they all can't be Julia Child's Mastering the Art of French Cooking, a myriad of photos attached with quirky recipes from photographers is just as pleasing. The Photographer's Cookbook was collected as something that kept a bored assistant museum registrar busy in 1977, NPR reports. Submissions from photographers of all calibers were included in the cookbook. Recipes including "two four-minute eggs" submitted by Ralph Steiner, known for pioneering the documentary scene (to cook, "'watch one's watch watchfully for 240 seconds' after dropping eggs into the hot water"), and Neal Slavin's portrait of hot dogs dressed in all different sorts of toppings fill the pages.
Wake up and listen to the sounds of a knife chopping!
There's nothing like waking up to the sounds of somebody else making breakfast. Some, like Japanese company Nanka, love the concept so much that they've created an alarm clock that wakes sleepyheads with the sound of a chopping knife and a "mister for your morning cup of miso," according to RocketNews 24. The Jikkalarm comes in two modes: Mom (faster pace) and Newlywed (clumsy and slower), because single people apparently can't be as skilled as mama. The alarm clock is not yet on the mass market but premiered this year at Maker Faire Tokyo.