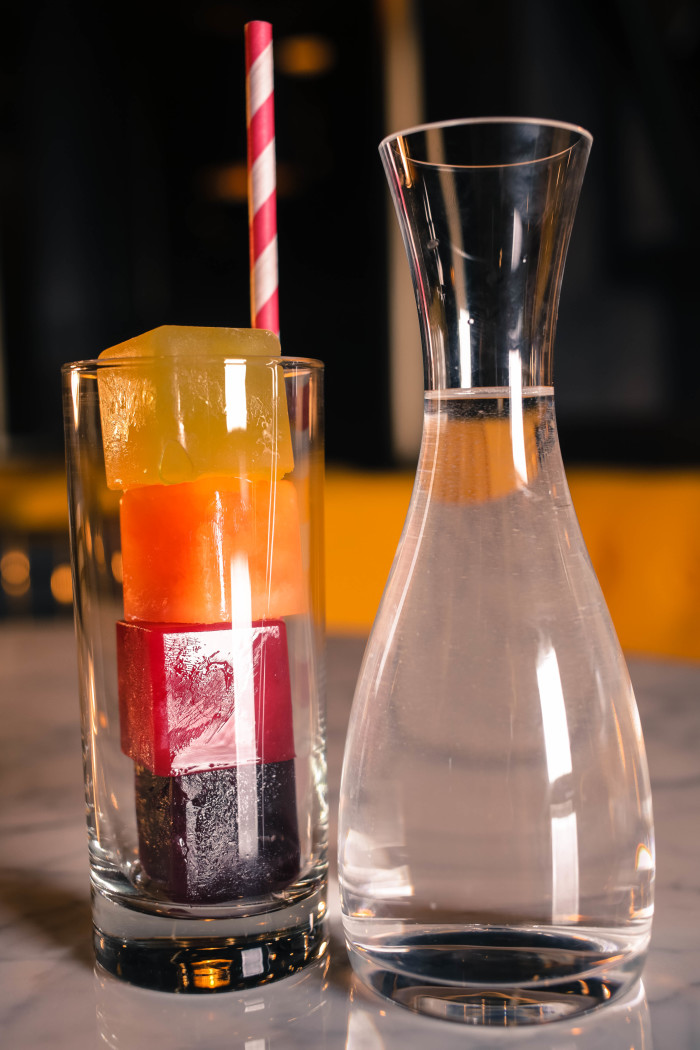 Not all Trix are for kids — at least, not the kind offered at the Sixth in Chicago. "In creating our menu, we were constantly thinking of ways to lighten up the mood and make things a little more whimsical," says beverage director Benjamin Schiller. The team reveals such know-how in cocktails like the Silly Rabbit, a highball of Ford's Gin, fresh lemon juice and a mint tincture that is built over four stacked ice cubes in the most prominent flavors — yes, flavors — of Trix cereal: Orangey Orange, Grapity Purple, Lemony Yellow and Raspberry Red.

The cocktail may seem like fun and games, but make no mistake — it took months to perfect. "When you're making a cube that's essentially a syrup, you have to be precise in balancing the sugar and water content and ensure the flavor is on point, too," says Schiller, whose team called upon a refractometer for ratio precision. But there's more: The staff also had to hunt down the serving essentials, from the perfect ice molds and side carafes to glassware of the appropriate diameter for those can't-miss cubes.

The Silly Rabbit is just one example of how Schiller and his team keep things casual at their uptown bar. Others include the Saturnus (an aquavit and brandy sipper garnished with a Swedish flag and Swedish Fish candy) and the Calvin & Hobbes–inspired Spaceman Spiff (a cone-shaped vessel of mezcal that covers a bowl of cedar and citrus smoke).

"We're seeing precision and skill at a lot of cocktail bars lately, but too often people use that as an excuse to be pretentious, which totally goes against the basics of hospitality," notes Schiller. "We really care about the details here, but the guest doesn't have to see all the serious work we put into it — we're happy when they can just see the end product and enjoy themselves."

Across the country, bartenders like Schiller are showing their more playful side by mixing childhood nostalgia into adult forms of refreshment. Breakfast cereal, it seems, is an easy vehicle to take that reflective spin down memory lane. Think about it. The recipe really hasn't changed that much since you were a kid: Open a box of cereal. Add liquid.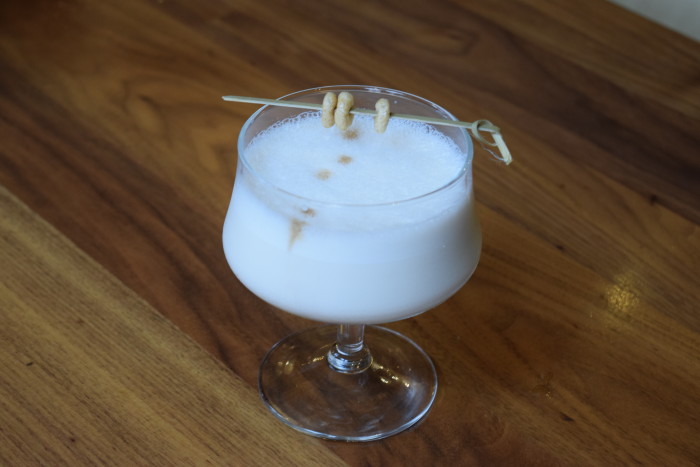 That's essentially what Miami's Broken Shaker and New Orleans' SoBou have done — directly infusing carefully selected spirits with their choice of cereal. It's Cocoa Puffs at the former, where founder of the bar Gabe Orta flavors a bottle of Old Forester bourbon with a half box of Cocoa Puffs cereal, a pinch of salt and some cacao nibs before using it to craft a gussied-up old-fashioned. At SoBou, bartender Laura Bellucci reaches for Honey Nut Cheerios to infuse Black Magic Rum — really, just because she can. "I always wanted to eat Honey Nut Cheerios when growing up, but my mom would only get the regular ones, so I'd just dump a ton of sugar on them," she recalls. Today, her finishing touches include honey syrup, milk and pie bitters for a riff on brandy milk punch — a classic Big Easy breakfast cocktail.
Bellucci credits the success of the boxed ingredient (in a bar, of all places) to the age-old adult inclination to reflect happily on one's heyday. "Our generation is obsessed with nostalgia, that return to childhood and the innocence and playfulness of that time," she says. "With that comes an enjoyment of the crazy things we all had in common, and cereal was one of those things — everyone ate cereal, and everyone has their own special memories about it."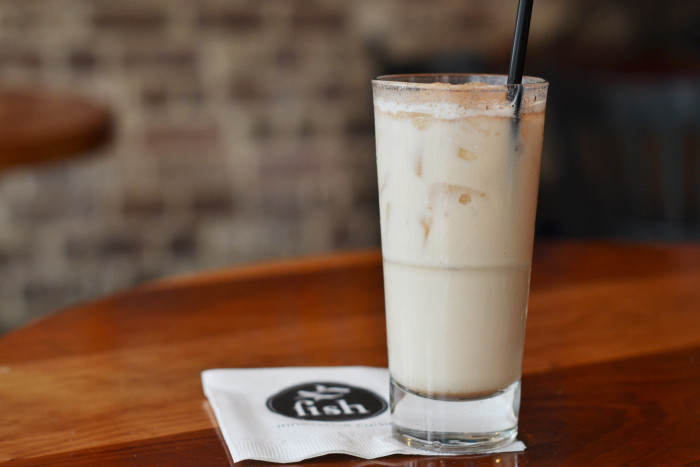 Likewise, it was a youthful fondness for Cinnamon Toast Crunch — and the sweet milk it left behind — that led Iouli Burroughs of Fish Restaurant in Charleston, South Carolina, to come up with his specialty brunch cocktail. He calls it Cinnamon Toasted. "As soon as our chef told us we were doing brunch and needed daytime cocktails, it was the first thing that popped into my mind," says Burroughs. "Everyone loves to drink milk after it's been sitting with cereal for a little bit." To make the drink, Burroughs combines a box of the saccharine goodness with a gallon of whole milk for 30 minutes before straining it off and shaking the results with Buffalo Trace bourbon and pecan orgeat syrup, which adds enough body for the cocktail to resemble a boozy milkshake.
"Once you've played around enough with classic cocktails, a good source of inspiration to pull from are the dishes you've enjoyed in the past — the things you knew to be delicious when you were growing up," says Burroughs. "We already know the flavors are there, so now we just need to add booze and balance it all out."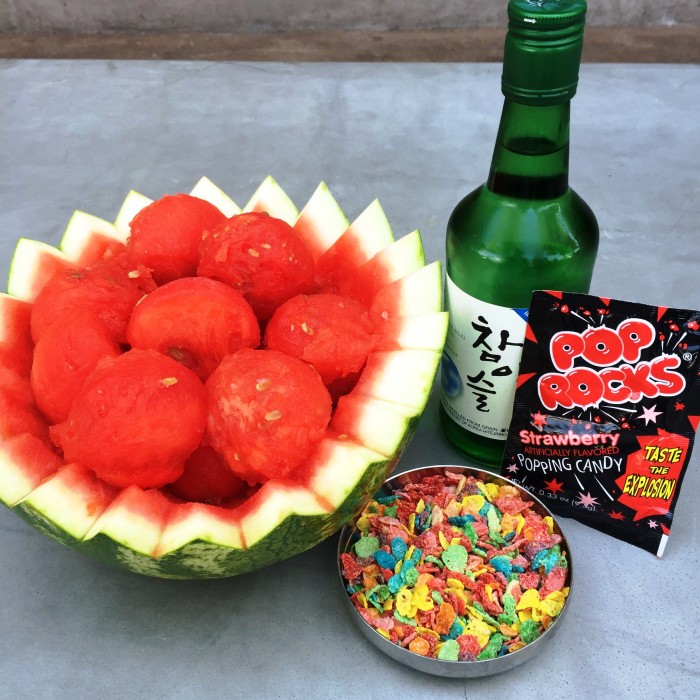 Perhaps the most puerile of these boozy breakfast riffs belongs to chef Chris Oh of Hanjip Korean BBQ restaurant in Culver City, California, home of the Watermelon Soju cocktail. It's a half watermelon topped-off tableside with soju, Fruity Pebbles and — upping the juvenile attraction even farther — Pop Rocks, the carbonated candy. And then? More soju. "It starts to go crazy with that last bit of soju, so be careful of any Pop Rocks shrapnel!" says Oh. "Folks can drink it with a straw like a Scorpion Bowl or just start chugging it — there are no rules here."
It's a daring departure from Oh's own buttoned-up upbringing, which partially inspired the cocktail to begin with. "I grew up in a very strict household, so we never got Fruity Pebbles — we got bran flakes," he remembers. A Pop Rocks fix was even scarcer, so he'd have to sneak off to the 7-Eleven after school and eat them in secrecy. "This drink is basically a kid's snack, but on acid — it's an ode to everything I couldn't have when I was young."