How To Pair Riesling With Ramen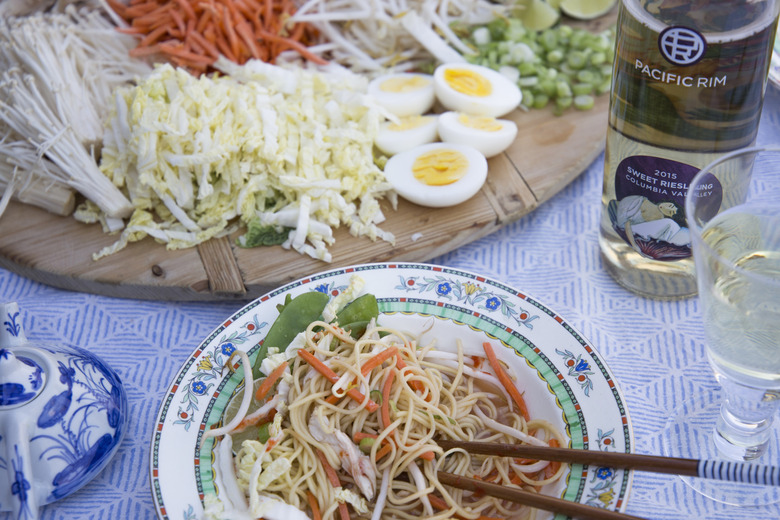 Slurp these noodles while you're sipping on Riesli
There's nothing better than a perfectly executed dinner party — one where the host is just as relaxed as the guests, the food is on point, the wine is flowing and the cleanup is stress-free.
One way to amp up the energy at a dinner party is to facilitate a really low-key wine pairing. Wine-pairing parties can often be a bit stodgy and dull, so we've come up with a way to incorporate a wine pairing into your next dinner party that, shall we say, spices things up a bit.
Rather than serving a five-course meal with a new wine pairing for each course, keep things light and fun by going with a "Ramen and Riesling" theme for your next dinner party. There's only one course, and each guest chooses his or her glass of Riesling based on how spicy the ramen is made. Heat lovers should pair their spicy soup with Pacific Rim Sweet Riesling, medium-spicy soups should be paired with Pacific Rim Riesling, and mild ramen should be paired with Pacific Rim Dry Riesling. The sweet-to-spicy balance will tantalize your guests' taste buds and keep them coming back for more.
Riesling is known for pairing well with all food types, but your guests will be amazed by how well it pairs with spicy food. Aromatic and expressive, Riesling offers a complexity that takes a food and wine pairing to another level entirely. When Riesling finds that beautiful balance of rich acidity and sweetness, it makes for the ultimate match for fiery foods.
We've created the easiest possible ramen recipe, complete with unconventional ingredients like "zoodles" and hot dogs. Absolutely everything can be done ahead of time, leaving you free to hang out with your guests. Just heat the broth up (you want it really hot so that it heats the ingredients) before you're ready to eat.
The best part of all? Each guest requires only one wineglass and one bowl, making cleanup a snap.
Easy Ramen
Serves: 4-6
For the brothIngredients
3-inch piece ginger, peeled and chopped
5 cloves garlic, peeled and smashed
1 cup dried shiitake mushrooms (about 1 ounce)
2 carrots, peeled and chopped
1 roasted chicken, bones and skin only*
2 tablespoons white miso
1 1/2 gallons water
Salt to taste
Directions:
Place all broth ingredients in a large pot and place over high heat. Bring to a boil, then reduce to a simmer. Taste, then season with salt to preference. Simmer for 2 hours. Drain through a fine-mesh strainer, then return the liquid to the pot. Refrigerate for later use or return to medium-high heat for immediate serving.
For possible toppingsIngredients
Mung bean sprouts
Carrots, julienned
Tofu, cubed
Roasted chicken, pulled
Hard-boiled eggs, halved
Scallions, thinly sliced
Zucchini, spiralized or julienned ("zoodles")
Snow peas
Enoki mushrooms
Napa cabbage, thinly sliced
Hot dogs, sliced
Sriracha
Soy sauce
Fish sauce
Lime wedges
Directions:
Arrange desired amounts of each topping on a large platter.
For the ramenIngredients
1 1/2 pounds fresh ramen noodles
Water
Salt
1-2 tablespoons canola oil
Directions:
Fill a large pot with water and add a liberal amount of salt. Bring to a boil over high heat. Add ramen and cook for 2 to 4 minutes. Drain in a colander. Transfer to a large bowl and toss with oil to prevent clumping.
Directions
Transfer an equal amount of noodles to each serving bowl.
Top with 1 cup of broth per bowl.
Add desired amount of Sriracha and stir to combine noodles, broth and Sriracha.
Top with desired toppings and more Sriracha if needed.
The Classics: 100% Riesling, 100% Columbia Valley, Washington — these 3 wines cover the residual sugar spectrum. Incredibly well made, beautifully balanced — the perfect entry into exploring the Riesling category.
Dry: Endlessly versatile, crisp, dry and lush with flavors of citrus, jasmine and minerals.
"J": Just the right amount of sweetness and complexity. Bright crispness, subtle sweetness and aromas of jasmine, pear and apricot.
Sweet: Refreshingly sweet with a lively mouthfeel. Fresh and fruity with flavors of pineapple and peach.
---
This was brought to you by our friends at Pacific Rim Wine.