"There's Australia, and then there's Darwin," says one onlooker as two grown men tackle a woman in three feet of seawater. If you thought such brutish body contact in the Land Down Under was limited to Aussie rules football, then you've obviously never been to the annual Darwin Lions' Beer Can Regatta.

Darwin, a remote city on the northernmost coast of Australia's "Top End," is known for being a little bit kooky — it's a frontier town, after all, surrounded by wild outback and little else. For more than 40 years, crews carrying boats — some large, some small — made almost entirely of aluminum beer cans arrive on Darwin's Mindil Beach each winter (that's summer to folks in the Western Hemisphere) to race one another and, if they're lucky, be the first to find the "treasure." The regatta's founders, Lutz Frankenfeld and Paul Rice-Chapman, started the event in 1974 to spur excitement for their quiet city while also encouraging the cleanup of beer cans that littered the streets.

The concept is simple: Drink beer, save beer cans, and after one too many beer cans, make a boat that floats.

While it might seem silly, preparing for the yearly event is often a serious undertaking. In the past, some boats required tens of thousands of cans, forcing contestants to beg, borrow and steal the necessary hardware for their crafts. In recent years, the supply became a greater challenge after the state introduced a law incentivizing recycling — neighbors weren't handing out cans when they could trade them in for cash. Those opting to source their own cans prepare ahead, drinking months in advance in what might be the longest annual pregame consumption ritual in the world.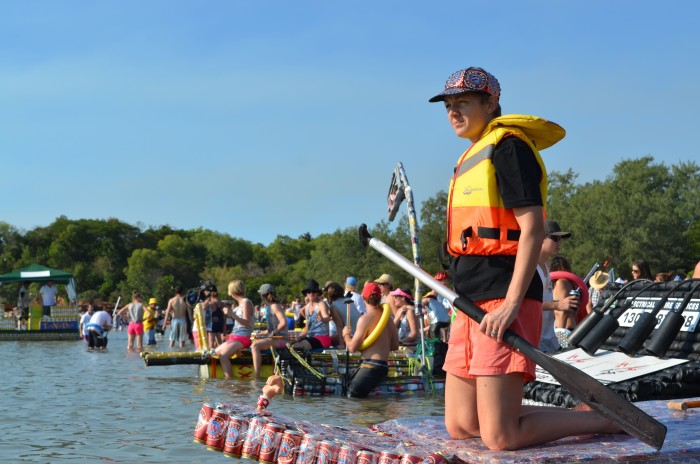 There has been an ebb and flow to the spectacle: This year, only ten boats competed, a modest outcome compared to the inaugural event's 60 boats decades earlier. But the crowds still swarm for a day of events that include boat races, thong tosses (thong sandals, folks) and more subjective competitions where boats are judged on their craftsmanship.
Loosely, all worthy boats are made with mostly recyclable material — all cans are welcome, from beer to soda, and sure, even milk cartons and bottles. The rules of the event are unapologetically made to be broken — a clever discrepancy in material might just be peculiar enough to sway the judges. Not all boats are crudely crafted. One flaunted a canvas roof accented with beer cans for pure aesthetics. Meanwhile, most of the boats were made to destroy all other boats.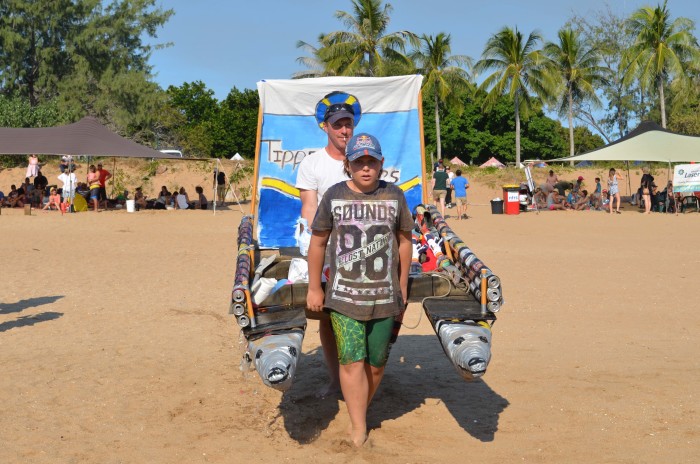 At this year's event in June, as boats lined up for the Battle of Mindil, one participant readied herself at the helm of Dane's Dinghy with an uncanny game face. The crew aboard the adjacent Black Pearl readied its not-so-secret weapon: a massive slingshot atop its deck. Nearby, Floaty McFloat Face armed itself mainly with spirit, despite having no walls and few defenses. In search of the sunken treasure, teams pushed one another into crocodile-infested waters, slung water balloons, spotted fire extinguishers, sprayed water cannons, and launched flour bombs at one another that left colorful plumes in the air.
Most boats — especially Boaty McFloat Face — did not survive the battle.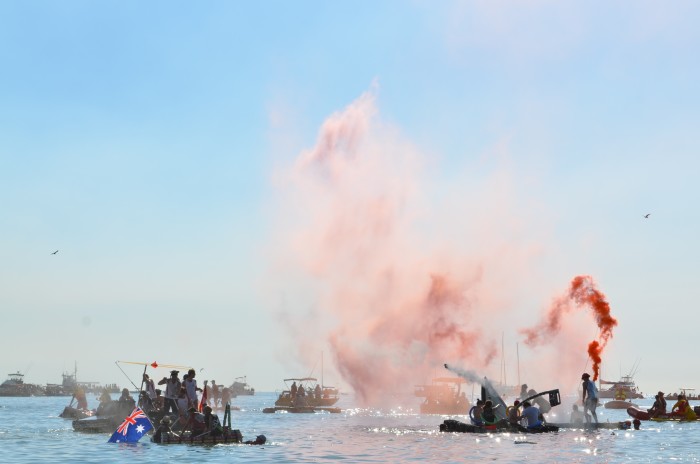 What's extraordinary is that, despite being tongue-in-cheek, this flimsy idea for an event still floats after four decades. Until aluminum cans are all but obsolete, it seems that Aussies will keep flocking to their northern coast to watch quirky dinghies crash and sink. This year, an estimated 15,000 visitors arrived to witness the brawl alongside a hefty roster of trendy food trucks touting amusements like blended fruit juices, fried crocodile (yes, it's true), and spicy laksa. There's an Asian influence to the fare, given that Darwin lies due south of Malaysia and Indonesia. Contestants, judges, families, couples (young and old), brawny bros, mates alike, and even a few dogs lounge in one collective group all the way through sunset. Everyone chuckles together at the regatta, sipping beer and basking in this Darwinian representation of, well, togetherness.
This year's winner, Team Laser, scooped the treasure after a coed wrestling match, delivering it to the judge's table. The treasure? A broken emergency-radio beacon — plus a trophy and $500 cash.
But as winners before them have done, Team Laser donated the prize back to the event's charitable cause, making the Darwin Lions' Beer Can Regatta less about riches, mostly about community and, sure, glory.