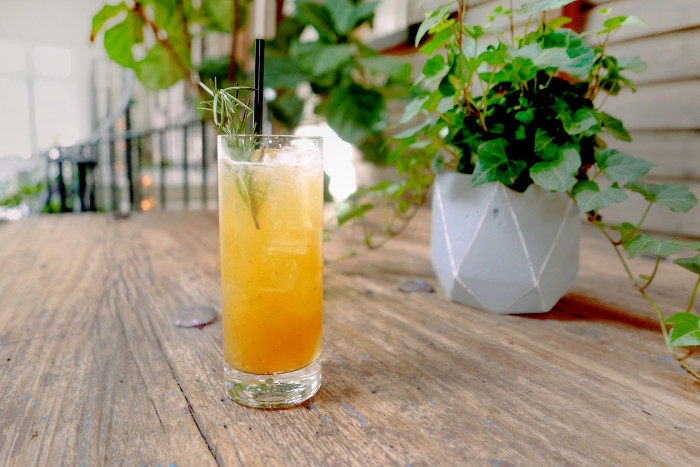 Hot weather, especially the kind that comes with soul-sucking humidity, tends to limit one's drink decisions to finding whatever is cold, tall and sweet. Coolers, highballs or collins variations are often the least boozy cocktails on a menu, and they are perfect for presenting fresh fruit and herbs at their prime. Muddle almost any item with spirit, citrus and sugar, and you're well on your way. The problem can be finding just the right fresh ingredient to complement the spirit.
When the peaches are sweet at Charleston's Cannon Green, they're going to find their way onto the menu. When beverage director Justin Edgar received a box of perfect summer peaches, he and his team started experimenting with unique combinations and surprisingly landed not on bourbon for the base, but a blended scotch whisky. "After a few trials, we settled on Famous Grouse blended scotch because we liked the spice notes of the scotch and thought that complemented the peach," notes Edgar. One of his bartenders later added rosemary and lemon and topped it with sparkling wine, to round out the bar's Glasgow Summer creation.
The Famous Grouse has virtually no peat or smoke, but it does have a lot of heft and creaminess on the palate, making it a great choice for cocktails and also muddled peaches in this case. Just as peaches are best when the sugars have overtaken the acid in the fruit, muddling is best achieved by gently macerating the ingredient without pulverizing it into a bitter pulp. To release the oils from mint for a mojito, for example, one just needs a few simple crushes of the leaves, with no stems, into sugar and citrus. Muddling an ingredient on its own doesn't infuse the flavors; it just depletes them. Overall, when working with local, seasonal products, it's best to just stay out of their way and let the flavors shine through. Enjoy.
Glasgow Summer
Servings: 1 cocktail
Ingredients
2 ounces Famous Grouse blended scotch
¾ ounce fresh lemon juice
¾ ounce rosemary-infused syrup*
2 or 3 slices peach
Sparkling wine
Directions: 
*For the rosemary syrup:
Pour 1 pound of sugar into a 1-liter container and fill the remainder of the container with water to create a 1:1 solution.
Shake the container briefly to combine (no hot water needed), and then add 1/2 cup rosemary leaves (no stems) to infuse.
Strain out rosemary after 1 hour and store for later use.
For assembly:
Muddle peach and lemon juice in a shaker. Add rosemary syrup and scotch.
Add ice and briefly shake. Strain into collins glass over fresh ice.
Top with sparkling wine, add a straw and garnish with a small rosemary sprig.
Prep Time: 2 minutes
Difficulty: Easy