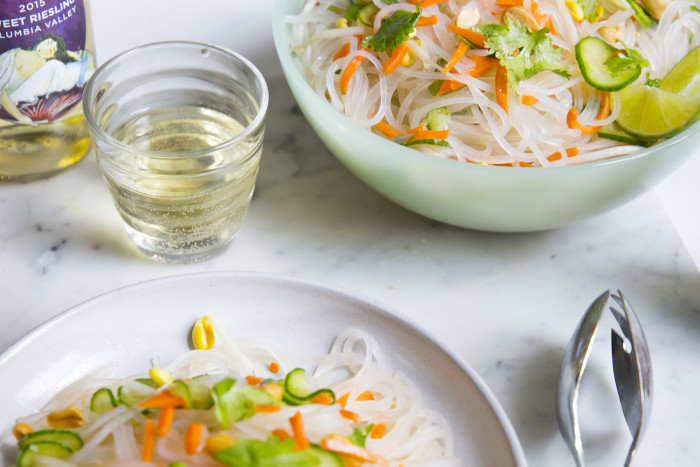 Have you ever wondered why the cuisine in hot-climate countries is so damn spicy? Mexico, India and Thailand — just to name a few — all boast famously spicy cuisine known for scorching the taste buds of anyone who comes in contact with it. It seems counterintuitive, right? Why would you want to eat anything that might heat you up more, when you're already overheated?
Well, we're here to bust that myth once and for all. Eating cold food, like a cold salad, causes certain parts of your body to cool down, but your body then overcompensates to raise its temperature back up, making you hotter in the long term. Eating spicy food, on the other hand, raises your body's internal temperature and causes you to sweat, which, as we all know, is our body's natural mechanism of self-cooling.
So will eating spicy food on a hot day make you a sweaty mess? Possibly. But will it cool you down better than any other food? Definitely. And I don't know about you, but I'd give just about anything at this point to beat this sweltering August heat. If you're thinking what I'm thinking and want to give it a try, this spicy Thai noodle salad will do the trick. It's cold but has a kick-in-the-mouth heat from the fresh chilies and chili oil in it. Think of it as the antidote to boring, mayonnaise-y pasta salad.
For the drinking portion, while someone on the streets of Mexico or Thailand might choose to cool down with a Tecate or a Singha, we're looking to Washington to help cool down our singed mouths. When pairing dishes that pack heat, go sweet! The sugar works to coat your mouth and tame the heat, and a slightly lower alcohol level (alcohol accentuates heat) creates a total refreshment factor.
For a well-balanced sweet wine, try Pacific Rim Sweet Riesling — it offers a good amount of acidity so the wine doesn't disappear against the flavorful cuisine. You may be skeptical, especially if you're not a sweet-wine fan, but trust us on this pairing. With Pacific Rim Sweet Riesling, the acidity and slight carbonation in the wine clean up the sugar so the wine isn't too rich or heavy. Plus, no oak at all makes Riesling a great option for that fresh, crisp cooling effect.
So go ahead and try sweet with your most fiery foods — we dare you!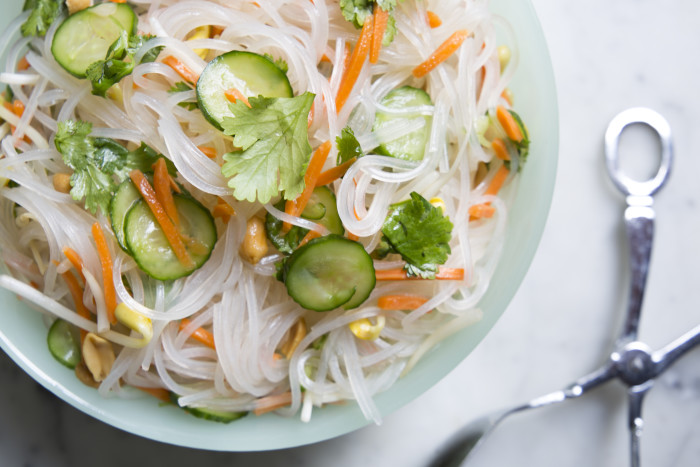 Spicy Thai Noodles
Servings: 4-6
Ingredients
12 ounces glass noodles
1/3 cup fish sauce
2 tablespoons lime juice
1 large garlic clove, grated
½ cup rice wine vinegar
2 tablespoons sugar
1 small red chili, finely minced (substitute 1-2 tablespoons red chili flakes, depending on heat preference)
¼ cup chili oil
2 small seedless cucumbers, thinly sliced
1 cup carrots, julienned
1 cup soybean sprouts
¼ cup roasted peanuts, lightly crushed
1 cup fresh cilantro leaves
Directions:
Place glass noodles in a large heat-proof bowl and cover with boiling water. Allow to sit for 10-15 minutes or until noodles are softened.
Meanwhile, whisk fish sauce, lime juice, garlic, rice wine vinegar, sugar and chili together in a medium bowl. Add cucumbers and carrots and toss to combine. Let cucumbers and carrots "pickle" for at least ten minutes.
Drain noodles and return to large bowl. Add the bowl of cucumbers, carrots and liquid to the noodles and toss to combine.
Just before serving, toss the noodles with the soybean sprouts, peanuts and cilantro.
*The peanuts will become mushy in the refrigerator so do not toss them in until you are absolutely ready to serve.
---
Pacific Rim Sweet Riesling is moderately sweet and refreshingly low in alcohol with flavors of pineapple and peach. It brings perfect balance to fiery fare or can simply be enjoyed as an aperitif.