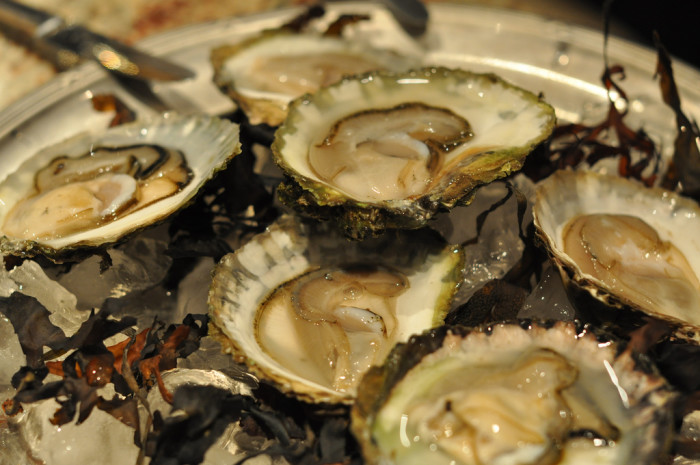 It's summertime, and we want to be out and about! We hear there are some dinner parties in London and an outrageously expensive night out in Singapore. But if you'd rather stay at home, grab some oysters and maybe a beer and play a spirited round of Bananagrams.
This beer is b-a-n-a-n-a-s.
Narragansett has collaborated with the fun Scrabble-like game that comes in a banana-shaped pouch, Bananagrams. The "Hi Neighbor! Have a Hefeweizen!" celebrates the game's 10th birthday in the game's creator's hometown of Narragansett, Rhode Island, according to the Providence Journal. The thematic beer comes complete with notes of banana flavor, and its can is decorated with letter tiles spelling 'Gansett's slogan: "Made on Honor and Sold on Merit."
The world's most expensive tasting menu is in Singapore
What's $2 million worth to the World of Diamonds Group and Cé La Vi Singapore at the Marina Bay Sands Hotel? Eight hours of luxury. According to Fine Dining Lovers, the two companies have joined forces to offer an 18-course dinner, helicopter ride, cruise, Rolls-Royce ride and, of course, a 2.08-carat Jane Seymour blue diamond ring. If Titanic has taught us anything, it's that blue diamonds are no joke. The dinner consists of your normal, everyday proposal fare: caviar, jamón ibérico, veal liver, lamb sweetbread, wild Alaskan salmon, oysters with champagne foam. And of course, there will be a wine pairing with vintages that are older than your parents. It's unclear whether this is a contest and if so, how to enter.
Mr. and Mrs. Twits invite you to dinner
A Roald Dahl–themed dinner party might obviously include chocolate and peaches, but not this one, thrown by the Enfants Terribles theatre company. Instead, organizers are throwing a dinner and show hosted by The Twits. Prepare for baroque bird pie, squiggly spaghetti (with or without worms), rainbow sausages and more in a windowless room. According to London's Metro, the dining experience will be around from September 4 to October 30 at the Vaults in London in celebration of what would've been Dahl's 100th birthday. Standard tickets are £81.50 (about $108), while premium tickets, which include a performance possibly by the Muggle-Wumps, are £101.50 (about $135). No nasty, nosy little children are allowed, naturally.
The clean waterways are your oyster
As if we needed another reason to support the oyster industry, NPR reports that America's resurgent bivalves are making significant headway toward cleaning up the nation's waterways by acting as a natural filter system. University of Delaware oyster researcher Gulnihal Ozbay tells NPR that phytoplankton and excessive nutrients in our waterways are filtered out by the oysters. Farmed oysters that are already raised in clean and monitored waters are making those waters even cleaner.