The Unstoppable Allure Of Soft-Serve Ice Cream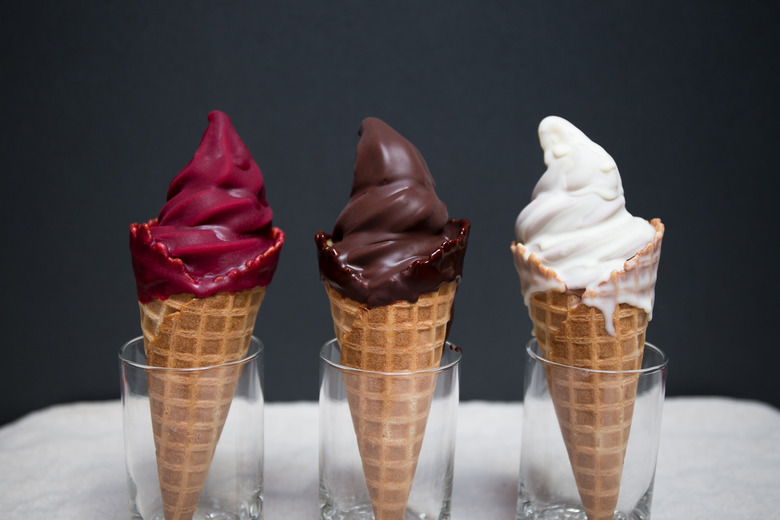 Let's get something straight. No matter what you may have read or otherwise gleaned from the internet, Margaret Thatcher did not create soft-serve ice cream. The New Yorker has a worthy read on the subject, but the important thing is not so much that you may or may not have known this false tidbit about Britain's Iron Lady, but that this false tidbit could even be circulated among us. It proves the following: Soft serve is dope. And soft serve is worth claiming.
Now, I think that is the first time in my life that I've ever written the term "dope" in such a way, and more than likely, I should not be allowed to use such slang since I occasionally teach quilting classes (really). But soft-serve ice cream does that to people. It makes them feel good, like all is right with the world for a moment, and think being silly might be a good idea.
Why and how did this creamy dessert worm its way into our sugar-lovin' American hearts anyway? The history of soft serve is tangled up with Depression-era ingenuity. Both Dairy Queen and Carvel claim to have invented the sweet treat back in the 1930s. Either way, people noticed that not-quite-frozen ice cream tasted good, and if you whipped extra air into it, the air would stabilize the not-quite-frozen ice cream experience. And so people created machines to do just that, and soft serve became an affordably luxury for Americans, particularly after World War II.
Beyond its invention, soft-serve ice cream seems to have a lasting hold on the American imagination. It speaks of summer, small towns, childhood freedom, Route 66 and the simplicity of flavor. With soft serve, we didn't have 88 flavors; we only had three (vanilla, chocolate, or swirl), and so the decisions were easy. This cultural associative history reaches further than its ingredients and how it's made. These days, soft-serve ice cream at most chains — and even some independent spots — has a lot of long, chemical-sounding words in it, a big departure from the perceived wholesomeness of a chocolate-vanilla swirl cone.
That our favorite soft-serve ice cream could be "fake" is another one of those things that we, as a collective, seemingly don't want to know about our food. We want to take our kids to the dairy bar or drive-thru that we visited as a child and capture that simple, sweet ending to a meal. And thus it outsells "regular" ice cream by a large margin in restaurants, including the ones with the buffets.
At the Polk-a-Dot Drive In, a Route 66 stop in Braidwood, Illinois — proud to be without a website or Wi-Fi since 1956 — manager Judy Ann Shinski mainly sees visitors stop at her spot for soft serve, "on motorcycles or in big groups, looking for that Route 66 Americana experience," she says. Polk-a-Dot only serves vanilla soft serve, and according to Shinski, "soft serve definitely makes the best milkshakes." The place sells more milkshakes than cones.
However, the idea of "just vanilla" is just plain absurd for the crew at Wiz Bang Bar, a soft-serve-focused spin-off of the popular Salt & Straw ice cream shops located in Portland, Oregon. "One of my favorite things about soft serve is that it's literally instantaneous," says Tyler Malek, Wiz Bang Bar's head ice cream maker. "There is this open end for creativity because you can riff on a recipe and see what it tastes like five minutes later."
Wiz Bang Bar is a new-generation ice cream parlor, far removed from Route 66, with chef-driven desserts such as Rhubarb Sour Straws with rosè lemon curd and Salted Sweet Cream soft serve, black truffle cones dipped in white chocolate, and even a Smoked Oregon Ham soft serve (not for the faint of palate). However, Malek's favorite concoction at the moment is a Ritz Pie à la Mode Sundae, an upended and inside out version of the Ritz Mock Apple Pie recipe popularized by its printing on the back of Ritz Crackers boxes. It has a honey custard base with salted caramel soft serve, Ritz Crackers, and then fresh apples on top that "taste fresher than fresh," he says, because of a quick candying process.
"It's our little inside joke because the original recipe didn't have apples, and that's part of the fun. Soft serve is something that is so relatable," Malek explains. "That allows you to push, change and alter people's expectations. It's a comforting place to start and such an enjoyable way to serve ice cream, and we can use that to push boundaries."
But other restaurants are aiming for the classic connection to nostalgia, such as Leon's Oyster Shop in Charleston, South Carolina, known for oysters and fried chicken and a Siam Salad (napa cabbage, peanuts, fried shallots, et cetera) that sometimes you just have to have for lunch. Soft serve is given its just due here since there's even a little walk-up service window off the bar to get a cone to go. At Leon's, you can get a cone or a milkshake, with or without "jimmies" (a.k.a. sprinkles).
"Having the soft-serve machine is about doing something that is funky, that people wouldn't expect in a restaurant, when what's expected is these fancy plated desserts," says Leon's general manager, Adam Gainer. "Soft serve is such a classic thing, and it's hard to say no to — especially after spicy fried chicken."