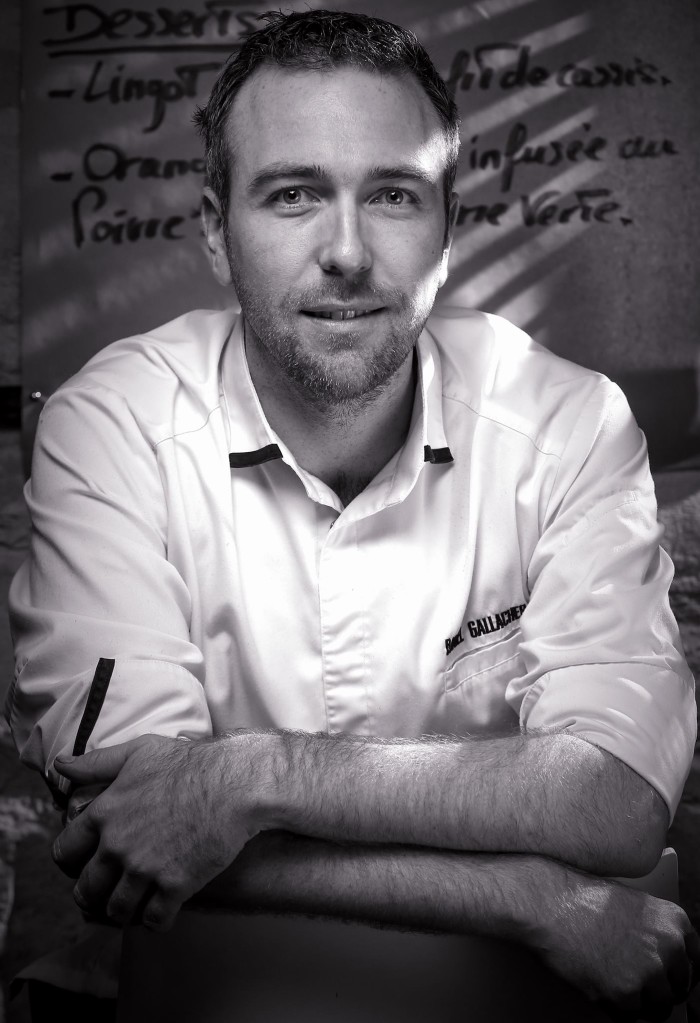 Growing up in Scotland, Daniel Gallacher wasn't exactly inspired by the local food scene, until he started working part time in a kitchen full of Italians, just outside Glasgow. "There was something about working with Italians — another language, another culture, another way to eat — which seemed completely different from Scotland," he says.
Gallacher soon quit college and started cooking full time. At 23, he moved to France, where he would learn from some of the best, including the illustrious Alain Ducasse, both at Spoon in Saint-Tropez and later the acclaimed Plaza Athénée in Paris.
Today, the self-taught chef owns and operates his own restaurant, Racines, a small but popular spot in Bordeaux, the city at the heart of the world's most famous wine region and one with its own vibrant restaurant scene.
Earlier this summer, Team Food Republic checked out Racines and sat down with Gallacher during Bordeaux Fête le Vin 2016, the city's biennial wine festival, to find out more about how this talented Scottish expat wound up in one of the most exciting dining and drinking destinations in all of Europe. The conversation has been edited for brevity and clarity.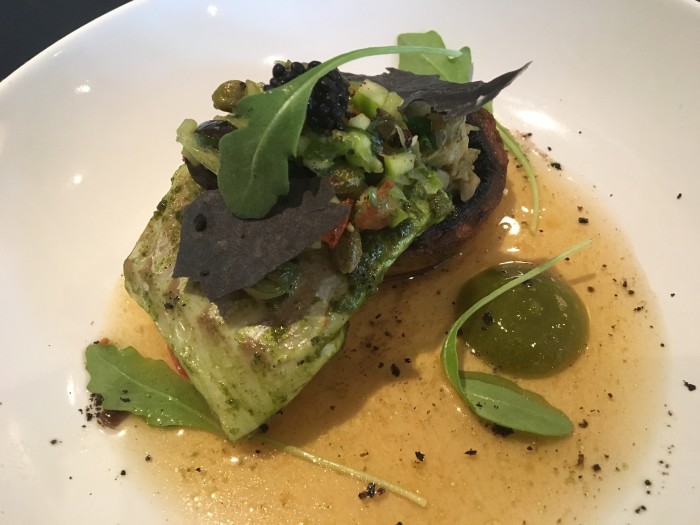 What's it like being a Scottish chef in France?
In the beginning, it was really difficult because I was young; I was 23. I was second in charge of a fish section [at Alain Ducasse's Spoon], so I had two or three people below me. I couldn't speak French, I didn't know anything about Provence-style cooking. It was in Saint-Tropez, so it's very Mediterranean, very light. When I would give orders and try to organize things, I wouldn't get respected. They would say, "You're not French. The French know how to cook better than the Scottish. Apart from drinking beer and eating fish and chips, you know nothing." It was very difficult in the beginning to gain the respect. I had to work doubly hard. I had to learn the language as quickly as I could. I bought lots of books, I went to the cinema and watched films in French with the subtitles, listened to CDs constantly, watched television as much as I could to learn as much French as possible. I just continued to work, and little by little, I got that respect.
Was it stressful for you as someone who was self-taught and then working for someone like Alain Ducasse?
The chef came two or three times a year, three times in the summer [at Spoon]. It was more or less his his right-hand man who used to come to double-check. It was still stressful because I wasn't fluent in French, so they would talk and you wouldn't have a clue what they were saying. We did 200 covers a day. Trying to understand everything was complicated. It was all about persevering and staying strong. Thanks to that, they proposed a place at the Plaza Athénée; that's where I saw chef Ducasse more or less every day. Every day chef Ducasse was in Paris, he was at the Plaza. He had lunch, he had dinner, he came for the television, stuff like that.
"Racines in French is 'roots,' so the name of the restaurant means I'm planting my roots. It's my first restaurant."
What do you think of that? How does it feel to be a chef there and know that you're making this type of food?
It was surreal. I had only been cooking two or three years, and I was in one of the best restaurants in the world: three Michelin stars. I enjoyed it, but it was very hard. We used to work Monday to Friday. I would be in at 5 in the morning and I would finish at midnight, 1, 2 in the morning. I would just sleep all weekend. It became really tiring. After eight months, I sort of went, "I think I've learned everything I can learn. I need to learn other things." I moved on and worked with Pierre Auger. I was his second chef at Hotel Murano in Paris. Pierre was in the French version of Top Chef. He was in the first year, but he finished second, and I think in the sixth or seventh year they asked him back and he won, and he's been winning it every year since. I'd been working with him for nearly two years as his right-hand man. Again, another type of cuisine — it was more freestyle. Pierre is a personality in France. He's really nice but he's crazy about cooking. We tried so many different things. We used to finish work around midnight, we'd go to the pub, drink a couple of beers and then go to the market and pick up stuff and go back into work. We wouldn't sleep. We'd do that regularly. Up until today, even today still, it's absorbing all the surroundings and everything I'm experiencing, absorbing as much as I can to then have some sort of impact on what the customer is getting.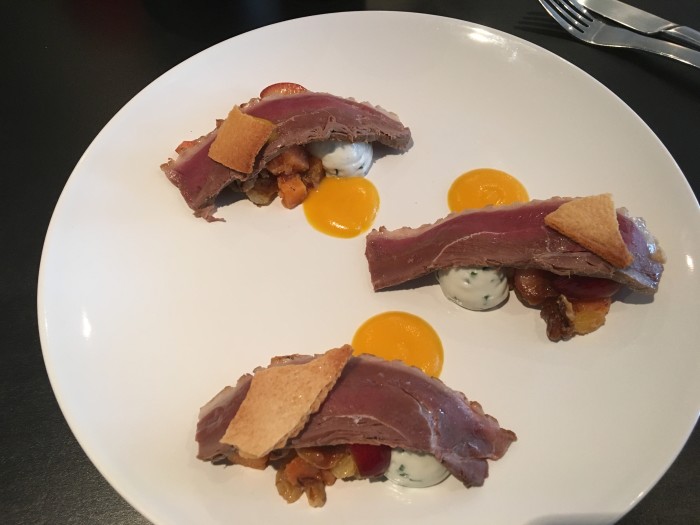 At what point did you decide that you wanted your own restaurant?
From the beginning. I come from a really big family. My mother has five brothers and six sisters; my dad has five sisters and two brothers. I'm at the bottom of this chain. I've got lots of cousins who are doctors, teachers, businessmen in London, lawyers in New York. So, I've had this family pressure of you've got to do well in your career. So when I said I don't want to do physical therapy, I want to be a cook, everyone went, "You're crazy. What would you want to do that for? You can't do that. You're going to pass up an opportunity to maybe be in five or six years a doctor. You had all these advantages and you want to work a job where you're constantly on your feet, you're working 18 hours a day, you don't get paid a lot of money, et cetera." I said, "Yeah, I want it." I wanted to prove, not just to prove to them, but it was something I wanted to do as well. From then on, the aim was, "They're wrong, I'm right and if I'm going to be successful in my career, what do I have to do? I think an objective for any young chef when they start is to have their own restaurant." I learned as much as I could; I immersed myself in the French culture. If I wanted to be successful, should I stay in Scotland or should I go to the capital of the gastronomie — which is France — and really push myself and see if I can go with the best? And that's what I've done. So, yeah, it's been a dream since the beginning. And hopefully, I hope this isn't too ambitious, but hopefully it's the first of many. Racine in French is "root," so the name of the restaurant means I'm planting my roots. It's my first restaurant. This is me putting my foundations in place, giving a type of cuisine that everyone can appreciate, that everyone can then discover, and then little by little grow and the customer and clientele will grow with me, follow me through this evolution, maybe move from here and go somewhere else, add more branches.
"I need to have a balance between a private life and my working life. In Paris, if you have work, you don't have a private life."
Why did you plant those roots here in Bordeaux?
I'd lived six years in Paris. I loved Paris, but it's a city where it's 100 miles per hour all the time. I need to have a balance between a private life and my working life. In Paris, if you have work, you don't have a private life. I had the chance to come to Bordeaux thanks to friends. Every time I came here, I liked it. There's sort of an English feel to it. Bordeaux used to be where the British would come through when they would go to Africa for shipping all the products, exporting and importing. They would stop in Bordeaux before making the trip down or coming back up. There's a little bit of English bourgeoisie about it all that I quite like, along with the weather and the southwest of France, [where] they have a wonderful array of produce. We're not far from the sea. We're not far from Spain, so there's some Spanish influence. We're not far from the center of Basque. We're not far from the center of France, where you've got a lot of game, mushrooms. Bordeaux is very well positioned where it has a wonderful array of products where we can express ourselves a little more freely. Paris, you can get it all, but I think in Bordeaux, there's a little bit more identity to it.
And wine.
Exactly. I'm trying now to more and more appreciate it and having it at dinner. It's everything: It's the atmosphere, it's the decoration, it's everything. From where you're sitting to holding the knife and the fork, the feel that it has, it's everything.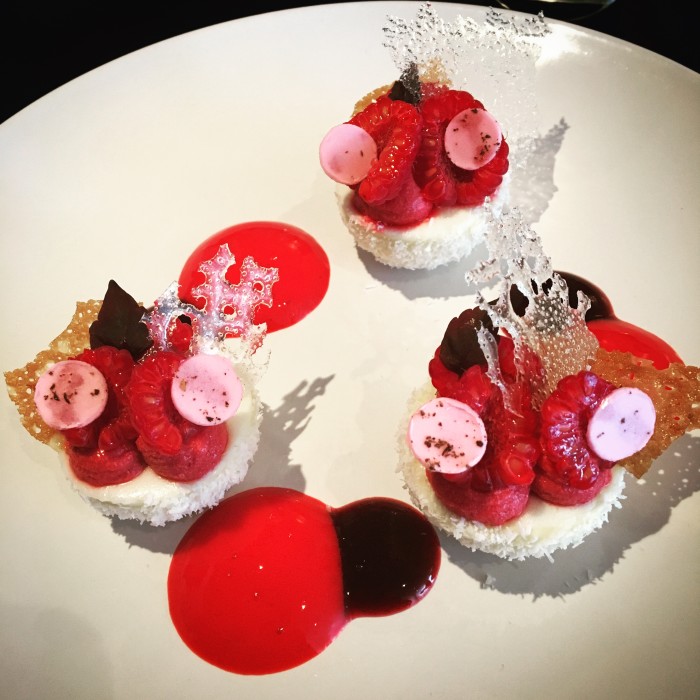 Is it hard to run a smaller restaurant in a town like this?
Bordeaux, after Paris I think, has the highest ratio of restaurants to population [in France]. Before, when I was looking to buy a restaurant, I was saying to myself, "I've got to make sure I choose the right location." Location is very important. I visited other places, but this is the one slightly off center. If you're good enough, people will make the effort to come. I looked at the size. I think 30 to 40 [seats] is about right, 30 to 40 covers. You have to get the balance right between business and the cooking. To do a really small restaurant, it's really hard business-wise to make money. If you're too big, over 40 or 50 covers, you're not able to express yourself the way you'd maybe like to as a talented chef, the type of cuisine that you'd like to do. Over and above 40 or 50, you need more staff. That means you need to pay them. To pay them, you need to generate more money. Therefore, you have to turn the restaurant over [more frequently]. Here, I think we've found the right balance. We've got 32 covers, two guys in the kitchen, two guys in the restaurant. We do one sitting and we're able to express ourselves culinarily. The kitchen's really small. It's like 9 or 10 square meters [about 100 square feet]. We've got one fridge. When I looked at it all and analyzed it all, I realized we can't do brasserie, we can't do bistro — with the size of the kitchen, I can't turn the tables. One sitting, but we've got to make it an attractive price. In Bordeaux, yeah, there are lots of restaurants. But the Bordelais like value for money. They like to go out to expensive restaurants from time to time, but I don't want to be a restaurant where people come from time to time; I want to be a restaurant where people can come every week or every day.
This is why, as well, I decided to go with a smaller menu where we propose two salads, two main courses and two desserts. Always, in terms of salads and main courses, you go one with a fish, one meat; with the dessert: one chocolate, one seasonal fruit. We change that at least twice a week so people can come regularly and always have something different. For us, as chefs, it pushes the boundaries, a little like with Pierre Auger, being more creative, trying more things, not be scared to mix and match. The concept changes with us because we know we always have to change the menu.
Do you think you'd ever go back and open a restaurant in Scotland?
I went back in 2009 for a year and a half. I was a chef at Cameron House on Loch Lomond. I was a chef there for two years, I had a great time, but…
You like the energy here.
Yeah. But even the way I learned how to cook is completely different from back home. Because I more or less learned everything here in France, I think in French, my process is in French, I've lost that little bit of English touch. For example, if you go to the Grand Hôtel, if you eat at Le Pressoir [D'Argent in Bordeaux], Gordon Ramsay does more of an English touch. You've got the beef Wellington, the fish and chips. I like it, I like to go and eat it, but ask me to cook it? It's not against my principles, but…I'm not comfortable.
How do you feel about Britain and the vote to leave the European Union?
Scotland had the same vote last year. We had the referendum to leave the UK, and I was against it then. I'm against it now. We're better together. It's like any relationship in life: You get the good points; you get the bad points. There's just got to be some compromise. To have this mentality, it's very patriotic, it's very standing-your-ground, it might be good now, but in generations to come it might come back and — the American expression — bite us in the ass. It'll come back to haunt us.
Racines, 59 Rue Georges Bonnac, 33000 Bordeaux, France; +33 5 56 98 43 08