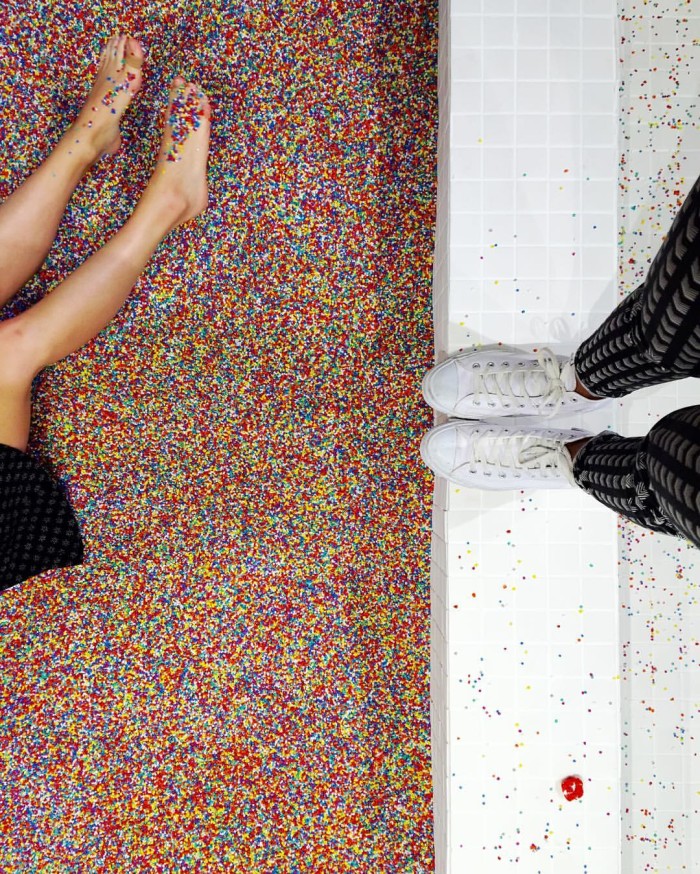 Only in New York, right? On Friday, America's most populous city welcomed its most tantalizing attraction of the summer: the Museum of Ice Cream, an immersive exhibition dedicated to the world's coolest dessert.
 Like the ephemeral treat it honors, the museum is a limited-time thing, lasting only until August 31. Tickets are already sold out for the duration of the exhibit, but according to
New York Daily News
, organizers might offer additional passes through
the museum's Instagram feed
.
Here are five things you should know about the experience before it melts away:
1. Yes, there is actual ice cream involved.
Upon entering, visitors receive a cup of the real stuff from a weekly rotating selection provided by NYC-area shops, including OddFellows and Black Tap. The dessert is included in the price of admission ($18 per person or $30 per couple). During a press preview last week, the icy treats came topped with marshmallows, Fruit Loops and guava-lime zest.
2. There is a swimming pool filled with rainbow sprinkles.
It was museum cofounder Maryellis Bunn's childhood dream to swim in a pool overflowing with the colorful ice cream toppings. Her fulfilled vision involves a reported 11,000 pounds of fake candy, which is actually made of plastic.
3. You'll scream, we'll all scream, at a very high pitch.
Visitors are treated to sugary edible balloons filled with helium. "What happens is we're dissolving different sugars together. One sugar gives us the structure we need, while the other prevents it from crystalizing," food scientist Irwin Adam Eydelnant, who helped coordinate some of the museum's exhibit, tells Popular Science. Bite the top off, suck out the vapor and get chatty like a cartoon chipmunk, at least until the voice-changing gas wears off.
4. Like in Alice in Wonderland, pill popping is encouraged.
Museum-goers each receive a glycoprotein pill, or "miracle berry," that alters taste perception — essentially turning sour flavors sweet. Guests get another round of ice cream, topped with tart lemon, to test it out. The effect lasts about 30 minutes.
5. Visitors might even find love (or something like it).
Popular dating app Tinder is one of the museum's sponsors. As such, the experience concludes with a stop in "Tinder Land," a room equipped with such romantic furnishings as an ice cream scoop–shaped seesaw and an ice cream sandwich–themed swing for two. There's also a custom-designed Tinder-like program that allows folks to find their ideal mate, flavor-wise anyway.
Museum of Ice Cream
100 Gansevoort Street
New York, NY 10014
museumoficecream.com