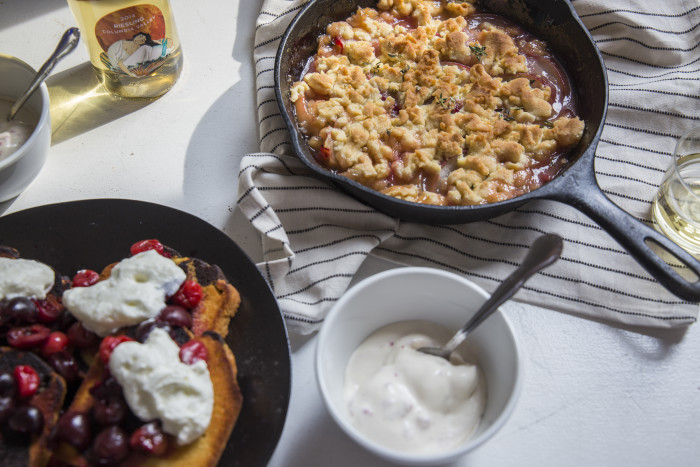 Summer cooking is all about simplicity — less time spent in the kitchen means more time spent outdoors with friends and family. Luckily, summer produce lends itself well to very little preparation. The robust flavors of summer fruits and vegetables mean that they can be prepared with ease and with wow-factor results.
So predictably, our favorite summer desserts are those that require very little effort — those that in the end make us look like the epitome of an effortless party host and simultaneously dazzle our guests, evoking a "you must send me this recipe!" remark from every corner.
These three dessert recipes will accomplish just that. The peach and thyme crumble is stunning and doesn't require any real baking skills; the no-churn vanilla raspberry ice cream is ultra-easy while still totally awe-inducing (I mean, making ice cream at home is just cool); and the cherry pound cake is literally as easy as toasting bread.
And the quicker the dessert preparation, the more time that you have to formally introduce and pour a proper wine. When you're serving a sweet dessert, it's best to stay clear of the really sweet dessert wines. Pacific Rim Riesling is a medium-dry wine, meaning there's more than a hint of sweetness, but nothing so overpowering that it will compete with your dessert dish. It's fresh, bright and beautifully balanced and will complement any of the following desserts perfectly. Cheers to just the right amount of sweet!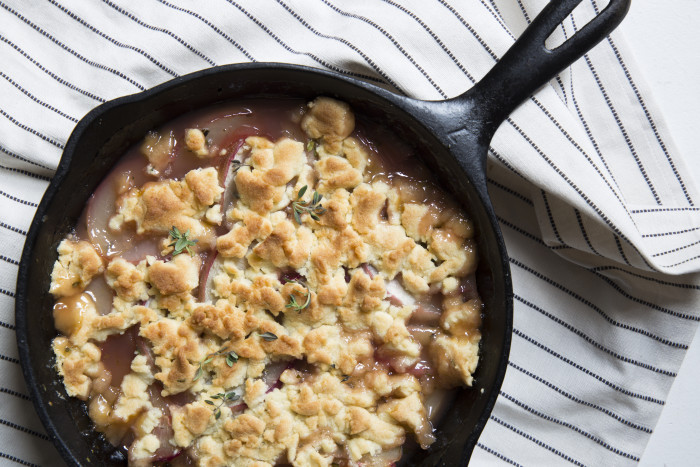 Peach and Thyme Cast-Iron Crumble

Servings: 4-6
For the filling:
4 peaches*, cut into 12 wedges each
1/2 cup granulated white sugar
1 teaspoon vanilla extract
1/2 teaspoon salt
1 tablespoon lemon juice
1/4 teaspoon lemon zest
1 heaping teaspoon fresh thyme leaves, chopped
1 tablespoon corn starch
For the crumble:
6 tablespoons sweet, unsalted butter (very cold)
1/4 cup white granulated sugar
3/4 cup all-purpose flour
1/4 teaspoon thyme leaves
Directions:
Preheat oven to 375°F.
Use nonstick spray to grease a 10" cast-iron skillet or other ovenproof baking vessel.
In a large bowl, toss peaches, sugar, vanilla extract, salt, lemon juice, lemon zest, thyme and flour together until completely combined. Transfer to a greased cast-iron skillet.
To make the crumble, cut the butter into small cubes and place in a clean bowl. Add sugar and use your fingers to combine the sugar and butter together. Once combined, add the flour and thyme leaves and work them into the butter mixture using your fingers.
Use your fingers to break apart the crumble mixture and drop it in small pieces all over the crumble. Peaches should show through beneath the crumble.
Place crumble in oven and cook for 40 minutes, then turn the oven to broil and cook for an additional 2-3 minutes until the crumble is golden brown. Keep a close eye on it to ensure it doesn't burn — it happens very quickly.
Cool for several minutes before serving.
*Use whatever variety of peach looks best at the market. We used white peaches, but anything works.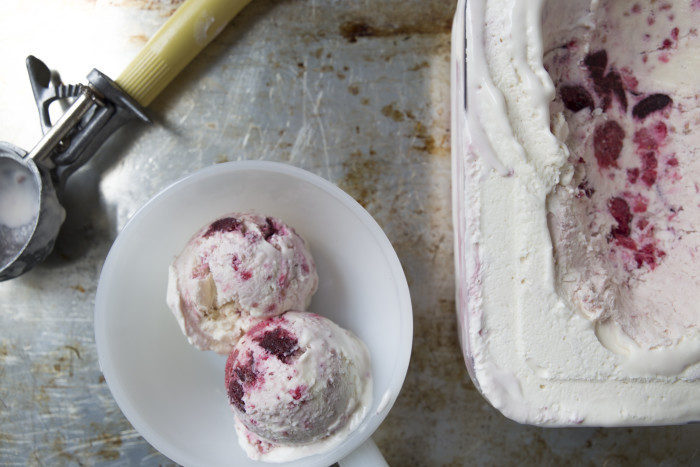 No-Churn Vanilla Raspberry Ice Cream

Servings: 4-6
Ingredients
2 cups heavy whipping cream, very cold
1 (14-ounce) can sweetened condensed milk
1 teaspoon vanilla extract
1 pint raspberries (or other fruit)
Directions:
Pour two cups heavy whipping cream into a large bowl. Using a whisk, beat the cream for about two minutes until thickened. Add the sweetened condensed milk and vanilla extract. Continue to beat the cream until soft peaks emerge.
Mash the raspberries with a fork and swirl them into the cream mixture. Transfer mixture into a freezer-proof container. Freeze for 4-6 hours or until completely frozen.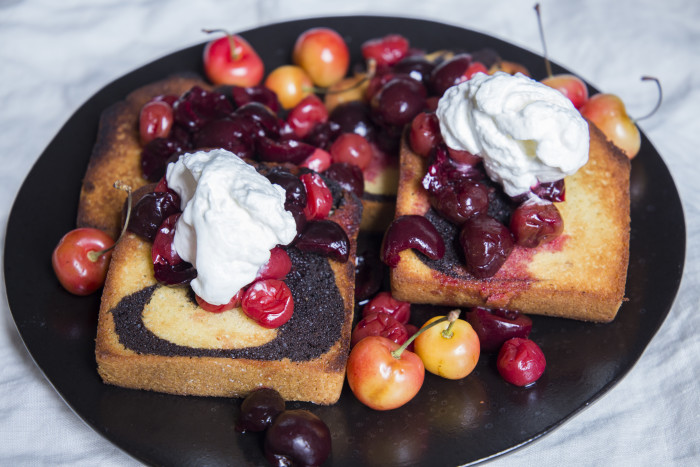 Cherry Pound Cake

Servings: 4
Ingredients
1 small loaf of pound cake, or 4 slices*
2 cups pitted cherries, any variety or a mixture
2 tablespoons white granulated sugar
1/2 teaspoon lemon zest
1/2 teaspoon vanilla extract
1-2 cups whipped cream
Directions:
Halve cherries if they are large. Place in a medium bowl with sugar, lemon zest and vanilla extract. Set aside to macerate for at least two hours.
Preheat oven to broil.
Place 4 one-inch-thick slices of pound cake on a baking sheet. Toast for 2 minutes on each side.
Arrange pound cake slices on a serving platter. Spoon cherries and their juices over top. Finish with dollops of whipped cream. Serve immediately.
*Any freshly baked pound cake will work here. We used a vanilla and chocolate marble pound cake from a local bakery.
---
Pacific Rim Riesling portrays bright crispness, subtle sweetness and aromas of jasmine, pear and apple in perfect harmony.