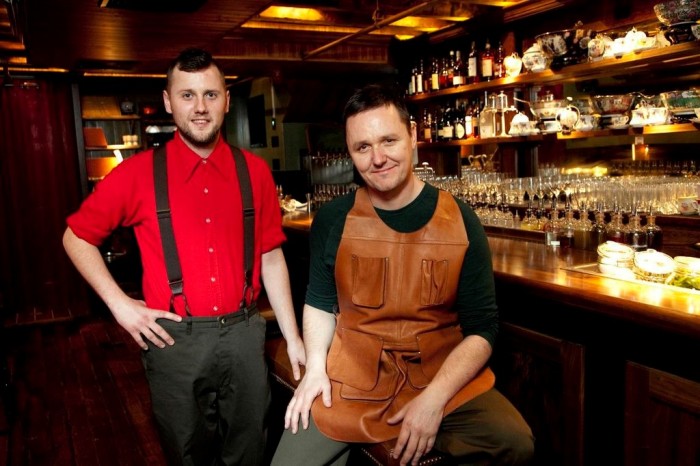 Winners of the 2016 Spirited Awards were announced Saturday night during Tales of the Cocktail in New Orleans, and Food Republic is thrilled with the results.
Our contributing cocktails editor and Easy Drinking columnist,
Jeffrey Morgenthaler
of Clyde Common and Pepe Le Moko in Portland, Oregon, was honored with two awards: Best Cocktail & Spirits Writer, as well as American Bartender of the Year.
How cool is this guy? Though he made an appearance at some sponsored Tales events earlier in the week, Morgenthaler apparently had somewhere else to be during the awards ceremony, leaving it to some dude in a "Jeffrey Morgenthaler Is My Brother-in-Law" T-shirt to accept the awards in his place.
Hey, thanks for all the awards tonight, Tales people. I'm sorry I couldn't be there in person! pic.twitter.com/4QGZQ20JR8

— Jeffrey Morgenthaler (@jeffmorgen) July 24, 2016
Expect more great cocktail writing from the man himself on this very site in the weeks and months to come.
Check out the full list of award winners below:
Best American Bar Team
ABV (San Francisco)
Best American Brand Ambassador
Colin Asare-Appiah (Bacardi)
Best American High Volume Cocktail Bar
Herbs & Rye (Las Vegas)
Best American Restaurant Bar
Saxon + Parole (New York)
American Bartender of the Year
Jeffrey Morgenthaler of Clyde Common (Portland)
Best American Cocktail Bar
Smuggler's Cove (San Francisco)
Best American Hotel Bar
The Elephant Bar at the NoMad (New York)
Best New American Cocktail Bar
Sweet Liberty (Miami Beach)
International Categories
Best International Bar Team
American Bar at the Savoy (London)
Best International Brand Ambassador
Max Warner (Chivas Regal)
Best International High Volume Cocktail Bar
Callooh Callay (London)
Best International Restaurant Bar
Hawksmoor Spitalfields (London)
International Bartender of the Year
Hidetsugu Ueno of Bar High Five (Tokyo)
Best International Cocktail Bar
Happiness Forgets (London)
Best International Hotel Bar
The Connaught Bar at the Connaught (London)
Best New International Cocktail Bar
Oriole (London)
Writing
Best Cocktail & Spirits Publication
Cocktail Lovers
Best New Cocktail & Bartending Book
The Dead Rabbit Drinks Manual: Secret Recipes and Barroom Tales from Two Belfast Boys Who Conquered the Cocktail World by Sean Muldoon, Jack McGarry and Ben Schaffer
Best Cocktail & Spirits Writer
Jeffrey Morgenthaler
Best New Spirits Book
Divided Spirits – Tequila, Mezcal, and the Politics of Production by Sarah Bowen
Global
Best Bar Mentor
Angus Winchester
World's Best Cocktail Menu
Dandelyan (London)
Best New Spirit or Cocktail Ingredient
Stiggins' Fancy Plantation Pineapple (Barbados)
World's Best Spirits Selection
Tommy's (San Francisco)
World's Best Cocktail Bar
The Connaught Bar at the Connaught (London)
Lifetime Achievement Award
Sasha Petraske