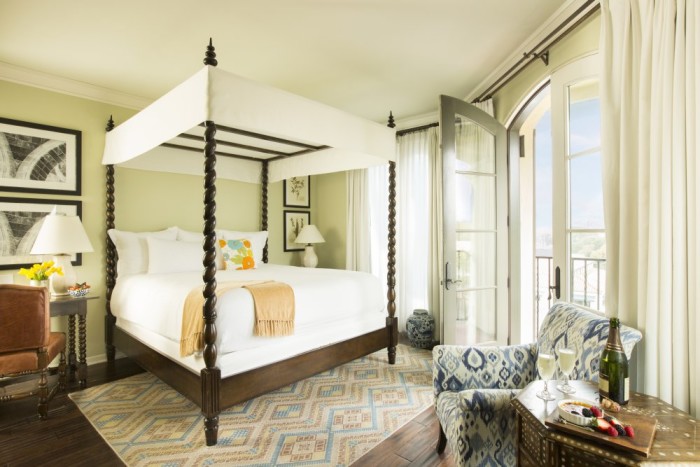 In Hungry Concierge, we travel the world to spot hotels that operate with their guests' food and drink needs squarely in mind — hotels, both big and small, that are located in neighborhoods rich with bar and restaurant options. Because there's nothing worse than having your trip derailed by crummy room service.
If Santa Barbara brings to mind red-roofed colonial architecture, quality food and wine and a faintly New Agey vibe, you'll find all this (and more) at Kimpton Hotels' Canary Santa Barbara. In other words, it's just the kind of place your mom will love — in case, say, you happen to be road-tripping up the coast of California.
I had the chance to test out this theory out on a recent such road trip, and I'm happy to say the Canary passed with flying colors. After fighting Friday afternoon traffic from Los Angeles, Mom and I pulled our rental car into the valet of the 1934 hotel, conveniently located smack in the middle of downtown. Reception had just the right question for us after hours stuck in traffic: "Red or white?" We gratefully accepted glasses of an excellent local vino and collapsed into a brightly patterned couch in the chandeliered, tile-floored lobby.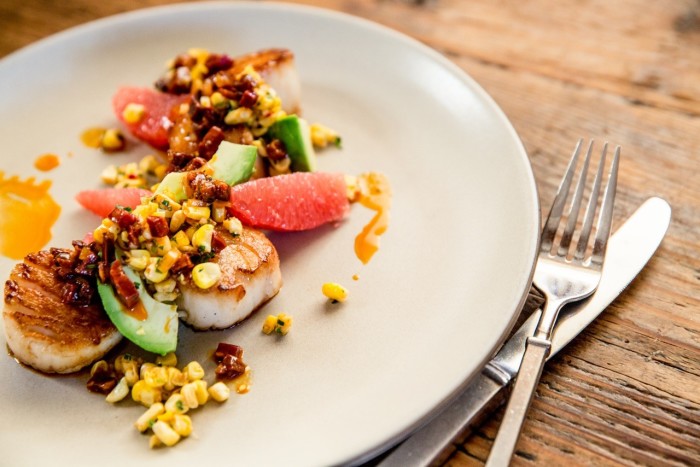 Later that evening we had more wine and some excellent grub featuring the area's finest ingredients at the property's New American restaurant, Finch & Fork, a hot spot even for non-hotel guests. Naturally, we went for the West Coast oysters, and since we had to order something with kale, the wild mushroom flatbread came next — like a lighter pizza, sans cheese. For a main, we opted for the daily special, seafood pot pie, which was the right move. It emerged creamy and steaming, encased in pastry crust and overflowing with every kind of fish and crustacean. (There's a different special each day; I hear great things about Tuesday's buttermilk fried chicken).
The following morning, I limbered up at a free yoga class while Mom read the paper in the rooftop hot tub, sipping a cup of complimentary coffee and happy as a clam in the steam pot. From the roof deck, she had views of both downtown and the beach nearby. The whole place was basically mom-bait, and mine couldn't have been more thrilled.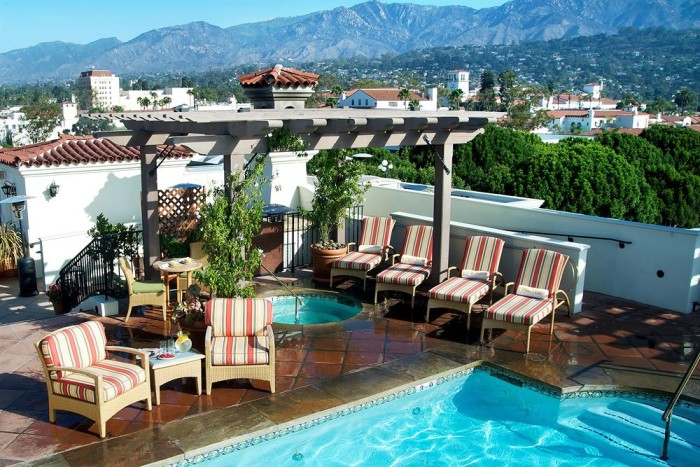 The Rooms
The boutique hotel's 97 rooms have shiny wooden four-poster beds with pillowtop mattresses, hardwood floors, animal-print bathrobes and other details that moms love. You'll also find flat-screen TVs, iPod docking stations and yoga mats in the closet in case you forgot yours. Minibars offer local food and drinks, and the beautifully fragrant Atelier Bloem bath amenities have a whiff of the South of France by way of the south of California.
The Look
When Kimpton purchased the Hotel Andalucia (originally the Hotel Carillo) in 2012, designer Edward Thomas helped transform the space to reflect the Moorish-influenced panache of Spain's Canary Islands. Classic colonial details like shiny dark wood, wrought-iron fixtures and hand-painted tiles are jazzed up with colorful textiles and Moroccan light fixtures.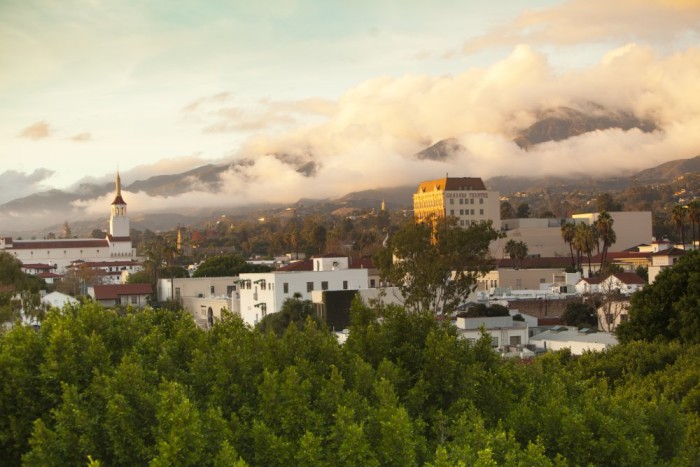 The Neighborhood
The Canary's downtown location makes it an easy walk or jog (or bike ride, thanks to complimentary bikes) to the main shopping drag of State Street and the beach near Stearns Wharf. If you're staying through a Saturday or Tuesday, the downtown farmers' market is also an easy trot. Best of all, Julia Child's favorite taqueria, La Super-Rica, which also happens to offers some of the best unpretentious Cali-Mex grub anywhere (go for La Super Rica Especial) is a quick drive or bus ride. I can report that it's also heartily mom-approved.
Canary Santa Barbara
31 W. Carrillo St.
Santa Barbara, California
619-515-3044
canarysantabarbara.com
Rooms from $319 per night