The Wine And Recipes To Keep Those Summer Vibes Flowing Into Fall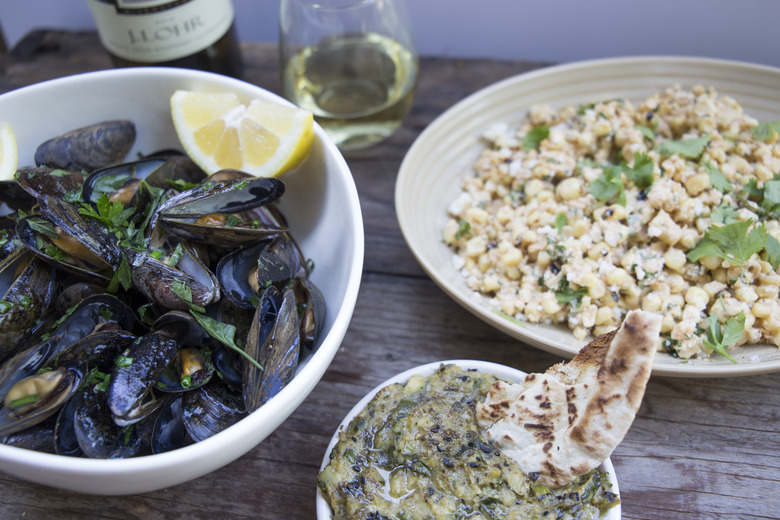 Paired with a Chardonnay, this trio of recipes can carry you through summer and into the fall. (Photos: Caroline Ch
Okay, okay. We get it. Bringing up fall this early in the summer ain't cool. But if you want to keep those white-wine-all-the-time, beach-hair-don't-care, picnic-in-the-park vibes alive past Labor Day, keep reading.
Summer is the peak of produce season, so take some time to cook a little extra here or there to stock up for grayer days. We're not talking about pickling your own cucumbers or making your own raspberry preserves — just a few easy tips and tricks to keep those warm, happy summer days close by, or at least on your dinner table, well into fall.
We're sharing three California-inspired recipes designed to pair with J. Lohr Estates Riverstone Chardonnay, sourced from the breezy Arroyo Seco AVA near Monterey, California. The fresh and vibrant citrusy undertones of the wine beautifully complement the fresh produce celebrated throughout these dishes. While many opt for red wines as the weather begins to cool, we'll be hanging on to summer for as long as we can by keeping the Chardonnay cool in our refrigerators, fresh summer corn in our freezers and our grills fired up even as the leaves begin to fall.
---
Mexican Street Corn Salad
There are few things greater than perfectly sweet, white summer corn. But frozen or canned corn? Complete rubbish. Grill extra corn, cut it off the cob and freeze it in individual or dinner-party-sized portions to ensure you can keep making this dish all year long. You're going to want to, trust us.
Servings: 4-6
Ingredients
4 ears corn (white preferred)
1 tablespoon canola oil
1 tablespoon plain yogurt
2 tablespoons mayonnaise
Juice of 1 lime (about 1 tablespoon)
A dash of cayenne pepper
¼ teaspoon paprika
¼ teaspoon chili powder
¼ teaspoon kosher salt
½ cup cotija cheese, crumbled
½ cup fresh cilantro leaves, finely chopped, plus more for garnish
Directions:
Preheat grill to medium-high.
Rub corn with canola oil. Place on grill, turning every 3 minutes until every side has dark grill marks. Remove from grill and allow to cool.
Place yogurt, mayonnaise, lime juice, cayenne, paprika, chili powder and salt in a large bowl. Whisk to combine.
Cut corn from the cob and add it to the bowl. Add cotija and cilantro and toss to combine.
Transfer to a serving bowl, garnish with additional cilantro and serve immediately. (Dish is best served at room temperature.)
*Make this dish using sweet summer corn all year round by freezing your corn in batches. After grilling, allow the corn to cool completely. Cut it off the cob, then spread out the kernels on a sheet tray. Place sheet tray in freezer. Once completely frozen, place kernels in a freezer-proof ziplock bag and return to the freezer. To dethaw, place the entire ziplock bag in a bowl of warm water.
---
Char-Grilled Zucchini Dip
Some recipes are best left to seasonal interpretation. As the seasons change, substitute the zucchini in this dip for eggplant, summer squash, butternut squash...you get it. Stick to the grill even as temperatures drop to get that char-grilled flavor that's so important here. If you have leftover herbs after making this recipe, chop them finely and add to an ice-cube tray, cover with water and freeze into portion-perfect fresh-herb flavor bombs that you can drop into pastas, stir fries and char-grilled veggie dips all year long!
Servings: 4-6
Ingredients
1 pound zucchini, washed
1 tablespoon canola oil
Salt and pepper
3 pitas, wheat or white
1 clove garlic, minced
Zest of ½ lemon (about 1/2 teaspoon)
Juice of ½ lemon (about 1 tablespoon)
1 tablespoon mint leaves, chopped
1 tablespoon parsley leaves, chopped
1 tablespoon cilantro leaves, chopped
1 teaspoon maple syrup
2 teaspoons za'atar
¼ teaspoon sesame seeds
Directions:
Preheat grill to medium.
Slice each zucchini in half vertically. Place into a bowl and add oil, salt and pepper. Toss to coat.
Place zucchini halves cut-side down onto the grill for 5-6 minutes or until char-grilled. Flip and cook for an additional 4 minutes.
Meanwhile, grill the pita for about 1 minute on each side, or until golden brown grill marks appear. Remove from the grill and set aside.
Roughly chop zucchini, then place in food processor along with lemon zest, lemon juice, mint, parsley, cilantro, maple syrup and za'atar. Pulse 5-10 times, until combined, but still chunky.
Transfer to a serving dish and garnish with sesame seeds.
*Save leftover herbs by freezing them. Finely chop herbs and place into an ice cube tray or small Tupperware. Cover with water and place in the freezer. To use, simple toss the ice cube into whatever you're cooking!
---
Grilled Mussels With Herbed Compound Butter
It doesn't get any easier than this recipe. Throw mussels on the grill, toss mussels with butter, eat. If mussels intimidate you, ask your fishmonger to clean and debeard them for you. Make a humongous batch of this lemon-and-herb compound butter and freeze it in smaller portions for use all year round. In addition to tossing it with mussels, smear it on fresh bread, stir it into penne or add a pat of it to a freshly roasted chicken. You won't regret using it anywhere and everywhere.
Servings: 1 as entrée, 4 as appetizer
IngredientsFor the butter:
2 sticks unsalted butter (1 cup), room temperature
2 tablespoons parsley, finely chopped
2 tablespoons basil, finely chopped
2 tablespoons chives, finely chopped
2 teaspoons fresh lemon juice
½ teaspoon finely grated lemon zest
For the mussels:
1 pound scrubbed, debearded mussels
2 tablespoons herbed compound butter (recipe above)
1 tablespoon chopped herbs (optional)
Lemon wedges (optional)
Directions:For the butter:
Cube the butter and place it in the bowl of a stand mixer along with the parsley, basil, chives, lemon juice and lemon zest. Beat with the paddle attachment on medium speed until combined, about 30 seconds.
For the mussels:
Preheat grill to medium-high.
Place mussels in a single layer in a grill basket and place on the grill with the lid closed. Cook until mussels have opened, 4-6 minutes. Transfer to a large bowl.
Cut up the compound butter into small cubes and gently toss with the mussels. The butter will melt and coat the mussels. Continue tossing until all butter is melted.
Serve with fresh herb garnish and fresh lemons if desired.
*Use your fresh herbed compound butter all year round by dividing into small, one-time-use portions and freezing it! To do so, divide it into small portions that fit your usage needs, wrap each portion in parchment paper, then plastic paper, and place in freezer.
---
J. Lohr Estates Riverstone Chardonnay is a rich, youthful Chardonnay with fresh aromas reminiscent of ripe nectarine, apple and strawberry, combined with honey, grilled hazelnuts and toasty oak from the barrel fermentation and sur lie aging. In the mouth it is plump and rich, with flavors echoing the aromas. A delicate balance of acidity, buttery length and sophisticated elegance make it the perfect accompaniment to the three recipes above.