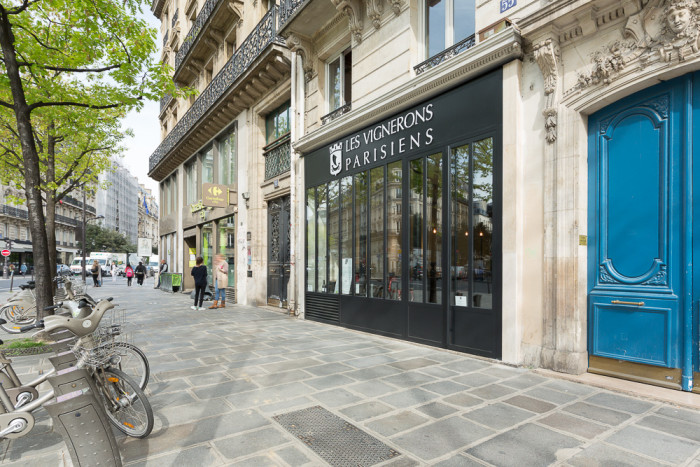 Emerging from the subway station République, where Paris's hip and eclectic 3rd, 10th, and 11th arrondissements come together, you first encounter hoards of teenagers skateboarding or talking excitedly in groups. All around, there are cafés and sidewalks full of people of all ages and walks of life. This city is very alive, despite its recent tragedies, which are memorialized on the plaza's main statue with a collection of flowers, plants, and photographs of lost loved ones.
Amid those bustling cafés and bistros, so common in this city, is something more unusual: an urban winery. When I went to visit Les Vignerons Parisiens, which opened quietly early this year with the mission of producing excellent wines, right in the heart of Paris, I was skeptical. Sure, we have plenty of urban wineries in the United States, including some very good ones — Division Wine Co and Bow & Arrow in Portland, Oregon, as well as Red Hook Winery in Brooklyn, are good examples. But France? With some of the world's oldest, most prestigious estates all over the French countryside, why would anyone wish to open a winery in the city itself?
"Growing up in Paris, my father was a négociant, so from my youth I knew about winemaking," explains thirty-something Matthieu Bosser, one of the winery's founders. In France, a négociant is someone who makes wine from purchased grapes, as opposed to grapes he farmed himself. "When I was young, I thought it would be great if you could just walk a few blocks or go on the subway and see how wine is made." In Paris, the city that drinks more wine than anywhere else in France, there was no way to see how the wine is actually made, says Bosser.
We were standing among stainless steel tanks in the winery, just behind the tasting room, which is only separated by glass windows. While Bosser and I spoke, someone was bottling the 2015 vintage, wearing a work jumpsuit that made me think of old French films depicting Renault factories.
Bosser's move to create an urban winery that makes quality wine is revolutionary in several ways. His goal is to help visitors see the mechanics of a winery and learn about the process behind their favorite — but often very intimidating — fermented juice. But more importantly, he and his partners also insist on taking the winemaking itself very seriously. In other words: This place is not gimmicky.
"We decided to use only biodynamic and organic for one simple reason: to have the best grapes," explains Bosser. At that point, the man who was bottling disappeared, changed into regular clothes, and came out to greet me. It turned out he was Frédéric Dusseigneur, a prominent biodynamic vineyard consultant from southern France. Biodynamics is a step beyond organic farming. It emphasizes several things: the use of local plants to treat the vines, following the lunar calendar and the overall creation of a harmonious environment for healthy land through manual labor and various "energetic" practices (there are some esoteric aspects to biodynamics). On top of sourcing grapes from healthy, organic vineyards, Bosser says the winery was designed to work with gravity — meaning the grapes go into tanks to ferment from above, and no pumps are used. This helps protect the wine from oxidation and allows for lower sulfur levels, resulting in more natural, alive juice once it's in the bottle.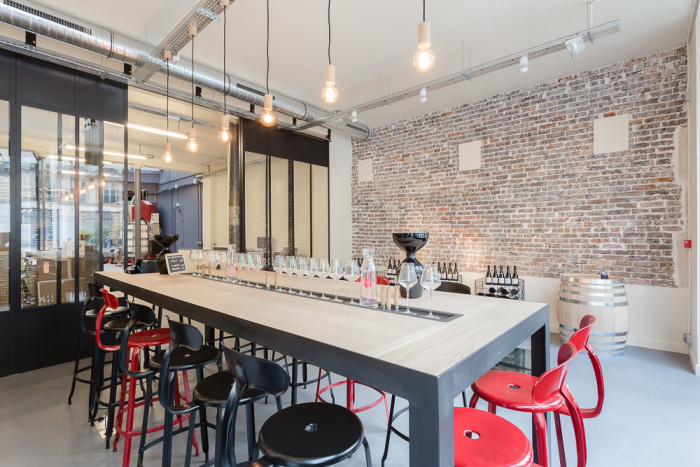 But nothing matters more than how the wine tastes, right? As I said, I had fairly low expectations when I showed up at Les Vignerons Parisiens. I'd just spent a week in Alsace and a week in the Loire Valley, two of France's greatest wine regions, and my palate was bracing for disappointment. I first tried a white wine made from a blend of Viognier, Grenache Blanc, and Roussanne — classic Southern Rhone varieties. Viognier, in particular, can be flabby and uninteresting, but Bosser explains that they were aiming, with all their wines, for "freshness, acidity, and lower alcohol." In other words, wine that is pleasant, easy to drink, and not too heavy on the palate. To achieve this, they harvest the Viognier slightly early, when ripeness is lower. The wine was very aromatic, with notes of white flowers; on the palate it showed lemons and white peaches; and it was dry and mineral. Totally a wine I would drink again. At a cave (wine shop) in Paris, it can be found for 14 euros, which isn't too cheap relatively, but also not too pricey.
Les Vignerons Parisiens also makes two very good red wines, one from Cinsault and one from Syrah. The winery is open to the public and offers visitors a 90-minute class about how to taste wine. These can be organized by calling the winery or contacting the staff through the website. Make sure to request English, if that's what you prefer. And when you visit, make sure to ask lots of questions. It's the best way to learn about wine — alongside tasting as much of it as you can, of course! And for that, Paris is your playground.