Azores Food Primer: 10 Essential Foods And Drinks From The Portuguese Islands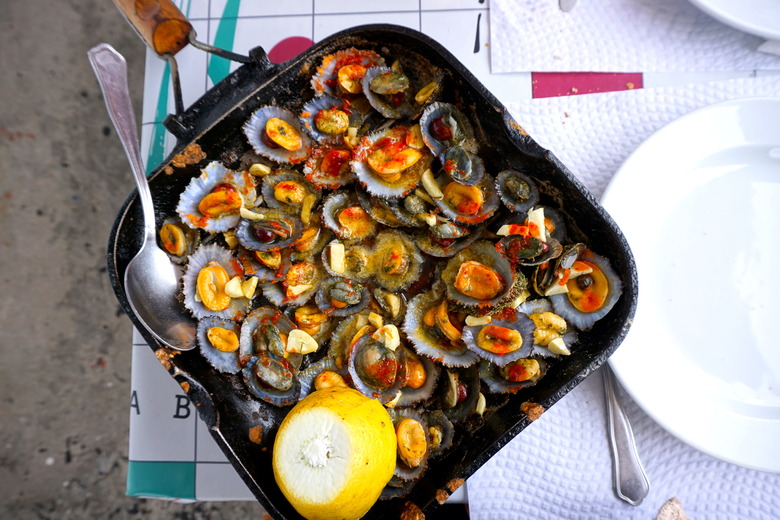 Grilled Azorean limpets. (Photo: Jenny Miller.)
If your first question is "Az-where-es?" don't fret. The Azores, a volcanic archipelago of nine islands in the middle of the Atlantic, aren't well known outside of mother country Portugal or the large Azorean communities of the U.S. and Canada. I just spent a month Azorean-island hopping, and the first question posed by locals was always Do you have family here? Answer: Não, I don't.
In recent years, that's been changing, as tourists without Azorean roots have started to discover how breathtakingly alluring these remote islands are. To wit, a typical landscape features electric green grassy slopes rolling down to an astoundingly blue Atlantic, ringed by black volcanic rocks. These pastoral vistas are punctuated occasionally by content-looking herds of grazing cows and quaint whitewashed dwellings with Portuguese-style red tile roofs. Oh, and if you happen to be here in July, plump blue and purple hydrangea bushes.
When it comes to food, the many unique microclimates make it possible to produce ingredients that most or all the rest of Europe can't. As I write this, I'm gazing out the window of my rented plantation house on São Jorge island at the healthiest-looking coffee bushes I've ever ogled. I've also been tossing bananas grown on the property into my smoothies each morning. More on all that soon.
To understand the full range of these islands' edible bounty, including tropical fruits, sea creatures you've never heard of, great beef and incredible cheeses, I consulted Filipe Rocha, the executive director of the Escola de Formacao Turistica e Hoteleira in the islands' largest city, Ponta Delgada on São Miguel island. In addition to running the hospitality school, Rocha is also a partner in the Azores Wine Company and the organizer of 10 Fest Azores, a five-year-old annual event that invites 10 respected European and North American chefs to each devise a menu out of local ingredients, using student assistance to pull off elegant meals for paying diners and journalists like me. Read on for the Azores' 10 essential dishes and drinks.
1. Cheese
Probably the best known local product is the cheese, which is so good you find it commonly in mainland Portugal, where 50 percent of the cheese comes from the Azores, says Rocha. The best stuff is produced on the island of São Jorge; when aged, it turns tangy, "spicy, salty." Says Rocha, "A two- or three-year São Jorge cheese can be side by side with a good Parmesan." Stateside, you can find the stuff through Mello's Chourico in the Azorean community of Fall River, Massachusetts, or Matos Cheese Factory in Santa Rosa, California, which produces a domestic version.
2. Seafood
Not surprisingly, these isolated islands surrounded by cool Atlantic waters are able to haul in a lot of seafood. Tuna is big here — literally. These things usually clock in at many hundreds of pounds before they're shipped off to the cannery or Tokyo's Tsukiji fish market. Wreckfish and parrot fish are also common, plus lots of other fish whose identity I never quite nailed down since the names are all in Portuguese.
But the most swimming menu offerings, to my mind, are some lesser-known sea creatures. Leopard-print moray eels get the breaded, deep-fried treatment and hit the plate hot and oozing with fat. "Limpets are the most known," says Rocha, referring to a kind of sea snail known locally as lapas (LAHP-ahsh), that's usually served grilled, in a sauce of butter, garlic, and spicy red pepper. (A local I spoke with on São Jorge told me it's also popular with his crowd to eat them raw.)
On Terceira island, you can find a kind of barnacle known as cracas (CRAH-cush) (not to be confused with percebes, or gooseneck barnacles, from mainland Portugal), which easily could be mistaken for chunks of rocks. These are boiled in seawater and served chilled, with a small prying device that looks like a piece of dental equipment. Your efforts are rewarded with the taste, which is sweet and briny and precisely of the sea, like the best crab you've ever tried. Track them down at Beira Mar restaurant in the village of São Mateus or Cais de Angra in Angra do Heroismo. And "we have great lobster," says Rocha, referring to a local variety known as cavaco that I heard about but never managed to track down. If you find restaurant that has it, order it — word is it's exceedingly delicate and tender.
3. Tropical fruit
Pineapples, bananas, and passion fruit (oh my) are just some of the tropical fruits growing in the Azores' astoundingly fertile microclimates. On São Miguel island, the largest of the nine, you can visit the A. Arruda pineapple plantation to see the fruits growing in greenhouses and purchase pineapple liqueur and other products.
Oranges had originally been a huge wealth-generating crop on São Miguel, but a blight that arrived in 1860 forced growers to look to other crops, like pineapple, tobacco and sugar beets. Still, if you can get your hands on any locally grown oranges, the taste is sweet-tart and juicy, unparalleled. "Our fruits have great acidity because of the soil and the climate — not too much heat," says Rocha, sounding like the wine guy that he is. Fruit liqueurs made from not just pineapple but also passion fruit, blackberry, and other crops are another beloved local staple that you can request as a digestif in any restaurant.
4. Cozido de Furnas
Most visitors to the Azores spend time on São Miguel island, since many international flights land at Ponta Delgada airport there. And most of them (including Anthony Bourdain on television's No Reservations) also visit the town of Furnas to see a beloved Portuguese stew known as cozido cook in holes known as fumaroles that are dug in hot volcanic soil. If that sounds exciting, make sure you show up at Lago das Furnas at 12:30 p.m. to see the various restaurants remove their huge metal stockpots from the holes, where the contents have been cooking since early morning in the geothermal heat. (Local families can also show up early to claim other fumaroles for their own cooking needs; sometimes you'll still see locals tossing bags filled with potatoes and other slow-cooking foods into the area's hot springs.)
Photos snapped, you can then repair to the town of Furnas to enjoy a cozido lunch. The version served at Terra Nostra Garden Hotel's restaurant (recently revamped in Deco elegance) is a little more refined than some options, with the option of making it a three-course lunch. The basic idea is the same: You'll be given a plate piled with various cuts of pork, plus chicken and sausage, along with stewed kale and cabbage. Ask for extra broth to be spooned over the top if you like things saucy. After dining, you can stroll down to the hot springs and botanical gardens on the grounds of Terra Nostra, a former private estate.
5. Wine
Even though my Airbnb host on São Jorge, when recommending a restaurant, advised me to "be sure to ask for the mainland wine," the Azores are producing some great vinhos — particularly the whites coming from Pico island. For now, production of good bottles is small and prices are relatively high for Portugal, but the industry is growing and cultivating a niche wine-geek customer base.
The Azores Wine Company, with the gifted young winemaker Antonio Maçanita (who made a name for himself with FitaPreta wines in Portugal's Alentejo region and Maçanita Vinhos in the Douro before turning his attention to Pico's vineyards), is leading a revival of winemaking on the island. Flying into Pico, you see fields of abandoned vineyards, arranged into square plots defined by low walls built of black volcanic stones — the traditional design that protects the vines from sea winds and allows the rock to absorb the sun's rays and warm the fruit during the day.
"The Azores have 500 years of history in wine," explains Rocha. "In the mid-19th century, they produced 20 times what Madeira did — then phylloxera came." The pest nearly decimated the island's wine production, "but in the last ten years, they've started to recover the vineyards," he says. Pico is now one of 14 Unesco World Heritage wine regions worldwide.
Rocha, Maçanita, and a third partner in the Azores Wine Company have been instrumental in this, cultivating the little-known old-school Pico grape variety of Terrantez, the grape that's helped them make a name for themselves. Since launching in 2014, the company has released a half-dozen whites, which have all received more than 90 out of 100 points from Wine Advocate's Robert Parker, the industry's last word on wine. The Azores Wine Company has also helped Pico transform "from a region that 10 years ago no one knew about to now getting into the best restaurants abroad," including a number of Michelin-starred joints, says Rocha. And the story is only beginning. Wine nerds, keep your eye on these guys.
6. Beef
Like the happy dairy cows, cattle destined for the plate lead idyllic lives munching on neon-green grass that never needs to be watered, which means you can get some darn good beef on the islands. "The meat is really good," attests Rocha. I can vouch for that, having tried it at Alcides, a traditional steakhouse in Ponta Delgada, where the question isn't "What would you like to order?" but rather "How would you like your steak cooked?" It arrives dotted with roasted garlic gloves and sautéed red peppers, accompanied by French fries. I also enjoyed alcatra, a famous dish from Terceira island that's a lot like pot roast: Beef rump is slow-cooked with red wine, onions, garlic, allspice and black peppercorns (nodding to the Azores' importance back in the spice-trade era) until it's falling-apart tender. It's served with masa souvlada, a puffy, lightly sweet bread that's a nice foil for the salty meat.
7. Soups and stews
Speaking of alcatra, that and other soups and stews are a huge part of Azorean cuisine, which is at its heart a cucina povera that's all about making something delicious out of limited ingredients. With so many volcanic eruptions and earthquakes afflicting the islands, Azoreans are quite Catholic; one hugely important dish is Holy Ghost soup, which is served at the Holy Ghost celebrations you'll find all over the islands on the eight Sundays following Easter. It famously features bread soaked in broth made from beef, chicken, pork, potatoes, cabbage and other ingredients, which are served in a different dish. Since these are islands, seafood soups are also popular. It's not uncommon for different towns or islands to have signature versions, like Pico's octopus stew, or the fish soup from Maia on São Miguel.
8. Carbs
As a historic seat of Portuguese Catholic power, the Azores had many convents back in the day, each producing their own typical pastries. Many of these can still be found in bakeries around the islands. In Angra de Heroismo on Terceira, visit O Forno bakery to try the Dona Amelia, a custard tart made with cinnamon, honey, and raisins. You can also dig into other sweets made with the island's tropical fruits, like mini cornucopias oozing with passion fruit filling. Typical breads also abound, including the alcatra accompaniment, masa souvlada, and bolo levedo, a flatbread from Furnas that's a dead ringer for an English muffin.
9. Tea
The only tea plantations in Europe? Right here in the Azores. In Ribeira Grande on São Miguel, you can visit the two old-school producers, Chá Gorreana and Chá Porto Formoso. At the former, take in the tea plantations rolling down to the sea, then tour the factory to see its vintage equipment at work and sample signature orange pekoe and green tea varieties. The latter is a smaller growing operation but another pleasant place to sample tea.
10. Coffee
Not only can you get a great espresso at any old café around the Azores (it's still Portugal, after all), but São Jorge island is home to one of the few European microclimates where the beans grow well. Fãja dos Vimes, the 62-person village where I happened to rent an Airbnb, is the epicenter of this minuscule production of arabica beans, which will hopefully increase in years to come. If you're in the neighborhood and craving some local joe, hit up Cafe Nunes, the town's only beverage outpost, for espresso made with local beans and a tour of the plantations behind the shop.