8 Rules For Planning A Picnic With Riesling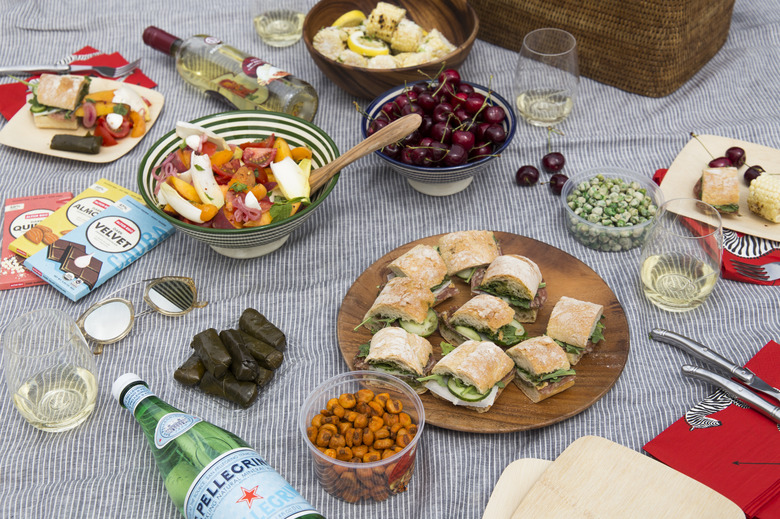 We like sandwiches as an entrée, regardless of whether it's a lunch or dinner picnic. (Photos: Caroline Ch
It's the peak of summertime, and y'all know what that means — 'tis the season to eat alfresco. Ranking high among alfresco frontrunners such as rooftop dining and backyard BBQs is one of our all-time favorite ways to dine outdoors: picnics.
Whether you're a city dweller taking the subway to the closest urban park or a suburbanite packing up the car and heading to a lake, picnicking is the ultimate way to maximize your time spent outdoors this summer. Follow our eight simple rules for nailing your picnic game every time.
Picnic Rules
1. Divvy up the responsibilities: The best picnics are built on teamwork and are in essence the greatest form of a potluck. Assign one person to blankets, one to wine, one to salad, one to utensils and so on. Just make sure the blanket bearer isn't your notoriously late friend.
2. Pack wisely. If you're going to put all that effort into packing a beautiful picnic, why throw it in a ziplock bag and eat it with a flimsy disposable fork? Packing a mixture of reusable and disposable items is key to picnic success. On the reusable end, we like to serve all homemade food in pretty dishes (just cover them with plastic wrap!), we like to drink out of reusable plastic wineglasses, such as those by Govino, and we always pack good forks. On the disposable end, sturdy eco-friendly plates from Eco-gecko and pretty printed paper napkins are perfect. Sustyparty.com is a great site to check out for sustainable and compostable party ware. We also like to serve all store-bought goodies right out of their packaging. Bought a baguette? Place it on top of the bakery bag it came in. Container of grape leaves? Replate them on the lid of the container for easy grabbing.
3. Choose your wine with care. First, go screw-cap — one less thing to worry about (corkscrew), and you know your wine will be fresh every time, no chance of corked wine. Also, it's hot, so white wine will cool you down, not to mention no harm done if there are any spills or splashes. Go for interesting, higher-acid whites that will give you a refreshing acidity, such as Pacific Rim Dry Riesling. Crisp, dry and lush with flavors of citrus, jasmine and minerals, this wine is an endlessly versatile choice that can pair with a number of cuisines. We especially love it with cheeses and cold meats, which is why we chose to add mozzarella to our salad, Parmesan to our corn and soppressata to our sandwiches.
4. On that note, the wine and only the wine belongs in the cooler. There is no need for a gigantic trunk of a cooler at your picnic. The wine should be cold, and everything else should be safe to consume at room temperature.
5. Slow it down. Picnicking is about wiling away the time with your friends on a beautiful summer day. Don't rush it! We like to informally course out the picnic by placing all snack-y, appetizer items out first, then moving to the main course. After eating, we like to clear everything (except the wine!) completely to make more room to stretch out and enjoy dessert.
6. Speaking of dessert, it should never require a fork or extra work. Hauling a second set of forks and plates to the picnic just for dessert is just not an option. Dessert should be the easiest part of the picnic. We like to serve really great chocolate bars and bite-sized fruit such as strawberries or cherries. If it's hot out, throw the chocolate in a ziplock and keep it in the cooler.
7. Keep your menu simple and delicious. Picnic food has just three requirements: It must be easily sharable, easily transportable and delicious at room temperature. We like sandwiches as the "main" no matter if it's a lunch or dinner picnic, with a couple of dishes on the side. Sandwiches that star cured meats like soppresata or prosciutto will be safe to eat for hours. Try these side recipes for stone fruit and tomato salad and blistered corn — they're both durable and delicious.
8. Fancy up your water. Put pieces of lemongrass or sprigs of mint into big flat or sparkling water bottles to gussy it up a bit. No need to bring extra cups for water — picnicking is about minimalism. You either get to drink wine or water. Choose your battles.
The most important picnic advice of all? Relax, take it slow, and enjoy a couple of hours of outdoor fun with your friends.
Stone Fruit and Tomato Salad With Pickled Shallots
Servings: 4-6
Ingredients
1 medium shallot
½ cup red wine vinegar
1 teaspoon white granulated sugar
8 small tomatoes
2 apricots (or other small stone fruit)
3 peaches (or other large stone fruit)
1 head of endive, leaves pulled apart
¼ cup mint leaves, roughly chopped
1 cup cillegine mozzarella balls, halved
2 tablespoons olive oil
2 tablespoons lemon juice
Salt and pepper
Directions:
Slice the shallot into thin rings. Place the red wine vinegar and sugar in a small saucepan and bring to a boil. Add shallots and reduce heat to medium-high. Cook, stirring often, for 2-3 minutes or until shallots have softened. Set aside, allowing the shallots to continue to steep in the vinegar.
Cut the tomatoes, apricots and peaches into wedges and place on a large serving platter with the endive leaves, mint, mozzarella and pickled shallots. Drizzle olive oil and lemon juice over the top and toss gently to combine. Season with salt and pepper.
Blistered Corn With Parmesan, Lemon and Mint
Servings: 6-8
Ingredients
4 ears of corn
1 tablespoon canola oil
1 tablespoon lemon juice
2 tablespoons Parmesan
2 tablespoons mint, roughly chopped
Lemon wedges, for serving
Directions:
Preheat grill to high.
Remove husks from corn and rub each cob evenly with canola oil.
Place corn on the grill and grill for 2-3 minutes per side, until lightly blistered. Transfer from the grill to a chopping block.
Chop each corn cob into 4 pieces. Place in a serving bowl and toss with lemon juice, Parmesan and mint. Serve with lemon wedges.
Pacific Rim Dry Riesling from Columbia Valley, Washington, is crisp, dry and lush with flavors of citrus, jasmine and minerals. This Dry Riesling is endlessly versatile and harmoniously complements the world's most vibrant and flavorful cuisine — from Asian to European to a wide variety of seafood, cheeses and cold meats.