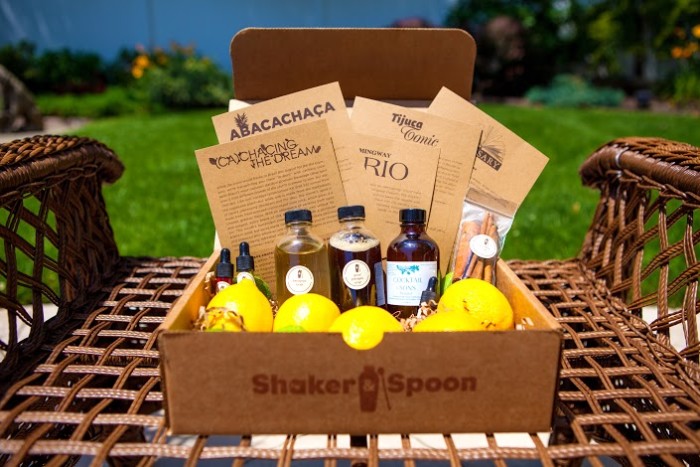 Life as a booze writer is pretty sweet. I'm not going to lie to you. There are a lot of free cocktails at fancy bars involved. And people send you bottles to taste at home. The most recent trend in booze marketing, I've noticed, is to send an entire cocktail. I've been the recipient of a cheerfully packed box filled with everything needed to make an elaborate drink, down to the sprigs of fresh herbs for the garnish. It's allowed me to taste big-name mixologists' cocktails without even leaving my living room. Pretty sweet, indeed. Now you too can experience a life like mine, thanks to Shaker & Spoon, the craft cocktail delivery service.
The popularity of meal-delivery services like Blue Apron, Plated, and Purple Carrot paved the way for this concept. For $50 a month — less if you sign up for multiple months; 12 months for $480 comes out to $5.83 per drink — you'll get a box built around a particular spirit. It includes syrups, tinctures, bitters, fresh fruit, fresh herbs, even sugar cubes. Buried amid the shredded paper that cushions the tastefully labeled glass bottles, you'll find three cards, each printed with a detailed recipe. These are supplied by bartenders working in acclaimed cocktail bars across the country. Like its dinner equivalents, Shaker & Spoon portions out ingredients to make a precise number of drinks with as little waste as possible.
This July, for example, the theme is "Summer Scotch," and ingredients include little vials of such exotic-sounding preparations as an IPA tincture, grapefruit saline solution, strawberry cordial, peach-cinnamon syrup, and burnt orange syrup, plus Peychaud's bitters. The box also comes with lemons, sprigs of thyme, a grapefruit and an orange. Before we go any further, you should know that there is no alcohol sent. You can thank our country's arcane liquor laws for that. A couple recommendations for a bottle to buy come in an email before your box arrives, including a top-shelf option and a value one. You can make 12 drinks out of the ingredients in each box, so you can easily polish off most of a bottle in the process.
The box I tried was June's "Celebrate With Bubbles" theme. It came with ingredients for three different cocktails, each designed for a different glass. A little card with a glossary of barware and glassware terms was tucked into the box with the recipes. It also imparted tips on stirring, shaking, and citrus zest–slicing techniques. I made the prescribed drinks for my husband (whose home cocktailing is restricted almost exclusively to martinis) and mother-in-law (vodka martinis), using a bottle of champagne I had lying around (free work booze) that I'd already deemed too good to mix into cocktails.
Given that none of us were really into complicated fruity drinks, we were all pleasantly surprised at the results. A favorite was the Pink Peppercorn Potion cocktail, made with an addictive strawberry peppercorn syrup. The Time After Thyme, a recipe by Pamela Wiznitzer of Seamstress in New York, combined fresh grapefruit with a cucumber-thyme syrup and celery bitters.
Like Blue Apron and co., which include key spice mixes that casual home cooks aren't likely to have on hand, the most useful component of the cocktail box is the syrups, which I would probably never make at home. But also like Blue Apron, the best part of the concept is inspiration. That ras el hanout (Moroccan spice mix) I got in one of my Blue Apron recipes? I'd never used it before, but it's now a staple of my cupboard. Cucumber, thyme, and celery is a flavor combo that might make a reappearance too.
With no alcohol in the box, it might seem like the most important ingredient is missing. Other cocktail delivery services, like SaloonBox and Cocktail Courier, include it. But as Shaker & Spoon's cofounder Anna Gorovoy points out, it's the easiest part of the drink (besides lemons) for people to find on their own. Including the spirit had been part of the original idea, but ultimately she and partner Mike Milyavsky decided against it. The upside is that they can ship anywhere in the U.S., even to states that prohibit the shipping of alcohol. And subscribers need not be 21 or older to order, so you could feasibly receive a box as a gift from your precocious teenage niece.
Speaking of gifts, a cocktail box is a great one for adventurous tippling types. And with international shipping in the pipeline, you may one day be able to send a drink overseas. Talk about living the dream.