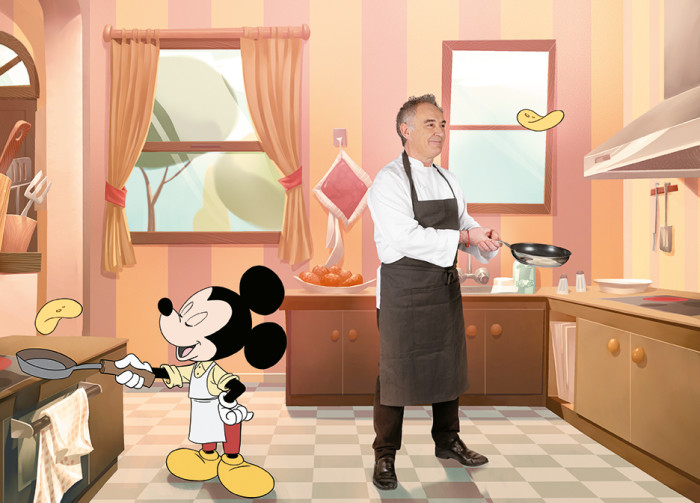 Acclaimed Spanish chef Ferran Adrià has partnered up with the Walt Disney Company for a new illustrated cookbook that shows him flipping potato chip omelettes with Mickey Mouse and being watched by the eyes of Yoda as he slices a floating eggplant with a lightsaber for a recipe called "eggplants Padawan."

"I was with a thousand kids and family members in Madrid on Saturday doing a cooking class," Adrià said excitedly on a recent morning at the Barcelona headquarters of the El Bulli Foundation, the creative think tank he started after closing his famed three-Michelin-star restaurant in 2011. "Tonight I'll be at the Chocolate Museum."

Adrià's new book, Te Cuento en la Cocina, was recently published in Spain, accompanied by an app and a website featuring videos and a week of "incredible menus" (as in The Incredibles), with dishes named for Disney characters like "Orange Nemos in a Sea of Chocolate," "Spidey Ribs" and "Remy White Asparagus." The project's title translates literally to "I tell you in the kitchen," a reference to Disney fairy tales and other children's stories.

International versions of the book, including one in English for the United States, are in the works, although publication dates are not yet set.

In this interview with Food Republic, Adrià explains that in spite of the Disney characters,Te Cuento en la Cocina is not just about cooking cute.

What is the concept of Te Cuento en la Cocina?
This is a project for families, not for children. The recipes are for four hands. [But] the idea was to do a project about comprehension, not just about recipes. It's about culture and knowledge. And if Obi-Wan Kenobi explains it to a child, it's easier than if Ferran Adrià explains it. That both of them explain it, that's fantastic. We have all of the strength of Disney behind us to reach children and families.

What is the biggest mistake parents make when educating children about eating and nutrition?
This isn't politically correct to say, but the question is do the parents themselves know how to cook? It's normal for people to take a test to be able to drive, but they don't have to pass a test to cook.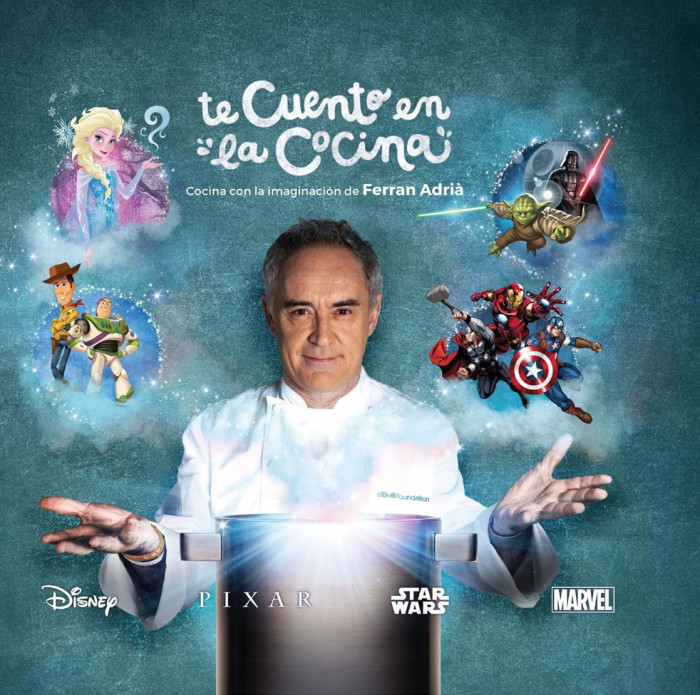 What has defined the current generation of cooks, i.e., the parents of today's children? Do you think there's a sort of lost generation where home cooking is concerned?
Women entered the labor market in the 1980s in Spain; before that it wasn't normal here for women to work. In the mid-'80s, there was a disruptive change, because there was a change in the household routine, and women couldn't cook the same as they did before. And now there's another change happening. Because boys, not girls, are going into the kitchen.
In 1980, a boy going into the kitchen was like doing ballet. They wouldn't let them in. Now if you are a boy and you know how to cook, it's a way to get girls. It's a social change. Today the great revolution is that boys are going into the kitchen.
So what's going to happen in 2030? Those boys will be 20 or 25 years old, and a lot of them are going to cook very well at home. Their cooking won't just be good; it will be very good. Because they will understand.
What was it like at your house? Did you start cooking when you were young?
[Laughs] No, totally to the contrary.
I say my mother was the greatest cook in the world, but it wasn't true. One thing is about emotion, another is about knowing how to cook. It's not so easy to be a good cook. Who makes a good omelet? Almost no one, like zero percent. My mother made an omelet that didn't have anything in it; it was just an egg sitting there in the pan.
Not all mothers cook well. Most of them don't. But that's normal. Because no one explained how things should be done. Some people cook fantastically at home. There are also weekend golfers who know how to play a very good game of golf. But not many.
This project is about all of that. For us, it's very important that families, little by little, start talking about cooking. It's important that kids — boys — go shopping with their parents on Saturday or Sunday. That was unthinkable before. They had to go and play football.
It started with television. Thanks to programs like MasterChef Junior, a lot of kids want to cook.
You've appeared on segments of Disney's Spanish cooking show for kids, Un, Dos Chef! Will there be a Ferran Adrià TV show for families?
No. I will never have a television show. You can quote me on that. Because that's not what I do; I'm committed to the cutting edge. I accepted this project because it's Disney — partners are very important for us. And because throughout my career, I've always liked to do home cooking projects — easy recipes to do at home. But with the closing of the restaurant and the creation of the foundation, I'm at the forefront.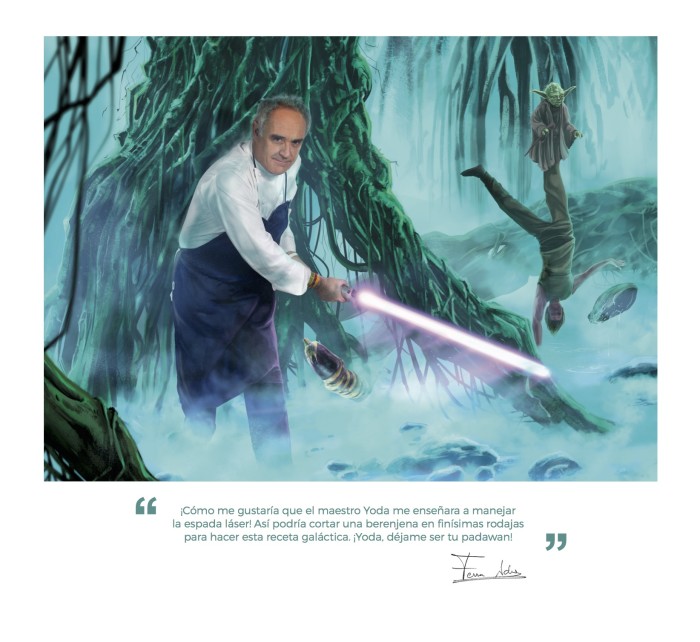 How did the project originate?
About three years ago, Disney approached me about wanting to do a project about healthy nutrition. I had done the book The Family Meal [a book of recipes of the El Bulli staff meals first published in Spain in 2010 and in English translation in 2011]. But what else was needed? To understand. We said it would be fantastic if in addition to cooking, you could understand why you cook, what is cooking. This is an educational project. It's not just a book.
Can you give an example of something that people need to understand?
All of the newspapers, the magazines, the radio, books tell us we have to eat natural products for healthy nutrition. Lie! That's a lie. The best organic tomato is a man-made product. Natural products only exist in nature. The rest is aritficial. Natural tomatoes do exist, in Peru, but they are tiny and inedible. We explain that to you so that you can explain it to your children. The problem is that as parents, we don't know these things either.
Another thing is that people don't organize themselves in the kitchen. If you look at these ten pages [in the beginning of the book] and you do what it says, you will be organized. You're going to be able to cook twice as fast and twice as well. People like to read the recipes better, but our dream is that these pages are going to be in schools in five years. What's needed are guidelines, not just for children. For everyone.
What do you think Ferran Adrià has in common with Walt Disney?
Well, the Disney that I know, the Disney of Pixar, we have creativity in common. We have the same vocation. We are two companies — the Bulli Foundation is not technically a company, but it operates as if it were. We understand each other because our common mission is innovation. We are two entities that value creativity and innovation, and that's what has brought us together.
You've talked about a concept called "Sapiens" as the driving organizational force behind the El Bulli Foundation. Can you briefly describe what Sapiens is?
Sapiens is a methodology for understanding things.
How it's done is complicated. It's so complicated that we don't know if we even have a way of explaining it yet. There are 25 projects. Te Cuento en la Cocina is one of them, the most important one right now. Another project is for entrepreneurs, together with [Spain's] Caixabank. Innovation happens when there is good management.
So El Bulli Foundation is not just focused on the culture of food?
We don't make food here. The Bulli Foundation's mission is about how to improve efficiency and effectiveness in innovation. What we're doing is not just about food.
See samples from the new cookbook below: