Breakfast For Dinner: Summer Edition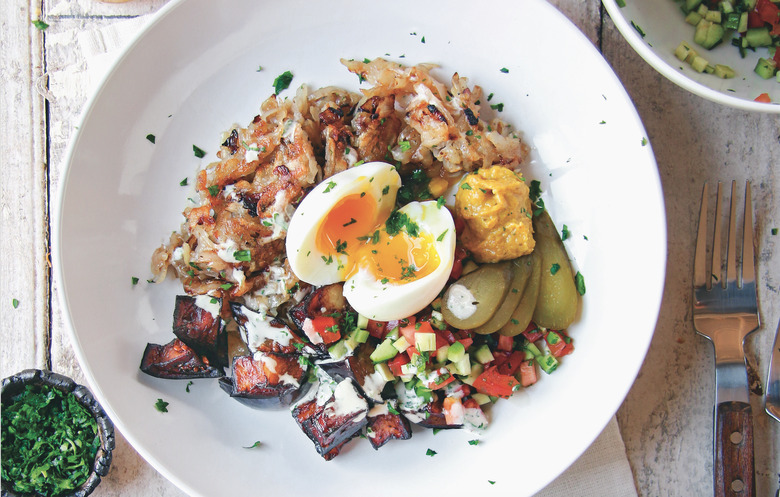 Some nights, breakfast is on your mind. It's not that you don't want lasagna; it's that you really, REALLY want a sausage, egg and cheese, and that is perfectly fine. But rather than craft an unspectacular sandwich that'll only just satisfy that craving, peruse a few of our heartiest, scrambliest, most yolk-tastic and perfectly in-season summer breakfast recipes. The market is full of vegetables that want in on this party.
Recipe: Sabich Breakfast Bowls
Normally packed in a pita, this is a traditional Iraqi Jewish Shabbat breakfast. It consists of fried eggplant and hard-boiled eggs, but then it's surrounded with tahini, amba, schug, Israeli salad, pickles, etc. It's an everything sandwich. I wanted to make it into a breakfast bowl, so I did. Instead of a hard-boiled egg, a soft one takes its place. #yolkporn
Recipe: Garden Goddess Breakfast "Burritos"
The field of concoctions flying under the flag "breakfast burrito" is a crowded one. But Liz and Tim's version of what might arguably be California's favorite breakfast is a superb standout. Bright and appealing, crisp, green, fresh — these are all terms that apply. Even if the view out your window is not of softly rolling waves, you might find yourself saying brightly to your breakfast table partner, "Surf's up!" Or maybe it's just me.
Recipe: Spinach, Soft Egg And Parmesan Pizzetta
I don't know the first incidence of a runny egg on top of a pizza but whoever had the idea deserves a medal. It's a glorious moment when you cut into the center of the pizza and the yolk breaks and oozes yellow onto the plate. The base for this pizzetta needs a bit of practice — you want the dough and filling to be slightly thicker at the edges to prevent the egg from running over the sides.
Recipe: Eggs Benedict BLT With Avocado-Tomato Relish
Ah, the Southern life. Whenever we feel the need for ultimate comfort recipes, we turn to Southern Living magazine's new Feel Good Food cookbook. This recipe for an eggs Benedict BLT sure sounds like it'll make us feel good, but let's enjoy it for brunch just to make sure. Remember that time you were trying to choose between the eggs Benedict and the BLT? Good times.
Recipe: Paul Qui's Breakfast Taco
"The breakfast taco was a college staple for [us]," says Paul Qui's former marketing director Deana Saukam. "It's cheap, fast and satisfying. Another favorite breakfast taco is anything from El Primo. Pete's Tantalizing Tacos from Maudie's are pretty delicious, too."
Recipe: Roasted Tomatillo And Poblano Shakshuka
Remember that leftover challah from Friday night? Pull it out along with every other carb in the house. This is the ultimate family-style brunch dish. You'll find so many versions of this dish all over Israel and now, the United States. Every blogger is making it, and there's a reason for it: IT'S THE BEST BRUNCH DISH ON EARTH. If you break it down, shakshuka is a dish of eggs poached in (usually) a spiced tomato sauce. This version is made with a few changes to the classic-style shakshuka. The main difference is that I use tomatillos instead of tomatoes, which makes the whole thing green instead of red. I char them under the broiler with a poblano pepper to give more flavor depth in a matter of minutes. This will become a favorite of yours.
Recipe: Summer Squash Gruyére Quiche
The rustic quality of spelt really shines in this flaky crust, which is flavored with mint, as is the cheesy vegetable filling. I recommend Choice Organic Teas' Moroccan Mint.
Recipe: Crab And Roasted Corn Frittata
The frittata is an Italian dish (Marcella Hazan's onion frittata was one of the first recipes Ben learned as a kid) that's similar to an omelet but, in our opinion, better and easier. The cheese and fillings are evenly distributed throughout the fluffy egg base rather than sandwiched in the middle, and there's no messy flipping involved. It's another perfect vehicle for our love affair with crab and corn, along with a nice sharp cheddar.