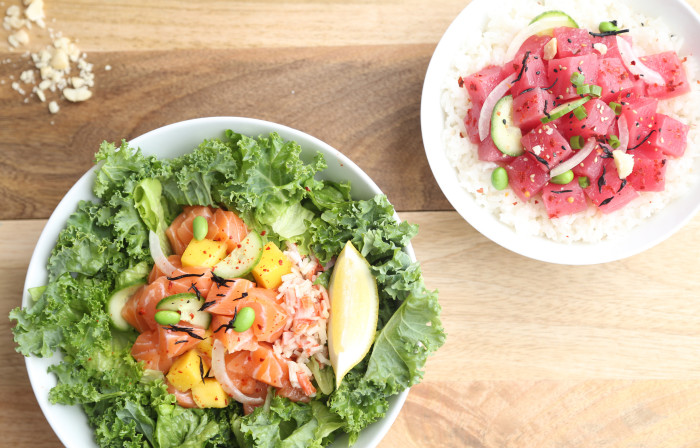 We're constantly on the lookout for "the next kale" here in New York City. Our desire to eat nutritious, tasty food has reached an all-time high, and we've shown a willingness to wait for it. Just check out the lunchtime line that forms daily at the Sweetgreen or Chop't location nearest to your office.
While grabbing a salad has always been somewhat of a simple, albeit dull, way to achieve this goal, there's a new kid on the block making waves in the Big Apple — and it comes via Hawaii. Poke is a cubed raw-fish salad — similar to sashimi or tartare — that is typically marinated with soy sauce and sesame oil. The protein is typically placed upon a base of rice or vegetables and then tossed with any number of toppings, including avocado, onions, seaweed, mango, wasabi and fish eggs.
Poke madness has officially hit the city, with a number of establishments devoted to the dish opening their doors over the past several months. Many of them follow similar business models: an assembly-line counter with an emphasis on quick, efficient service, reasonable price points and a takeout option. And, after trying these five places around Manhattan, we feel somewhat sheepish admitting that the difference in quality among the majority of them is minimal. But there are still plenty of differences — let's break them down for you. Be sure to keep an eye out and alert us to any new places that are bound to pop up over the next months.
Editor's Note: The correct spelling of the word is "poke," though multiple venues add an accent to the last letter. We have included restaurant names as they appear at the physical locations. We've covered only restaurants that focus primarily on poke (as opposed to including restaurants that might include a single poke option on a more extensive menu).
Pokéworks
Want to get an idea of just how crazy people are for poke? Poke your head (see what we did there?) past the gigantic Chick-fil-A on the corner of 37th Street and 6th Avenue and into the unassuming spot next to it on any afternoon during the week — there is likely to be a line stretching out the door and well down the block. It's here at this national franchise that you'll find quality poke in its most Americanized form: an assembly line that moves faster than the one at your neighborhood Chipotle, a plethora of exotic toppings to choose from and the option to substitute proteins like chicken or tofu for the traditional fish. Make your own bowl or choose from a few pre-set options like salmon shiso, a refreshing take that includes leaves of the Japanese herb along with green and sweet onions, edamame, cucumber, crispy onion and garlic and is topped with yuzu ponzu. 63 W. 37th St., New York, NY 10018; pokeworks.com
What to go for: Hype, endless combinations, nonfish bases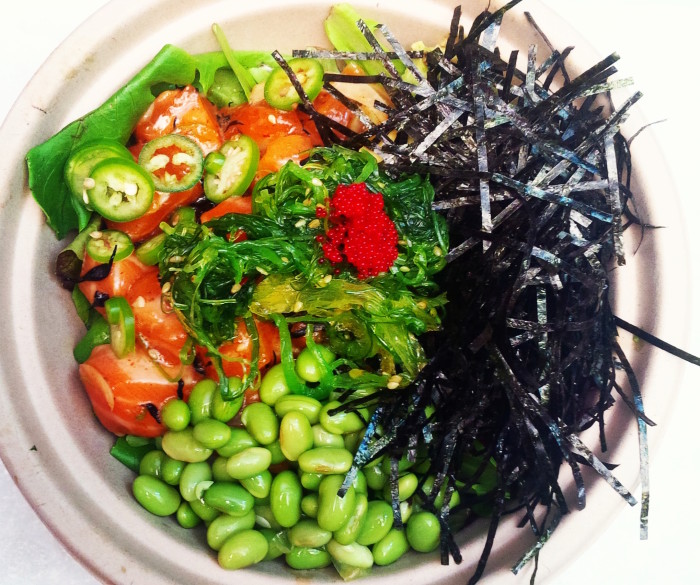 Sons of Thunder
Opened in October 2015, Sons of Thunder is widely credited with being the first city restaurant to focus on the Hawaiian specialty. While ordering is still done at a counter, you're more likely to find diners sitting down at one of several wooden tables or benches in the back to enjoy their custom creations here than at the other likeminded venues. Aside from the standard mix-and-match bases and toppings, there are multiple types of seaweed that provide both flavor and color, and the menu option of tako (octopus) is an unconventional, albeit welcome one. Unlike any of the other places listed here, Sons of Thunder offers several non-poke dishes: There are quality hot dogs, burgers, shakes and soft serve to be enjoyed. 204 E. 38th St., New York, NY 10016; sonsofthunder.com
What to go for: A sit-down meal, octopus, non-poke options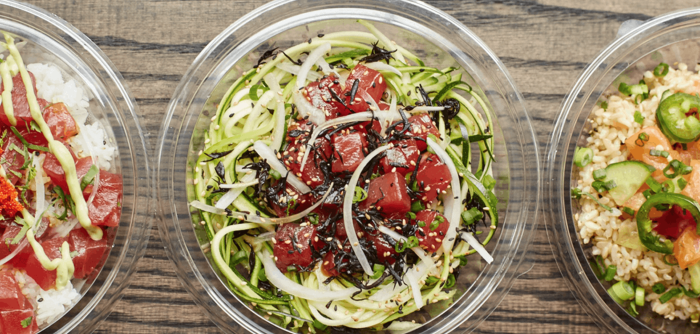 Wisefish Poké
Tucked away in a nondescript location nestled on a quiet block in the heart of Chelsea is Wisefish Poké, which opened earlier this year. Its arrival has been met with surprisingly little fanfare — you are unlikely to spend much time waiting for an order, which can often be the case with several of its competitors. A selection of three different sizes (snack, regular, large) ensures that all appetites are satisfied, and the option of a zucchini-noodle base separates it from the pack. Choose from one of Wisefish's four specialty bowls or build your own and either take it to go or enjoy your meal at a long communal table or on a stool. 263 W. 19th St., New York, NY 10011; wisefishpoke.com
What to go for: Zucchini-noodle base, lack of line, many homemade sauces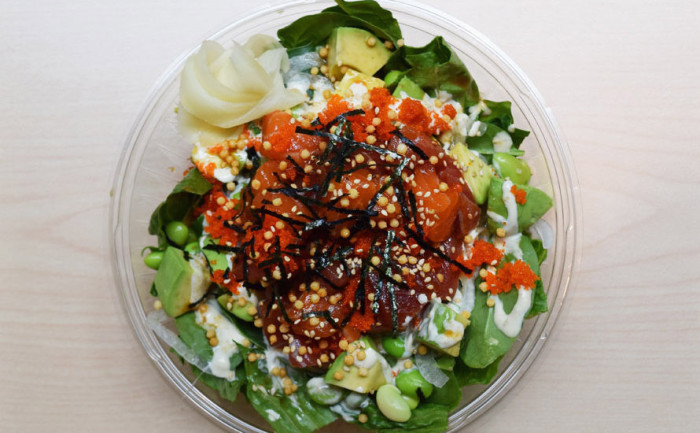 Poke Kitchen
You've heard of the term omakase, in which one entrusts the chef to choose the contents of his or her entire meal. Poke Kitchen plays on this concept with its sole menu offering of an "omakase premium poke bowl," using market-fresh fish and organic vegetables (diners can choose to leave certain ingredients out). The team in charge of the city's red-hot Japanese joint Sushi Zo — a Los Angeles original — is behind Poke Kitchen, and the sashimi-like quality of its fish is unmatched among its competitors (there is also a decidedly more Japanese flavor to many of its bowls). Go all-out and spring for multiple types of fish, along with the full spread of mix-ins; just be aware that bowls run a few dollars more expensive ($15). 127 E. 39th St., New York, NY 10016; pokekitchen.com
What to go for: Fish quality, changing menu, big-name owners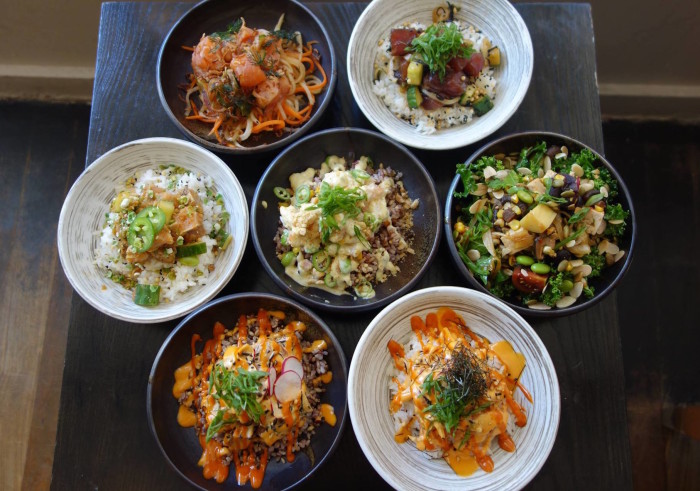 Gotham Poké
Of course there's a poke stall at New York City's latest food market. Currently on offer at both Broadway Bites and Gansevoort Market (the latter is a permanent location), Gotham Poké limits the choices that consumers must make. After you select a grain blend, kale and grated cauliflower or pickled shredded vegetable base, simply pick from one of seven house-special bowls — in addition to classics like spicy salmon, there are also veggie and nonfish protein options. Poke nachos — crispy wonton chips served with a choice of fish and topped with yuzu guacamole and gochujang sauce — provide extra incentive to visit. Gansevoort Market, 353 W. 14th St., New York, NY 10014; gothampoke.com
What to go for: Preset bowls, vegetable bases, poke nachos
---
More poke buzz: Though we have yet to try for ourselves, we hear that Chinatown's Chikarashi is doing a stellar job offering a contemporary perspective on Hawaiian poke, influenced by Japanese chirashi. Celebrated Korean chef Deuki Hong (of barbecue hot spot Kang Ho Dong Baekjong) will open his own iteration of poke restaurants, titled Sweetcatch Poké, later this year in the city.