I was about 30 minutes into my first visit to the permanent exhibit at La Cité du Vin in the French city of Bordeaux when I began to wonder if it'd be all work and no play. Don't get me wrong: I'm extremely interested in wine; I just wasn't in the mood for a morning of education. Then I spotted a comically oversized chair and decided to sit on it. To my right was a disc-shaped screen with boozy scenes from art history projected on it from somewhere overhead, presumably. Through the audioguide headphones, a narrator spoke of wine's legacy of excess and debauchery, and then a flurry of songs played loudly: LCD Soundsystem's "Drunk Girls," Tom Waits's "The Piano Has Been Drinking." This is not some stuffy wine museum, I thought, relieved.
La Cité du Vin, which opened June 1 on the banks of Bordeaux's Garonne River, is an attempt to make this city within the world's most famous wine region into a serious tourist destination, and a fairly blatant stab at achieving the Bilbao effect. The architecture, shimmering and curvy and waterfront, will certainly draw comparisons to Frank Gehry's Guggenheim, though Parisian architecture firm XTU, working with English museum-design firm Casson Mann, cleverly suggests that the building is meant to evoke wine swirling in a glass, which it does. Inside its undulating walls, La Cité du Vin aims to be less museum, more playground for wine lovers, and it accomplishes this as well. But before I go into an all-out critique of my early visit 21 days into its opening, let me begin with some practical information about the experience.
La Cité du Vin is a tram ride away from the center of Bordeaux, a surprisingly rich city in itself, with a growing culinary reputation to match the legendary vineyards that surround it. From the tram, it's a short walk to the entrance, and inside, Cité feels like your typical museum: ticket counter to the left, museum shop to the right, staircase up ahead to visit the exhibits. The floors above include a small library, an auditorium (named for noted wine collector Thomas Jefferson and funded in part by the American Friends of the Cité du Vin), two exhibition spaces — one temporary and one permanent — a seventh-floor gastronomic restaurant, Restaurant Le 7, and above it a top-floor wine bar and observation deck called Belvedere. There's a bit more within the 44,000 square feet, as well as some in-progress outdoor areas, but that's the gist.
I was won over in part because I expected a far more academic approach to wine, one where a visitor would be unlikely to encounter LCD Soundsystem or holograms or exquisite interior design.
Much of the ground-floor space is accessible without a ticket, allowing anyone to walk in off the street and shop the boutique or the wine store, Latitude 20 (not the best wine shop in the city, though it does offer a selection from around the world), or to dine in the cafeteria. A full-price ticket (20 euros) grants admission to the exhibits with a guided tour (the interactive travel companion, with translations into English and other languages) and includes a glass of wine from the international selection at Belvedere.
So what to expect qualitatively from a visit to La Cité du Vin? Quite a lot, in fact.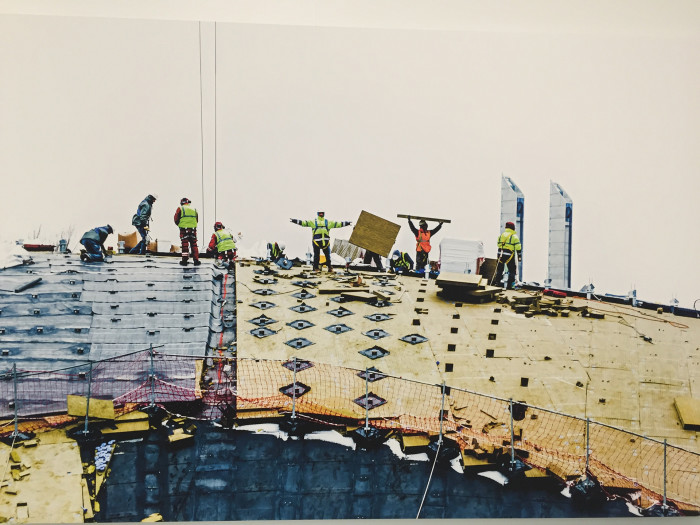 Through January 8, 2017, the exhibit in the gallery space, which will house three shows per year — including one in-depth survey of different countries' wine regions — is a very meta look at the making of La Cité du Vin, through the lenses of French art photographer Isabelle Rozenbaum. Her documentary-style photos depict the various stages of construction, and include some inspired shots that show the scale and depth of the undertaking. Still, it's a lot of space to devote to material that will be of interest primarily to architects and perhaps general contractors, and I as a first-time visitor was anxious to ascend to the permanent exhibit one level up. As I left, I couldn't help feel that the Rozenbaum's photography and a scaled model of the building should constitute a small section of the permanent exhibits rather than this opening showcase; yes, she was allowed "carte blanche," but the building has yet to achieve the sort of immortality that merits such a retrospective. Anyway, it's a small quibble, and one of only a few false notes in this enjoyable romp through wine culture.
Following my first visit, I met with Olivier Kollek, marketing and commercial director of the Foundation for Wine Culture and Civilisations (France is big on bureaucracy, and his title refers to the organization that oversees Cité on behalf of its landlord, the city of Bordeaux). He said that future temporary exhibits will include a deep look at winemaking in Georgia, which is considered the first culture to ferment grapes into wine, and a showcase of the connection between art and wine, with curation by a veteran of Paris's Musée d'Orsay. So there's reason to believe that starting in January, La Cité du Vin will offer two worthwhile exhibits — counting, of course, the permanent exhibit.
And the permanent exhibit is not only worthwhile; it's extraordinary. I'll admit, I was won over in part because I expected a far more academic approach to wine, one where a visitor would be unlikely to encounter LCD Soundsystem or holograms or exquisite interior design — towering wooden wine-bottle structures housing video screens, for example. There are 19 sections on approximately three levels (the exhibit space takes advantage of the structure's contours), with straightforward yet technologically impressive guides to nine major wine regions; cleverly appointed aroma stations, where you can pump air into a glass dome filled with items that mimic the nose of different types of wines, such as lemon peels and burnt rubber; and a variety of entertaining and educational programming. There are high-tech touch screens and two-dimensional cinema screens that showcase great wine regions. Kollek says there's about 10 hours of original content that was created for the exhibit, and by day 21, visitors were spending an average of two hours, 40 minutes in the space taking it all in.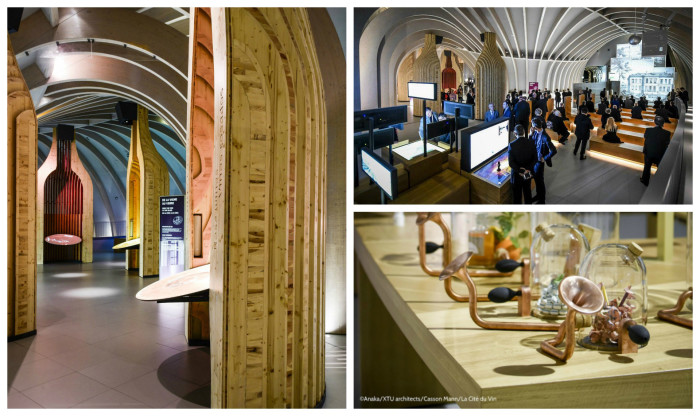 Kollek also repeated the mantra that this isn't meant to be a museum — there's no collection, for instance. The name "cité," he explained, in the French sense suggests "a public space where we share experience and have diversity." Again, La Cité du Vin succeeds; in only its third week, visitors seemed to delight in sharing the experience. At one point, I sat at a dinner table taking in a conversation between a journalist and famed French chef Hélène Darroze about the art of French gastronomy; they were there in hologram-like projections, but my other companions at the table were two real-life strangers, and we all exchanged smiles as we watched classic French dishes appear digitally on plates in front of us as our glasses filled with imaginary wine.
Smiles. Not something one would expect from a visit to a museum-like institution devoted to wine. But La Cité du Vin is neither a museum nor a seminar on wine history. It's an extremely open-minded, untrendy and often witty celebration of the juice, at times playful, at times serious, and maybe, in the end, as enjoyable as polishing off a bottle of Chateau Lafite.
La Cité du Vin
134-150 Quai de Bacalan
33300 Bordeaux, France
(33)5 66 16 20 20
laciteduvin.com