First off, let me answer the number-one question you're probably asking yourself: WTF is an aperitivi party? Quite simply, it's an Italian cocktail party with enough food and beverage to send your guests home happy if they choose to call it a night early. While conceptually simple, it's easy to mess up when it comes to execution. I had a chance to talk to Sal Lamboglia of Bar Primi in NYC, who I can safely say is a legitimate expert on Italian cuisine, and he went through his process with me.
Think of the whole thing like you would a sandwich.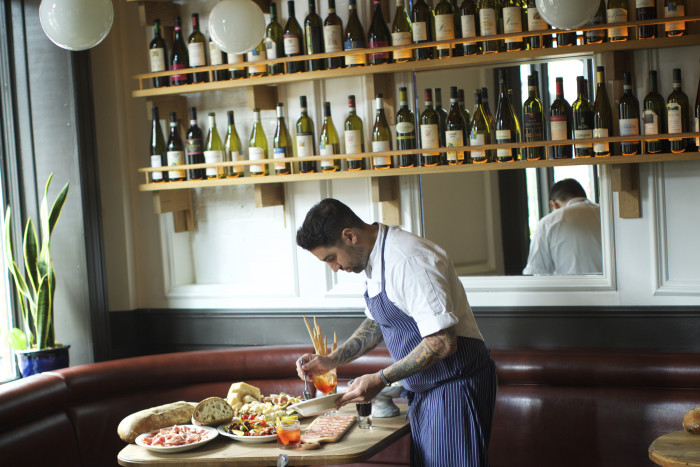 No, seriously. It's a sandwich. What do I mean by that? I mean you need to have a little bit of everything, all in balance. Airy bread, fatty meat, rich cheese, briny antipasto, something sweet, something crunchy, plenty of vinegar, oil and herbs…. I don't know about you, but I'm suddenly really hungry. Let's get started!
The Drinks
Every great cocktail party has great beverages, and the aperitivi party is no different. Have some solid wines on hand, and make sure you have a good mix of reds and whites, and not just in numbers (though having enough of both is definitely a good thing). Choose a selection of wines that play off each other well. But one thing to keep in mind, and something that I will likely reiterate, is to make sure you choose wines with flavor profiles that fall within the realm of expectation. That doesn't mean you can't pick interesting wines, just don't choose a red that would pass for a white in a blind taste test.

You can't just stop at wine, though. Having a couple cocktails will really help liven things up. Aperol Spritzes and Negronis are the perfect cocktails to go with the meats and cheese you're going to be serving, since they're light, slightly bitter, and very refreshing.

But to truly take your aperitivi party to the next level, put out some different amari ("amaro" means bitter in Italian) for people to sip on. Fernet Branca is a well-known classic that tends toward the very bitter, and it's a great starting point, but some others with different characteristics are great to have as well. Amaro Montenegro is another, slightly sweeter option that plays well off the Fernet Branca. And if you can find it, Varnelli Dell'Erborista is a beautiful unfiltered version that has a velvety mouthfeel while ultimately being very sippable. Nothing will make your guests feel like they're at an Italian aperitivi party more than sipping on a bit of amaro.
The Salumi (Meats)
Arguably the most important non-liquid part of your party, your meat selection should have something expected and something unexpected. According to Lamboglia, when he hosts an aperitivi party, the first thing everyone goes for is the prosciutto. And if you don't have it, people will inevitably ask, "Where's the prosciutto?" People love it, they want it, and you should give it to them. Next, something with a bit of heat should be present, like some spicy coppa, just to mix things up a bit from the salty-sweet prosciutto. Finally, pick something a little different that people might not expect. Lamboglia has a fennel salami at Bar Primi that's got intense herbal flavor compared to other cured meats; it's a perfect choice to round out the meats.
Make sure you get your meats sliced super thin, and adding a little fold to the meat when you're plating it up goes a long way toward making it look fancy. Also, take the meats out of the fridge as close to serving them as possible, so that the fat in the meat doesn't warm up and make everything look and feel greasy.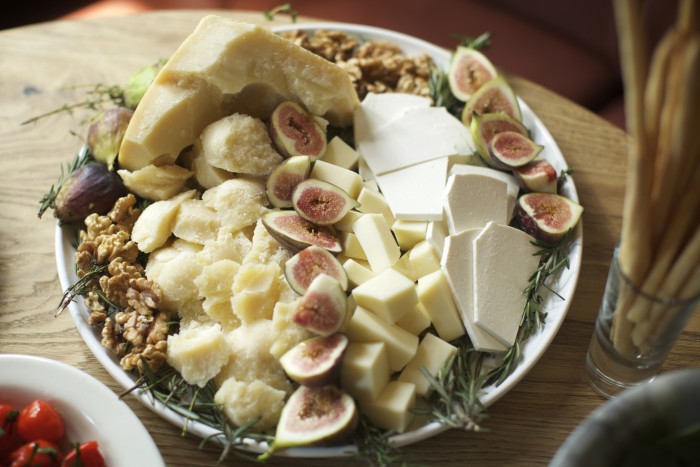 The Cheese
Again, making sure you have some of the usual suspects available is gonna keep people really happy. Fresh mozzarella torn into pieces with a little bit of olive oil and salt on top looks beautiful and will also disappear quickly. Mozzarella is great because it's more about the texture than an overwhelming flavor, so it takes on the flavors of the things around it to some degree. People also always love a little bit of Parmesan, the king of cheeses, and you know it's going to go well with any Italian meats and antipasto you have. Finally, something like Fontina can be your unexpected but known and welcome player; Fontina is one of those cheeses that a lot of people tend to forget about, but it's soft and nutty and a little sweet, and it's a great choice. Other sharper or softer cheeses, like Gorgonzola, could be included, too, but if you don't have something mild, like mozzarella, or something people expect to see, like Parmesan, the cheese aspect of your party may fall flat.
Unlike the meats, you want the cheese to be at room temperature when you serve it, so feel free to plate that up first and set it aside until it's party time.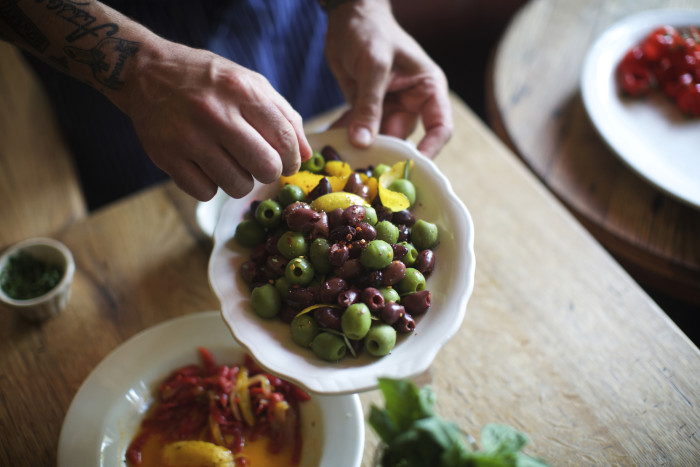 The Other Antipasto
We're going to just go ahead and lump together all the brined and marinated vegetables. This is where you can go a little bit wild on variety. Going back to the sandwich concept, here you want to have your own microcosm of salt, oil, vinegar, sweetness, and textures. Try not to get anything too big, as those will most likely be left behind. Olives, artichoke hearts, peppers, onions, tomatoes; all the bright little marinated non-meat, non-cheese things. Feel free to get premarinated items here, but try to think seasonal. Right now in summer, some fresh cherry tomatoes marinated in olive oil, red wine vinegar, and salt are a real treat. Also, just because you're not brining your own olives doesn't mean you can't play with them a bit. Marinate them in olive oil, white wine vinegar, lemon juice, orange zest and red chili flakes for a bright new take on an old favorite.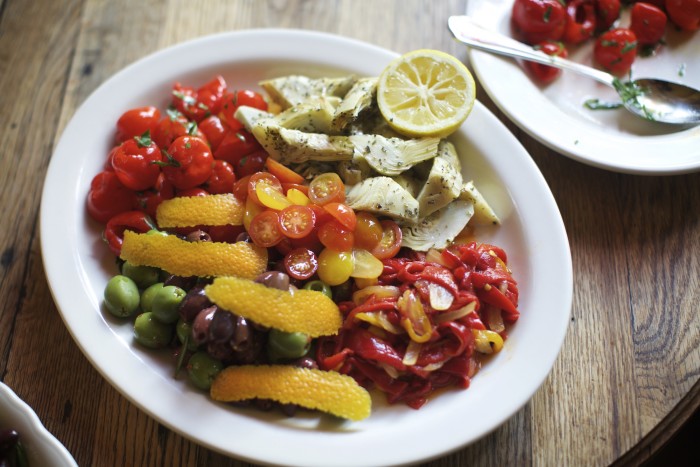 When you plate these up, the key to having something that doesn't drown in its own juices is to marinate items beforehand, then drain the items before plating them (feel free to use that marinade for other things, too). While it may be tempting to douse the whole thing in oil and vinegar, everything tastes and looks better if it gets a chance to sit in those things for a while first. Don't be afraid to pile high and let things touch, as it gives a natural appearance of bounty that really gets people's appetites going, and lets them feel free to dive in full force.
The Bread
There are a lot of closely held feelings around bread for a lot of people, and I'm not here to debate or start any fights, but suffice it to say that bread is important in life, and it's important here. While having delicious bread that can stand on its own is important, you have to remember that the bread is really a vehicle for everything else here, so having something uncomplicated that won't overpower the meat or cheese or whatever else you're putting on it is key. A nice ciabatta or semolina baguette is a great pick. But once you have your standard, uncomplicated choice locked down, feel free to add something else a bit more out of the box. Rosemary-raisin focaccia, anyone?
The Bits and Pieces
The last thing to think about is adding a little bit of texture and sugar into the mix. Fresh fruit is a great addition: figs, grapes, strawberries, blackberries, etc. These help cut through all the salty, rich goodness that's going on. It's also great to have something crunchy like nuts to break up the texture monotony that can sometimes happen. And if you want to combine these two things, some candied nuts are a great idea as well.
---
Want to learn how to host your own aperitivi party? You can now use your MasterCard to learn how to make fresh mozzarella and put together the perfect plate of antipasti with Bar Primi's chef, Sal Lamboglia, and taste an array of amaro with general manager Justin Sievers. The price is inclusive of food, drink, tax and gratuity. Be sure to book this unique experience today!