Amenity Alert: DIY Cocktails Without Leaving Your Hotel Room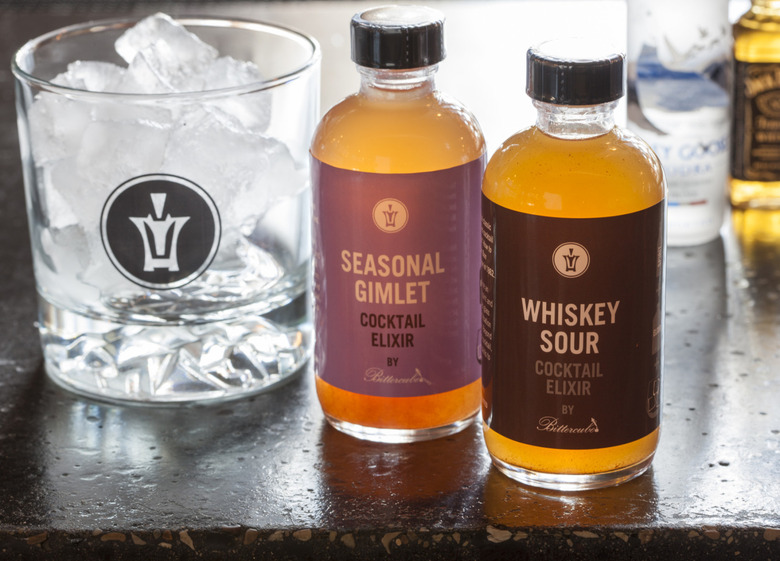 The Charmant offers seasonal drinks that may include an apple and sage combo that goes well with rum or a gin-ready lavender-and-pear mixture. (Photo courtesy of Apairum Hotel Group.
We may receive a commission on purchases made from links.
Guests don't need to walk down to the bar to enjoy a craft cocktail at the Charmant Hotel in La Crosse, Wisconsin. However, procuring one does require some sweat equity. That's because the in-room minibar is stocked with several nonalcoholic mixers from Milwaukee's Bittercube Bitters Company, designed to be combined with the available liquors. The offerings change seasonally but might include an apple-and-sage combo that goes well with rum or a gin-ready lavender-and-pear mixture. All the necessary bartending equipment is on hand so guests can play bartender in the privacy of their own room.
Angela Kuzma, corporate director of food and beverage operations, sees it as a win-win for guests and the hotel. The cocktails are similarly priced to those at the bar, so guests feel it's a good value proposition. For the Charmant, it's a way to offer something unique to set them apart from competitors. Better still, the cocktail kits haven't been cannibalizing bar sales. "People who go to the bar often go back to their room and drink after it's closed," says Kuzma. "We're not losing anyone."
The Charmant is just one of a number of hotels offering guests in-room DIY cocktail kits as a luxe amenity. These are not your average minibars. They're far more experiential than cracking open a mini Ketel One and downing it straight from the bottle while you watch CNN.
The "In-Room Bartender" package at the James Chicago features a wide variety of liquors and mixers, as well as bartending equipment and a copy of the cocktail recipe book American Bar. Guests can even arrange for an in-suite mixology lesson.
At the St. Regis Bal Harbour in Miami Beach, Florida, guests can order up the fixings for a pair of mojitos, caipirinhas or Bloody Sunrises, the hotel's riff on a Bloody Mary. All the portioned-out ingredients are brought up to the suite on a silver tray by a butler, who can stay and prepare the cocktails, though most guests do the mixology themselves. The kits cost a premium $60 — $22 more than the same two cocktails down at the bar — but are not designed to be a profit center (the hotel sells less than a dozen a month). "It's a starter to the evening," says director of food and beverage Philip Spee. "You can sit on the balcony and drink while you watch the sun go down, then go to the bar downstairs."
Many of the DIY kits are reflective of the hotel's locale and are aimed at giving guests a sense of the place they're visiting. Omni Amelia Island Plantation Resort on the Florida coast offers a make-your-own-mint-julep kit. There are DIY mojitos, margaritas, Cuba Libres and caipirinhas at Loews Miami Beach Hotel. And at the Beverly Wilshire in Los Angeles, the "Pretty Woman" cocktail kit — Chopin vodka, lime juice, simple syrup, cranberry juice, shaker and glasses — is a way to give a metaphorical taste of Hollywood.
These cocktail kits can sometimes feel like something you'd order from a Sky Mall catalog. Fontainebleau Miami Beach sells a "Cocktail Hour" gift package, which guests can have delivered to their own room or that of another guest. The $120 set includes a liter of Wodka vodka, olives, a pair of martini glasses, a shaker, ice and a recipe. When guests are finished knocking back a few shaken or stirred martinis, they're welcome to take home the equipment as a souvenir.
Though most establishments charge for the kits — even if they're not seen as serious moneymakers — some hotels offer them gratis in an effort to make an impression. Epic Hotel in Miami treats VIPs, members of the hotel's loyalty program, Karma Rewards, and lucky guests handpicked by staffers to a make-your-own-mojito kit, delivered to their room. Guests receive the ingredients, a muddler, a glass, ice and a recipe card. "The goal is to impress guests," says beverage director Dean Feddaoui, who estimates the hotel gives away approximately 200 a month. "I want to give them a perception of value. Ultimately, I want us to stand out from the herd."