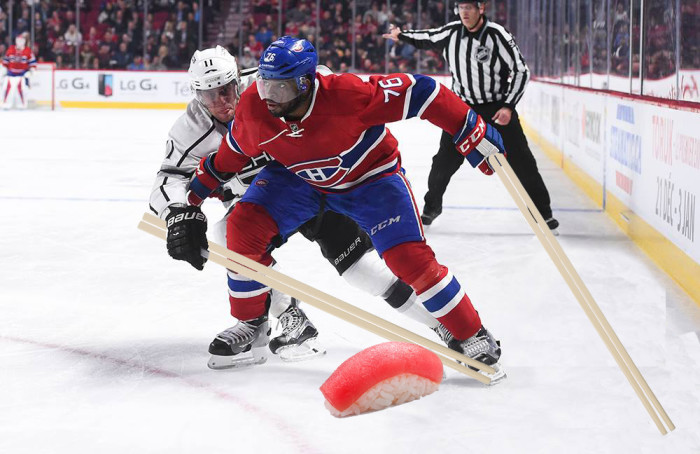 For chef Antonio Park of popular Montreal sushi spot Park Restaurant, it means losing a "close friend" and best customer. To say that Subban was a regular at Park's restaurant is a big understatement.

As the chef himself noted in a Q&A with Canadiens.com in 2015:

It seems like P.K. comes by pretty much every day! Are we just imagining things?
AP: Last year and the year before, P.K. ate lunch and dinner at the restaurant every day. As soon as he finishes practicing, he comes here in the early afternoon. He goes home for a nap, goes to his game and comes back here after. He's on a strict diet when he's in Montreal during the season.

During recent renovations, the restaurant even added a "little half-moon table next to the chef" just for Subban, according to Sportsnet.

Chef Park's reaction to the trade on social media this week reads like a chronicle of heartbreak:
WHAT DOESN'T KILL YOU, MAKES YOU STRONGER!@PKSubban1 #brothers4life

— Antonio Park (@ChefAntonioPark) June 29, 2016
Park's open call to chefs in Nashville, in particular, raises an interesting question: Where will Subban satisfy his tremendous hunger for raw fish in Music City?
"Yeah…that might be a problem," muses Nashville-based Food Republic correspondent (and avid Predators fan) Chris Chamberlain in an email, "unless he likes catfish sushi."
Know a good sushi restaurant in Nashville? Send recommendations via Twitter to @PKSubban1. Please include the hashtag: #FRavorites
UPDATE: Turns out, FR's own associate editor, George Embiricos, has enjoyed some respectable sushi in #Smashville. He recommends Samurai Sushi and Sonobana. Additional recommendations welcome.