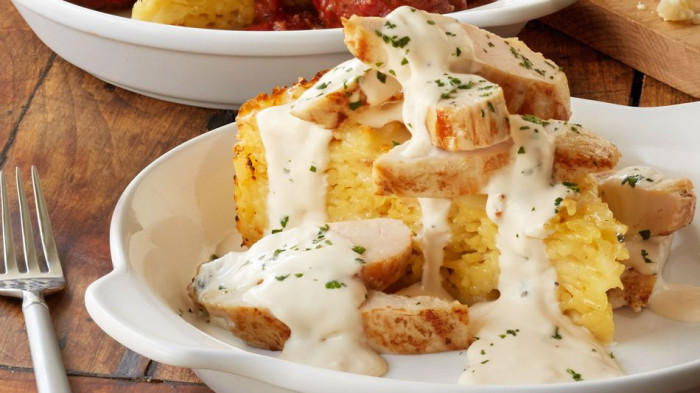 Pasta is particularly vulnerable to crime: inexpensive, widely available, easy to prepare — it's practically asking for it. But it's not pasta's fault. Hear us? It is not pasta's fault! And in a food culture where small infractions add up quickly, it looks like we need to protect the sanctity of this wonderful, innocent, humble food now more than ever.
Hold your ravioli close and whisper that it's going to be okay. Here's what happened to pasta this week.
That Sh*t Has How Many Calories??
Welcome to Olive Garden, home of neither olives nor gardens! And speaking of things that are neither one nor the other, let's talk about their new deep-dish spaghetti pies. Now, spaghetti pie is technically a thing — frittatas are a quick and easy way to use up leftover pasta while adding protein. That's not what OG has done here. According to their website, the meatball spaghetti pie has "seven cheeses, meat sauce and Italian bacon." (It's okay, you can call it pancetta, and I'm not sure I can even name seven cheeses because it's too early — ask me again after lunch.) The meat sauce contains both ground beef and Italian sausage, and an actual pie crust is involved. And true to its name, the whole business is topped with meatballs, resulting in a total calorie/fat count of 1,590 and 104 grams, respectively. The chicken alfredo pie has 1,570 calories and 111 grams of fat. And the icing on the pie (because at this point we wouldn't be surprised): OG executive chef Jim Nuetzi told Buzzfeed the pies were a "traditional Italian dish."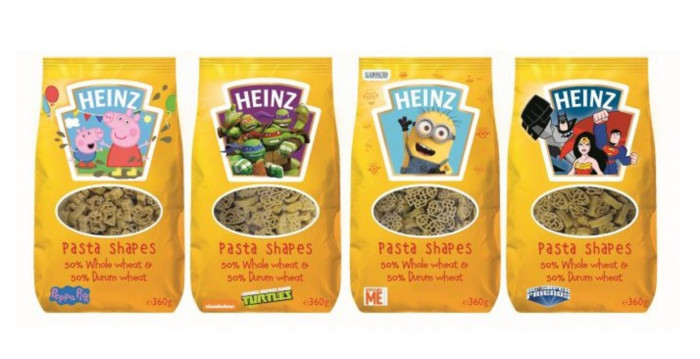 Heinz: The Ketchup With Matching Pasta
Kraft Heinz is launching four new pastas in cartoon shapes, alongside a new "smooth tomato sauce" we assume is just ketchup diluted with baked bean sauce. Yes, the pastas are half whole wheat and half refined durum flour, mostly to fool you into thinking you're fooling your kids into eating fiber, but if your kid won't eat whole wheat pasta with homemade tomato sauce (it can even be smooth), Heinz probably can't help you.
Forge Your Own Pasta Path
This week, St. Louis–based Riverfront Times published "The Picky Eater's Guide to Katie's Pizza and Pasta," mapping out menu items for gluten-free, paleo, vegetarian and kid diners. First off, if you were going to go to Katie's, GO! If you're vegetarian, you know which foods are vegetarian. If you're gluten-free, you're probably used to looking up or calling to see whether an Italian place has pasta for you beforehand. If you've been gluten-free for two seconds, maybe don't go to an Italian place. If you're paleo, maybe don't go to an Italian place. And if you're a kid, you're in luck: Many Italian restaurants will whip up their nonna's famous pasta with butter if you've successfully convinced your parents that's all you eat. May we recommend Heinz's new Peppa Pig–shaped child sustenance?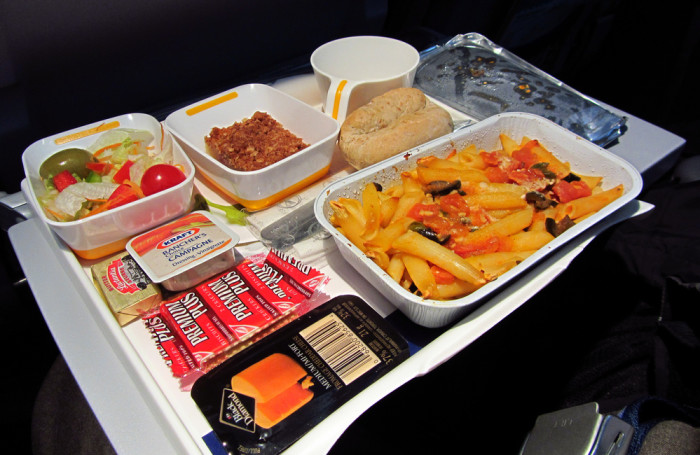 You're Not Mad at Penne, You're Mad at American Airlines (and That's Okay)
A business class passenger heading from the Dominican Republic to Miami may be Heinz's next best customer, owing to a kid-style meltdown over pasta. Upon discovering that the pasta option had run out, the passenger aggressively demanded to know why his row was asked for their choice last and began recording the flight attendant's response on his phone. "Shut up and don't talk to me again, okay?" the flight attendant said, according to the video. "If you talk to me again, I tell the cops, and you get arrested in Miami." Asked for a comment, the city of Miami attested that it has plenty of pasta the American Airlines passenger is welcome to order at any of its fine dining establishments that aren't two-hour flights. Having the last 20 minutes of The Martian cut off for landing? Now that's something to lose your cool over.
Your Pasta Fork Doesn't Have a Measuring Hole Built In
Someone seems to think all pasta forks are created equal; however, by the looks of the pasta fork in my kitchen, I would have to cram spaghetti into slots and assume it represents a measurement I don't necessarily recognize as "recommended."
Did you know, that the hole in your spaghetti spoon holds the recommended portion for one serving size of spaghetti.

The hole or holes, no matter the shape are size, are simply there to drain your pasta.