Christine Haughney covers corruption and criminal behavior as part of the Zero Point Zero Production series Food Crimes.
The biggest workplace hazards facing New York City street-food vendor Reda Elbendary used to be the grueling 16-hour days and extreme summer temperatures. But that dramatically changed this past May, when an ice cream truck driver allegedly attacked him with a baseball bat in a fight over a coveted sidewalk spot in heavily trafficked midtown Manhattan — an altercation that left him bruised, battered and struggling to cope with about $3,000 in medical bills.
And Elbendary's problems only seem to be getting worse since the incident. Even though his alleged attacker, John Cicero, has been arrested and charged and is awaiting his next court date, Elbendary says Cicero's relatives and friends have threatened twice to shoot him for pressing charges. And he's having trouble getting any help from local police.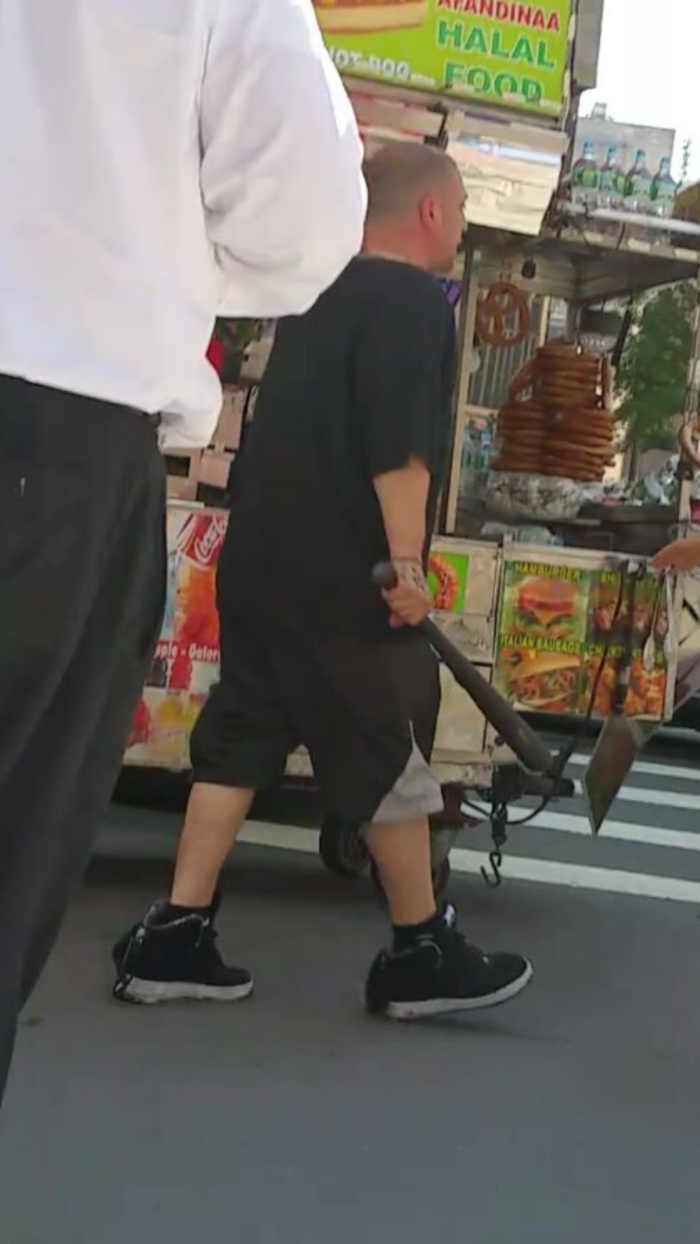 "[Cicero] sent his friends to drop the charges," says Elbendary, a slender 27-year-old from Cairo, whose modest 5-foot-7-inch, 145-pound frame seems quite meager compared to the imposing presence of his alleged assailant, depicted in photographs from the scene of the attack. "He's bigger than human size," says Elbendary. "I've been afraid."
Elbendary's case illustrates just how lawless Manhattan's crowded streets have become for food vendors. The New York Times has long chronicled the various turf battles among ice cream truck operators in the city. Along with sprinkles and sugar cones, baseball bats have become standard equipment for the frozen-treat sellers, who carry them in case the disputes get out of hand. But as temperatures have risen this summer, the fights have extended to other food vendors along Manhattan's busy streets. And after the most recent threat, Elbendary says, a New York Police Department officer discouraged him from filing another police report.
A former bus driver in his native Egypt, Elbendary moved to the United States in February 2014 after winning a green card lottery. He briefly worked at a moving company in New Jersey, driving 16-foot trucks and Sprinter vans. In May 2014, he got his food vendor license and started working with his cousin at the Abdo Afandinaa Halal Food Stand, where he spends his days selling bottles of water, pretzels and hot dogs, mainly to the throngs of tourists who pass by. He says he earns about $120 a day and sends as much money as he can back to his sister and four brothers in Egypt.
But his livelihood has been seriously threatened since May 12, when both Elbendary and Cicero, the 40-year-old driver of a New York Ice Cream truck, got into a fight for the northeast corner of 54th Street and Fifth Avenue. According to the Times, Cicero considered the location a favorite spot. But Elbendary says he had occupied the spot for a while. Court records indicate that Cicero first attacked Elbendary with a baseball bat and threatened him with a knife. The Times reports that Cicero then fled in a white-and-purple ice cream truck. After the police showed surveillance videos to other New York Ice Cream truck vendors and posted wanted signs, Cicero eventually turned himself in.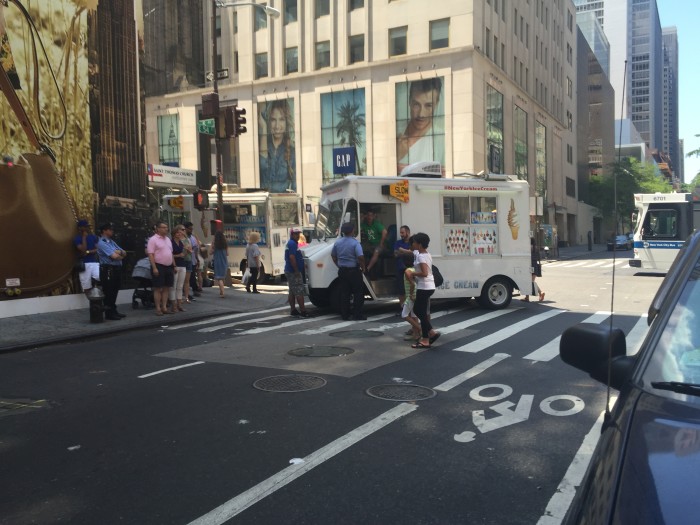 The attack has left a lasting imprint on Elbendary. He says the force of the bat caused him to vomit afterward. Three weeks after the attack, Elbendary was still covered in scratches and suffered from headaches. The Manhattan district attorney's office has charged Cicero with assault and menacing charges and criminal possession of a weapon. He is scheduled to appear in court on July 25.
But Cicero's friends don't appear to be leaving Elbendary alone. Shortly after Elbendary was attacked, he says, Cicero sent a friend to threaten to shoot him unless he dropped the charges. After that first threat, he was afraid to contact the police. But around 1 p.m. on June 25, two friends of Cicero's parked a New York Ice Cream truck diagonally across the street from Elbendary and threatened to shoot him again. This time, Elbendary contacted NYPD detective Adolfo Mota, who had helped him on the original case. According to text messages that Elbendary exchanged with Mota and shared with Food Republic, Mota was not working the day of the attack. So he advised Elbendary to file a police report at the local precinct. But when Elbendary visited the Midtown North police station intending to do so, he says, an officer discouraged him from filing a complaint, suggesting that police would talk to Cicero's friends and would follow up with Elbendary. Since then, Elbendary says, he has not heard back from authorities.
---
"I let you know if I die or I got shot or anything bad happens for me it's from the guy," Elbendary told an NYPD detective in a text message. "He will shoot me he said."
---
Matthew Shapiro, a staff attorney with the Street Vendor Project at the Urban Justice Center, says in an email that "outside of parks" the city do not require permits for street vendor spots, though "some vendors have been in spots for a long time and other vendors tend to respect that." He adds that street vendors have the same protections from being threatened as "any other person."
Neither Detective Mota nor the New York Police Department have responded to emails and calls requesting comment for this article. A spokeswoman for the Manhattan district attorney's office has also declined to comment because the case is open. Cicero's lawyer, Theodore Kasapis, has similarly declined comment.
While Elbendary's English-speaking skills may be limited, he makes up for it with his meticulous recording of his case. After he was attacked, a local doorman gave him a photograph of Cicero carrying a baseball bat while walking toward him. The second time Elbendary was threatened, he took photographs with his phone of Cicero's friends hanging out on the corner across from his stand and a police officer speaking with them. He's also kept the texts that he exchanged with Detective Mota on June 26 asking for help.
His most recent text to the detective was pretty clear about his level of fear. "I let you know if I die or I got shot or anything bad happens for me it's from the guy," Elbendary wrote. "He will shoot me he said. Please you are the law here in his country and I'm telling you what happened."