Summer in Spain means there's gazpacho in your refrigerator. Some people drink it every day; some people drink it all day. The "liquid salad," a fixture on restaurant menus all over Spain from now until September, can also be found chilling in the dairy case of supermarkets and corner stores; in hot weather, it's a staple.
Gazpacho Andaluz is as symbolic a Spanish food as paella or jamón serrano. As far back as the 17th century, Don Quijote sidekick Sancho Panzo name-checked it in volume II of Cervantes' literary classic.
More recently, Spanish pop culture priest Pedro Almodóvar used gazpacho laced with sleeping pills as the lynchpin of the plot of his 1988 Oscar-nominated breakthrough movie Women on the Verge of a Nervous Breakdown.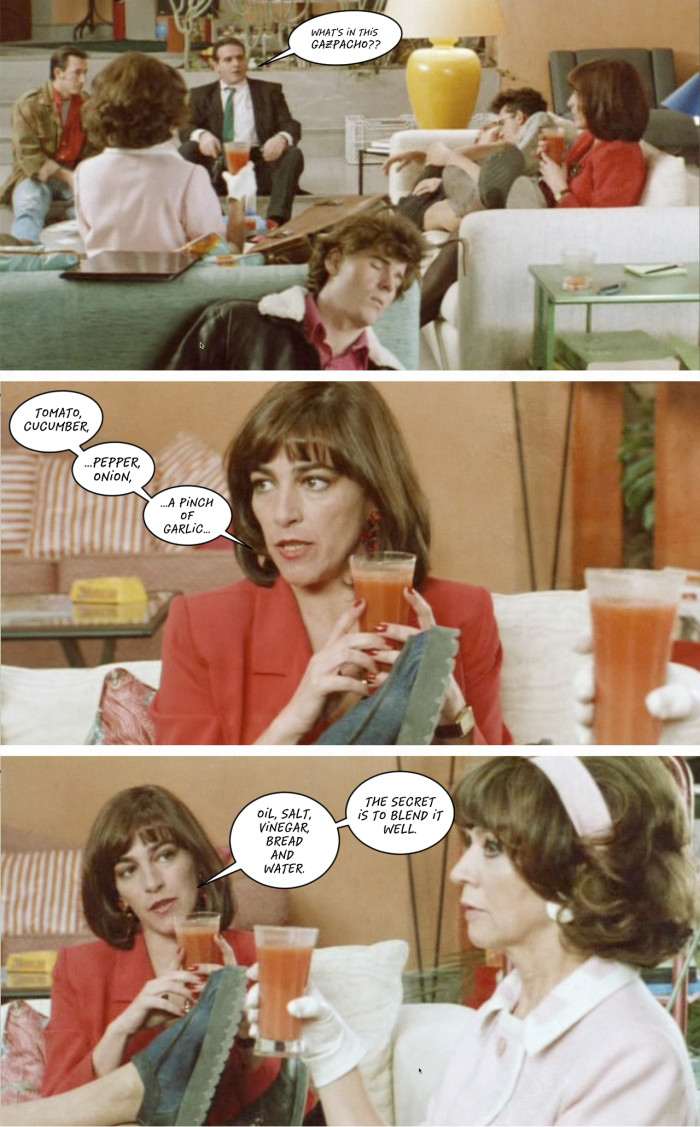 As her houseguests fall to the floor, Almodóvar leading lady Carmen Maura coyly gives the classic recipe for gazpacho to a suspicious cop, drawing the list of ingredients out between sips from a tall glass:
"Tomato, cucumber, pepper, onion, a pinch of garlic, oil, salt, vinegar, bread and water."
Maura's lines, though wonderfully played, no doubt started some tongues clucking in Spanish theaters at the mention of onion.
The choice of whether to use onion, or how much onion to use, is often at the center of the great debate about gazpacho recipes that goes on among Spaniards all summer. What to put in gazpacho, or rather, what to leave out, is a subject almost as personal and passionate as fútbol or politics.
Garlic is another ingredient that some eschew in the constant battle with gazpacho's acidity. Better blanch the cloves first, as Ferran Adrià suggests in his traditional gazpacho recipe from the book of staff dinners from El Bulli, The Family Meal. And cucumber, often blamed for gazpacho that "repeats," can also be left out of the equation, although that means eliminating some of its characteristic freshness. Bread, which with garlic and water was a main ingredient of the ancient concoctions first called gazpacho, is also now often left aside in these modern, non-gluten times.
"The choice of whether to use onion, or how much onion to use, is often at the center of the great debate about gazpacho recipes that goes on among Spaniards all summer."
When Almodóvar's Women on the Verge went into international release, the director was reportedly uneasy about non-Spanish audiences not recognizing gazpacho's iconic character, which added to the campy flavor of his script. The fear was that foreigners might not even know what it was. In the English subtitles, it was translated as "tomato soup."
Who knows, maybe that's why today what's called "gazpacho" on too many menus in U.S. restaurants is, in fact, dark red tomato soup, or a kind of chunky V8 juice that bears more of a resemblance to salsa.
In fact, since the 19th century tomatoes have been the nonnegotiable ingredient of gazpacho Andaluz, the name that specifically describes the thin raw-vegetable soup whose color ranges from a light reddish pink to a salmon shade. The color can be influenced by the amount of olive oil or bread added to the mix, a measure determined by the desired creaminess.
The tomatoes must absolutely be ripe and flavorful — summer tomatoes, the best ones you can find. The quality of the tomatoes determines the success of the gazpacho. The same goes for the rest of your vegetables. The olive oil, virgin — and let's hope it's Spanish. The vinegar, from Jerez (sherry vinegar). Traditionally, a mortar and pestle were used to grind the vegetables. Now you can use your blender of choice. A colander for straining the gazpacho once the vegetables are blended is considered a must in most Spanish kitchens, where a conical-shaped one known as a "chino" is kept around for the purpose.
Another gazpacho golden rule: It must be cold. Ideally, chilled for 24 hours before serving.
Cultural fusion and innovation are inherent in gazpacho's history and its evolution, and there are infinite varieties both within Andalusia and in other regions of Spain, as well as Spanish chefs' and home cooks' contemporary riffs on the original. Watermelon and apple, respectively, have become common additions to traditional gazpacho over the years.
But in Spain, gazpacho recipes with ingredients like ketchup, canned tomato juice or Worcestershire sauce are saved exclusively for subjects of disdain and amusement on food blogs.
♦♦♦
Like flamenco, another great Andalusian contribution to world culture, the origin of gazpacho remains something of a mystery. One theory is that gazpacho first came to Spain from ancient Rome, where a soup made from water, vinegar, bread and garlic was carried into battle. Another one, given credence by food historians, credits the Moors, who occupied Spain from the 8th to 12th centuries, with the introduction of recipes like ajo blanco, the cold soup also known white gazpacho, and other recipes that were a precursor to the gazpacho made with garden vegetables.
Tomato seeds were brought to Spain from Aztec fields soon after Columbus arrived in the New World, and were being cultivated in southern Spain by the 16th century. Gazpacho became the sustenance for the people who planted and harvested them. Land owners also employed "gazpacheros," whose job was to make and serve the refreshment that cost the bosses very little and would keep people working under the sun.
Gazpacho was considered strictly working class. The 1611 book The Treasury of the Spanish Language defined gazpacho as "food for vulgar people."
But by the 19th century, with the addition of tomatoes and other fresh vegetables, gazpacho was being served in the homes of the bourgeoisie. A fancier way of serving gazpacho developed: in bowls and with spoons, and with an array of condiments — chopped peppers, croutons, tomatoes and chopped hard-boiled eggs served at the table. Some restaurants still serve it that way, and it feels like a treat.
"Gazpacho was considered strictly working class. The 1611 book The Treasury of the Spanish Language defined gazpacho as 'food for vulgar people.'"
Here's one more lesson in authentic Southern Spanish cooking — and humor. This one's a song from La Ogra, an Almodóvar-esque Andalusian entertainer who describes herself as "Youtube star [hit: 'Te Borro del Feisbuh'] and protagonist of the theatrical show 'you're not fat, your hips are big."
La Ogra's song is called, of course, "Gazpacho — the Hit of Summer."
---
Simple Gazpacho Andaluz
Serves 4-6
Ingredients
2 pounds ripe tomatoes
1 large cucumber, preferably seedless "European" cucumber
1 medium green bell pepper or green Italian pepper
1 garlic clove, peeled and crushed
A 4-5 inch piece of a day old baguette, or a large slice of another white
bread
1/2 cup water
3-4 tablespoons sherry vinegar, to taste
4 ounces Spanish extra-virgin olive oil
2 teaspoons salt
Directions
Place the bread in a bowl with the vinegar and water; let it soak while you chop the vegetables.
Cut and discard the core at the top of the tomatoes, and chop the tomatoes into quarters. Peel the cucumber and cut into chunks. Remove and discard the seeds from the green pepper and slice into rough pieces.
Place all of the vegetables in a blender. Add the garlic, and the bread with the water and vinegar, and blend to a thick liquid consistency.
Taste as you would a salad, and add a little more vinegar if desired. Add the olive oil and salt, and blend until light and creamy. Pour the gazpacho through a chinois or other fine strainer into a pitcher. Chill until very cold.
At the table, serve in soup bowls alongside a variety of condiments: chopped green pepper, chopped tomatoes, chopped cucumbers, chopped hard-boiled egg, croutons; or serve topped with a few sliced green grapes. Or drink it anytime throughout the day in a tall glass.Please take this recipe as a guide, and as you make it repeatedly over the summer, adjust the ratio of vegetables, vinegar, olive oil and bread to your own taste (you can also add onion if you like).