A verrine is an amuse-bouche or hors d'oeuvre that's as elegant as it is easy to prepare. Think of the elements in your favorite canapé — salmon, dill sauce, cucumber, for example; or beet and goat cheese — and prepare them so that they're easy to layer into a small glass. You've just made a verrine: a simple, savory dish with spoons, served out of small glasses ("verrine" is French for "small glass") and one of France's most celebrated appetizers.

Verrines aren't considered terribly fancy — they're frequently eaten as appetizers (or sweet versions for dessert) at dinner parties. The simplest ones will feature one element with a garnish, but more frequently you'll find verrines with complementary layers in bright colors like salmon and avocado, vegetable puree and fresh cheese, citrus and crème fraîche and ratatouille. They can be easily elevated with caviar, truffles, fried quail eggs, foie gras, jamón Ibérico or another luxury element.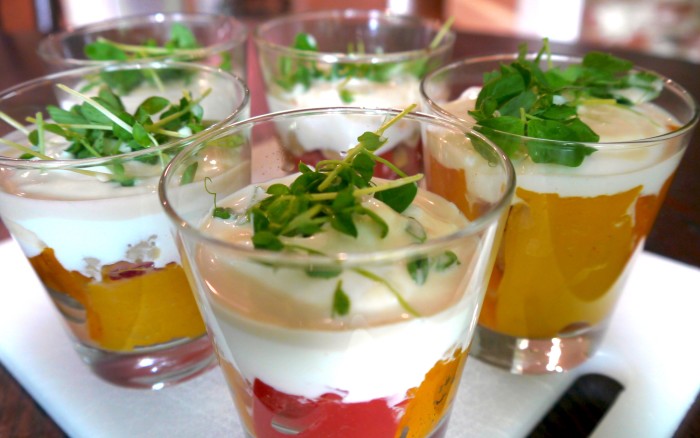 To make them at home, select short glasses (narrow or wide) that will only hold several spoonfuls of filling — you're just making light bites. Check out some of these inventive recipes and serve verrines at your next party!