It is noon, and perhaps inspired by the parade of Campari bottles suspended above the bar, I order a Negroni. The first central European location of Jamie's Italian — the booming rustic-industrial franchise from British celebrity chef Jamie Oliver — opened in Budapest three days ago, and already the dining room and red umbrella–shrouded tables on the terrace are packed.

Over the past two decades the prolific Oliver has enraptured fans as a television personality, cookbook author (when I was an intern at the Food Network in 2000, one of my tasks was opening boxes filled with his hot-off-the-presses, curiously named tome, The Naked Chef) and outspoken champion of mindful eating. Along the way he built a vast, multipronged restaurant empire. Jamie's Italian, an ode to Oliver's mentor Gennaro Contaldo, is especially successful, and now there's an outpost a 30-minute bus ride from my apartment.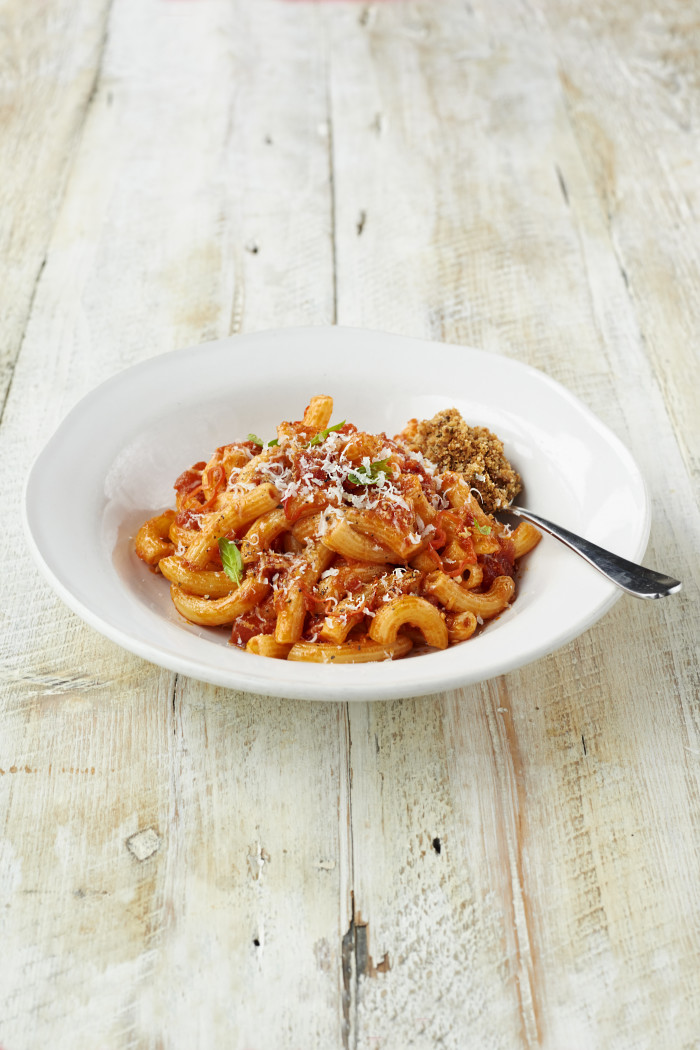 The restaurant is set amid must-see attractions like Buda Castle and Fisherman's Bastion, so it's hardly shocking that the majority of diners at Jamie's Italian are awkwardly folding crumpled maps and screwing lens caps onto Nikons while waiting for their tomato-laden bruschetta to arrive. As I sip my bitter midday tipple and dunk crispy squid into garlic-lemon mayo, I take in the surroundings. Exposed brick, metal and glam chandeliers mingle with stacks of Rosso Gargano tomato cans and San Daniele ham dangling overhead. It's an upbeat, comfortable setting, as familiar as the packed-to-the-gills version in London's Gatwick Airport, where I once quickly devoured a delightfully scorching breadcrumb-strewn bowl of penne arrabbiata followed by a slice of orange-scented polenta cake pre-flight. Like any reliably satisfying chain, Jamie's Italian offers its dishes at multiple locations; both of these dishes are available in Budapest, too.
Food snobs might scoff that Jamie's Italian is not a tiny, 50-year-old trattoria where Grandma labors over tiramisu, but ensuring the top-notch standards of a global, more than 60-strong restaurant brand requires both skill and a capable partner. This locale has found that in Zsidai Gastronomy & Hospitality, which owns and operates a collection of sought-after Budapest destinations from the fancy Pierrot to brats-and-beer haven Spíler. CEO Roy Zsidai recalls that his first encounter with Oliver "was like meeting my older brother" because his family and business values were so aligned with the chef's. "Jamie has a strong mission to make a worldwide mark on food culture and education by bringing in great, simple, quality ingredients from responsible and sustainable sources every day. He wants people to be aware of what they eat," he continues. "We have a strong mission to restore Hungary as one of the most important nations in gastronomy and help elevate the dining habits of locals."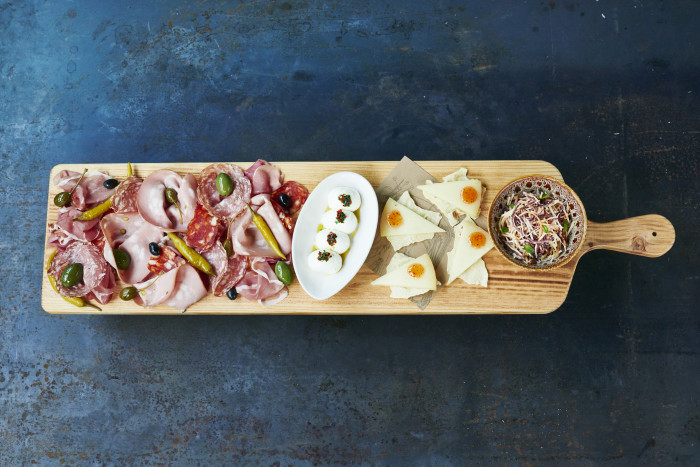 Pierre Vajda, editor in chief of the local website GastroGuide, acknowledges there is already an abundance of popular Italian joints in Budapest, but none quite like Jamie's Italian. "Jamie's great experience as a TV star, his culinary credits and a concept where tradition is balanced with organic food give hope," he says, "that Hungarians will love it — and learn much about the richness of the Italian kitchen."
While there is certainly no shortage of Lonely Planet-carrying patrons at Jamie's Italian since opening last month, it's nice to also hear Budapest residents chattering away in Hungarian as they wind spaghetti carbonara around their forks. The city is in the midst of an epicurean overhaul, and an energetic open kitchen, where focused chefs dress fresh, daily-made pasta and load oversized wooden planks with buffalo mozzarella and fennel salami, is just the engaging visual a growing swath of curious eaters now covet. As eager hands reach for warm spinach-ricotta croquettes, the playlist shifting with ease from Alicia Keys to Rumer and the Supremes, Vajda's prophecy, it appears, is thus far spot-on.