How To Grill With Honey (Without Burning Your Food)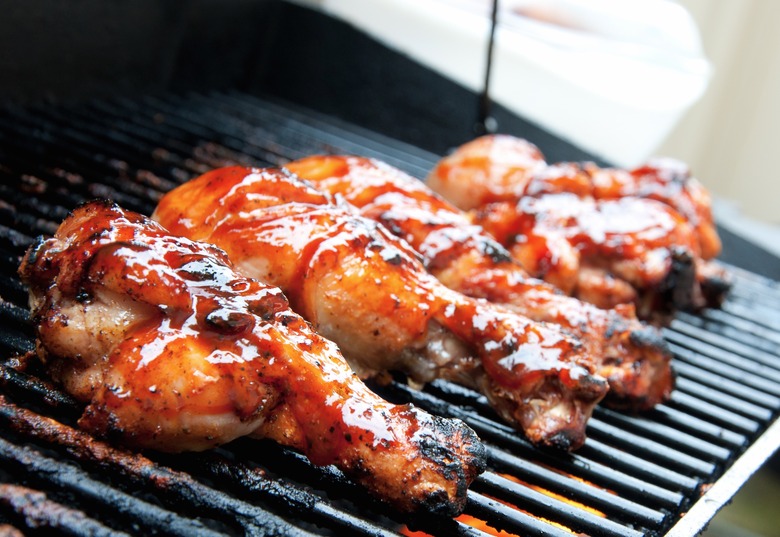 (Photo: 8047705/Flickr
We may receive a commission on purchases made from links.
The thermometer has tipped past 85 degrees, the bees are buzzing around my herb garden, and man, does it feel good to be outside again. That means it's grilling season and the backyard will be my barbecue playground until the first official snowflake of next winter. My new pride and joy has arrived just in time: 400 pounds of cast-iron steel in the form of a new custom Yoder Smoker that comes with a serial number and promises never to burn out. It is the most incredible grown-up toy a man could want, able to grill, smoke, and sear just about anything you can throw into it. Father's Day and my birthday fall around the same time, and this year I didn't wait to ask for a gift; I just ordered this for myself. It has found its home next to another amazing chunk of metal — the Cowboy Cauldron — that is the center force of my backyard.
On Sunday afternoons you'll find me out back with my two boys, working over the Yoder, grilling tongs in one hand, a beer and a makeshift Cuban cigar in the other. Growing up in New Orleans, our sacred Sunday ritual revolved around the grill — prepping the meats, cooking them carefully over the flames, and enjoying the juicy goodness of our hard day's work. Taking tradition and running with it, flavors and ideas jump out of my mind and over the flames. This season, I've struck sticky-sweet gold with one ingredient that promises to stay in my grilling book for the long haul: honey, honey, honey and more honey. It's my go-to pantry ingredient for so much cooking, and beyond its all-natural sweet characteristics, it never expires. Seriously, this all-natural bee by-product is my secret weapon when it comes to grilling up a protein that looks great and tastes even better. Some tips:
Balance the acid
A few tablespoons of honey adds an essential balance to whatever I might be grilling up. The acidity of other ingredients in a marinade needs toning down, and honey is the ideal mellowing agent. Honey seals in the meat's own juices that begin to seep when the temperature's high.
Blend it properly
Because of its sticky consistency, honey can be hard to brush, baste, or mop onto your meat by itself. Grilling honey that has not been mixed with another liquid, like a juice or an oil, is not a good idea, as it'll burn right up and char the surface before the food is cooked. In a brine or mixed with other ingredients, however, honey is totally fine in direct heat. I like to add a bit of orange juice or a touch of water, or fresh pineapple juice, a natural tenderizer, to create a more brushable consistency that goes on smoothly.
Zone it out
Here's the big grilling-with-honey tip: Establish zones of direct and indirect heat by separating the coals in your grill. In a zone of indirect heat, you can apply your honey-juice mixture freely to the outer surface of your protein — pork or chicken are great options — to lock in flavor and moisture while helping the caramelization along. For a beautiful mahogany finish and a fast sear, move your honeyed protein quickly into the area of direct heat and hold briefly.
Get in the thick of it
Honey is also one hell of a binder and thickener when it comes to amping up or sweetening sauces, marinades, dips and dressings. My latest grill guide, Grill Nation, takes full advantage of the wide range of uses for honey. For instance, my beef marinade recipe calls for a healthy dose of it, along with soy sauce, balsamic vinegar, fresh rosemary, green onions and Dijon mustard. The soy sauce adds plenty of salt to season the meat, and the honey softens the intensity, giving it a balance with some sweetness.
Pair it well
After all that work, you'll be ready for something cool and sweet — and maybe a little spicy. I'd recommend my Backyard NOLA Honey Swinger made with wildflower honey, freshly squeezed grapefruit juice, rum, rosemary and jalapeño peppers that'll wet your whistle and blow it, too. This drink was motivated by a visit from my friend Lolis Eric Elie, who knows just about all there is to know about New Orleans and its rich history and culture. In his cookbook, Treme: Stories and Recipes From the Heart of New Orleans, he includes a recipe with a grapefruit and honey base called N'awlins Nectar. When he came to see us at Bayou Bakery, I used his base idea and jazzed it up a bit with fresh rosemary and jalapeños to give it that NOLA kick.
Have a sizzling summer!