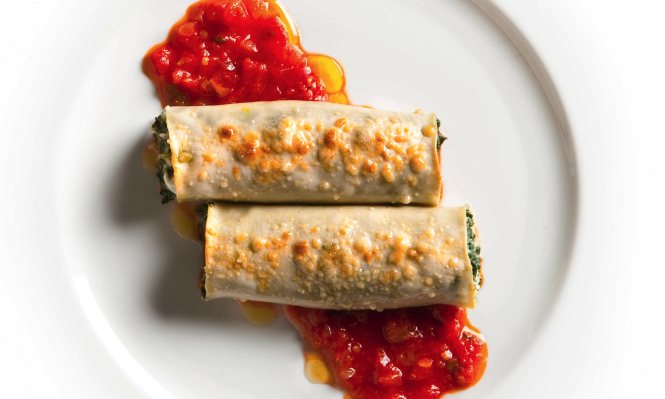 Expanding your leafy green repertoire? Resist the urge to replenish your kale and pick up a bunch of Swiss chard. Earthy, flavorful, packed with nutrients and ready to eat (colorful stems and all), this extra-healthy vegetable goes in everything from stuffed pasta, braises and soups to green juice and salad. Peruse 10 of our favorite recipes for this seasonal treat and get cooking!
This spin on classic cannelloni (Italian for "reed," owing to its tubular shape) swaps the typical spinach-ricotta filling for tangy goat cheese and earthy Swiss chard.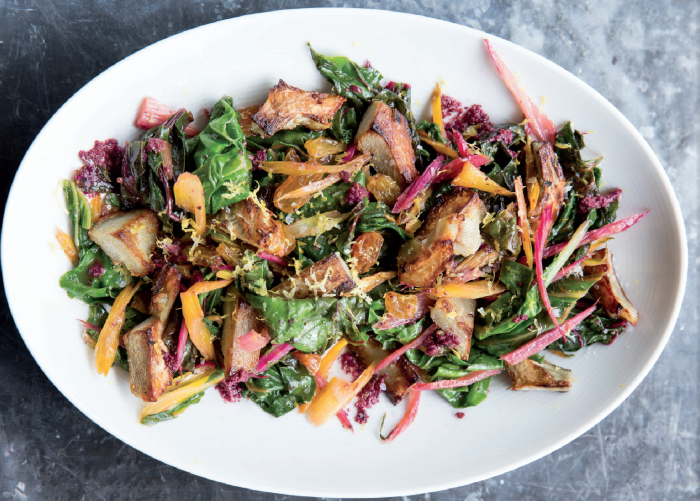 Artichokes are essentially two vegetables in one. In this recipe we use the heart, which is tender with a texture somewhere between a really creamy potato and a roasted turnip. But you can also eat the bottom part of the leaves; dip them into some homemade lemon aioli or melted butter with lemon juice mixed in. Serve the leaves as a snack while you're getting the rest of the meal ready. It's like the Tootsie Pop of vegetables. As Lil' Kim once said while singing about artichokes: How many leaves does it take to get to the center?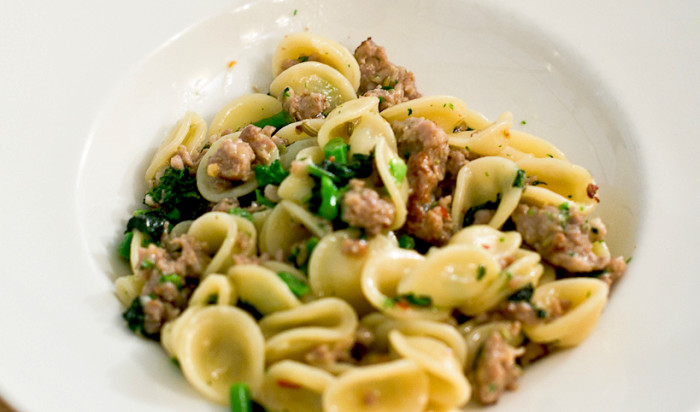 The sausage part of the recipe calls for more than is needed for the pasta. This is a freebie; use it as you will: patties, sausage-spiked tomato sauce, omelets, jalapeño poppers, you name it. If you're making sausage from scratch, make a lot and freeze the remainder. Ask your butcher to grind the pork and fatback so all you have to do is mix it up. Fennel pollen may be hard to find even in a specialty market, so call ahead or order it online. It's pricey, but intensely delicious.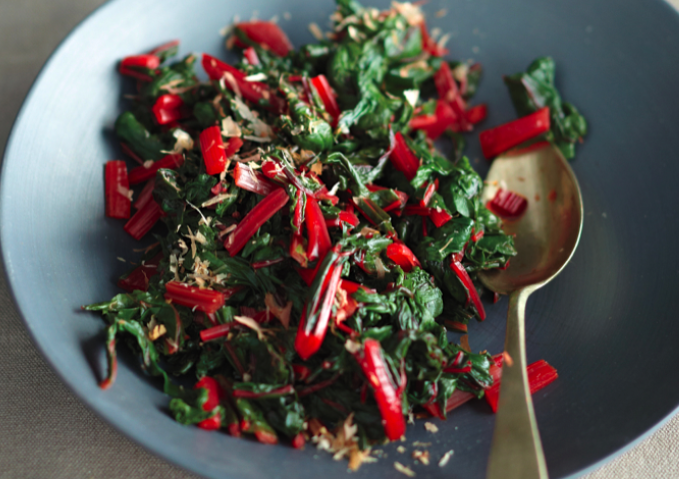 Thin flakes of dried bonito, a fish that's related to mackerel and tuna, have been used as a briny, faintly smoky seasoning in Japan for centuries. Bonito flakes are available at Asian markets, many supermarkets and Asian Food Grocer.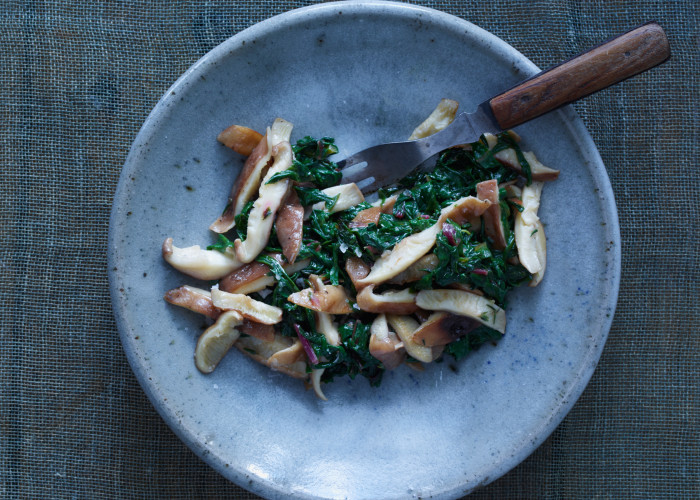 Swiss chard isn't exactly a bitter green, but it's not candy, either. To bring out its fresh, mild, spinach-like flavor, I braise it with earthy mushrooms and thyme.
The shank is first browned on the stove, then basted with honey before baking, which creates an almost iridescent glaze. The result is a beautiful, honeyed shank the color of bright amber. The sweetness is counterbalanced by the slightly bitter artichokes and Swiss chard that accompany it.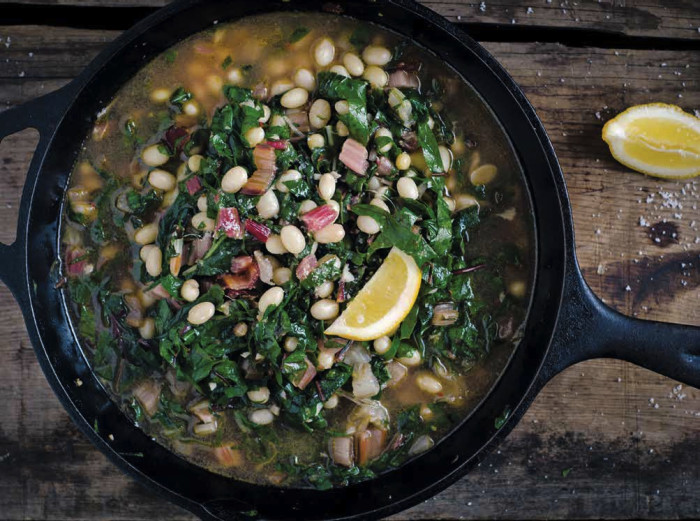 I treasure the salty and faintly metallic flavor of Swiss chard, and both the plant's leaves and stems can bring a different flavor and a different texture to cooking. I like to use them separately, sautéing the tough stems in olive oil, as you might do with celery or onion. The stems soften a bit, losing their tough texture. The leaves, by contrast, grow dull with extended cooking, so I prefer to add them at the very end so they wilt in the heat of the warm beans and chicken broth but maintain their bright color. A bit of lemon helps to brighten the otherwise earthy flavors of beans and greens.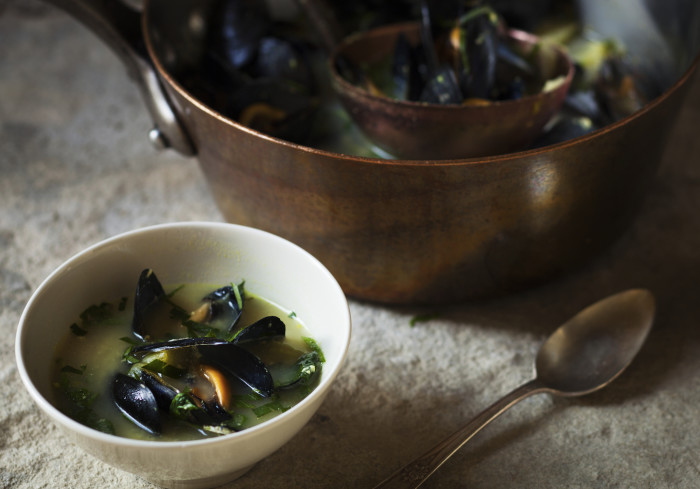 The mussels are so delicate and lightly cooked in this soup that they seem to float like little dumplings among the shredded bright green Swiss chard. I like to serve the soup as the first course of a meal that features a whole fish, like roasted sea bass Provençal.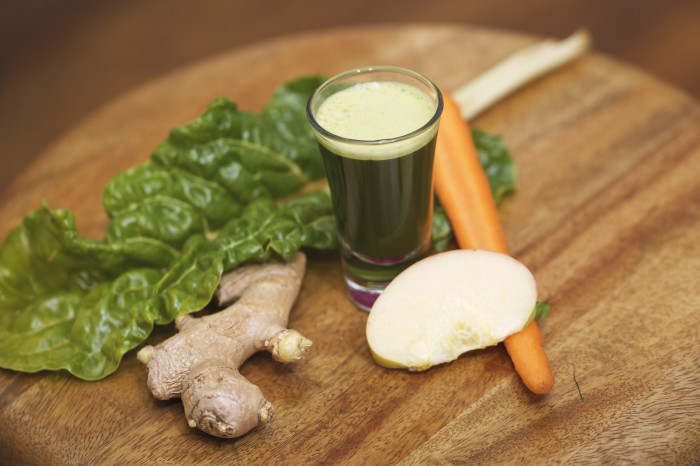 I like this juice with flavorful greens like chard. Sometimes I substitute or add red beets, which are loaded with potassium and marry nicely with the flavors of the carrots and apples, so I recommend using beets if you're still not fully convinced about drinking your greens. Beets are higher in sugar, however, so use greens instead if you're looking to reduce the sugar content.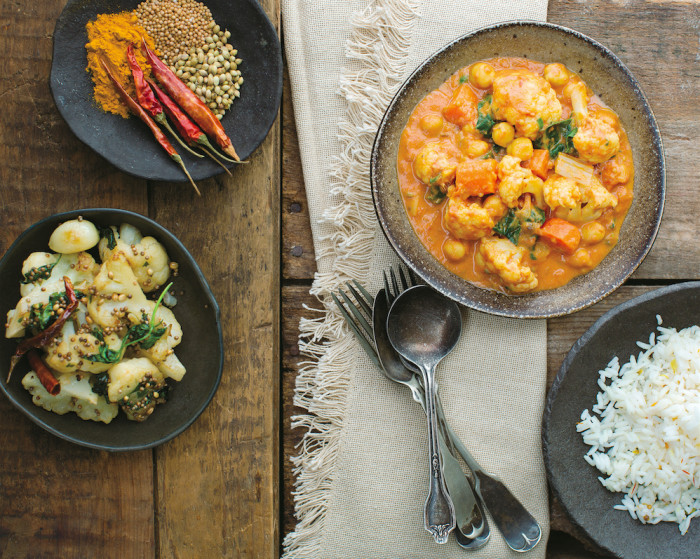 The ingredients list for this sumptuous, fragrant curry may look long-winded, but the effort involved pays off with every mouthful of the final product. Not only is this dish low in fat; it's also packed with nutritional goodness and satisfying flavors. It keeps well and tastes even better the day after it is cooked. So it's definitely worth making when you have a bit of extra time so that you can then enjoy quick leftovers throughout the week. (For the meat lovers in your life, you can add 1/2 pound fish or chicken and cook it in the curry.)