New York pastry chef Pichet Ong grew up in Thailand, Hong Kong and Singapore and has toured the world extensively in search of the best things to eat.

I started my cooking career in California, and when it comes to dining out, Los Angeles has never been more fun than it is today. It has one of the most vibrant and thriving food scenes in the country, and "California cuisine," which L.A. has been known for, no longer just consists of Mediterranean-inspired dishes or salads with nuts and fruits.

Here is a list of the best new-generation places to eat in L.A., from barbecue joints and tasting-menu restaurants to spots for tea and ice cream, all of which have opened within the past year.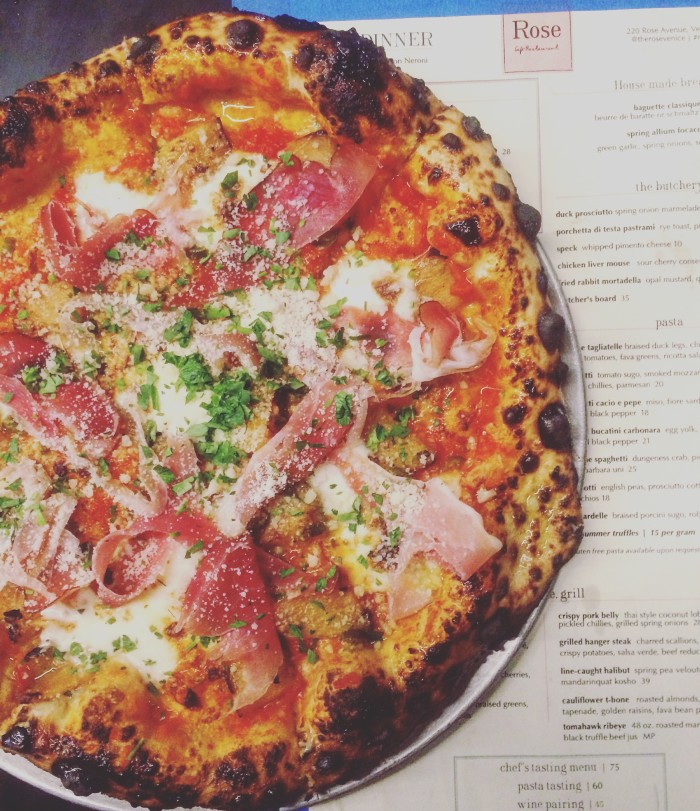 Rose Café
The iconic Rose café in Venice takes me back to the days of starting out as a chef in California more than two decades ago. Now with new ownership and menus designed by chef Jason Neroni, Rose is a popular destination for Venice locals and tourists alike. Visit any time between 7 a.m. and 11 p.m. for an extensive market-driven eclectic Cal-Med menu with raw seafood, pastas, pizzas, and rotisserie meats. On any occasion, stop by for a drink or grab to-go pastries by the team of Christina Hanks and Jacob Frajilo. 220 Rose Ave., Venice, CA 90291; 310-399-0711; rosecafevenice.com
Charcoal
The idea of a barbecue-inspired grill concept with big selection of meats and a "chef-y" menu for the rest is irresistible and perhaps underrepresented across the L.A. landscape. But here in Venice, chef Josiah Citrin (of Melisse) makes it even more exciting when all proteins are locally sourced and bread comes with French butter. Don't miss the abundant salads, bison tartare, and yellowtail "kissed with coal." 425 Washington Blvd., Marina Del Rey, CA 90292; 310-751-6794; charcoalvenice.com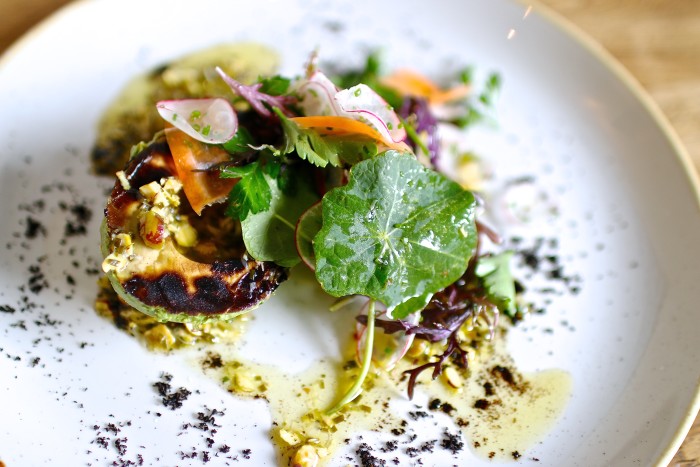 Kali
Chef Kevin Meehan hosted Kali pop-up dinners all over town prior to the recent opening of his permanent restaurant in Larchmont Village. While the tasting menu may be the way to go — and a great value at $65 — à la carte options such as the prawn crudo, or charred avodado with pistachio, ash and kale, are also intriguing. Considering the selections are so light, visitors who don't get to L.A. that often would be wise to supplement the tasting menu with these additions. 5722 Melrose Ave., Los Angeles, CA 90038; 323-871-4160; kalirestaurant.com
Honeymee
If you love local honey products and good-quality milk spun into soft-serve ice cream, go to Honeymee, which is perfectly located for an art and dessert crawl between the Los Angeles County Museum of Art and nearby California Donuts. Enjoy in a cone or a shake, but I'd say make a meal out of it with a Babee, a mound of ice cream served on a sweet bun, and add fresh honeycomb for a nice chew. On a hot summer day, washing it down with a honey matcha is most refreshing. The sweet-themed chainlet has several new locations, including Irvine in Orange County. 3377 Wilshire Blvd., Los Angeles, CA 90010; honeymee.com
Hatchet Hall
Southern American cooking is evolving everywhere, and Hatchet Hall in L.A. is definitely one to check out. The bar and dining room has a gastropub vibe, which can be cozy for those into the usual taxidermy and vintage bric-à-brac. But it is a perfect backdrop for fresh takes on hearty classics like crab maison, chicken liver toast, or pork chop with cherries, balsamic vinegar, and chocolate. In true Southern style, cap the experience with bread pudding topped with butterscotch and butter pecan ice cream. 12517 W. Washington Blvd., Culver City, CA 90066; 310-391-4222; hatchethallla.com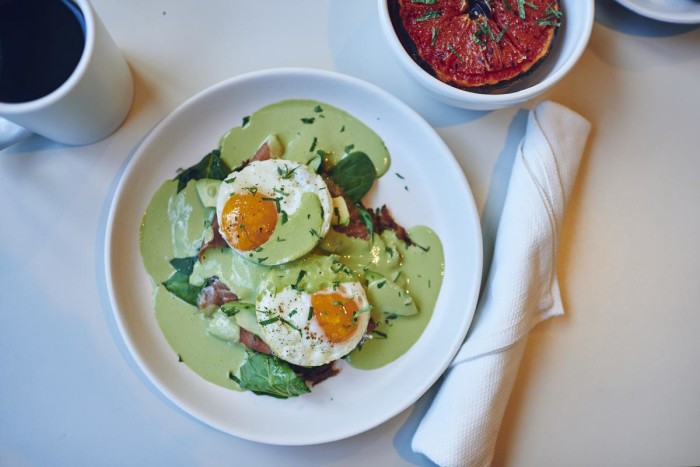 Winsome
This is the kind of restaurant that could potentially improve the flow of a neighborhood, especially in Los Angeles, where foot traffic is minimal. Designed like a modern-day diner, Winsome in Echo Park features all-day service of different menu options from chef Jeremy Strubel, such as the speck and comte grilled cheese sandwich or fennel-crusted branzino for lunch, or duck egg toast at brunch. The pastries and coffee served at the counter and takeout window should give you a reason to stop by at any time of day. Coming this summer are dinner and cocktails — and plated desserts from pastry chef Leslie Mialma. 1115 Sunset Blvd., Los Angeles, CA 90012; 213-415-1818; eatwinsome.com
Rubies + Diamonds
The geek in me is instantly drawn to Rubies + Diamonds. At the latest coolest shop in town, one can get a simple macchiato, a glass of wine, a nitrogen-infused turmeric tea or an ice cream float. As an added bonus after quenching your thirst, one can also learn about the science behind cold brewing, the restaurant's own caffeine rating system, or properties of various teas from an in-house "bevologist." 6115 Sunset Blvd., #150, Los Angeles, CA 90028; 323-465-0400; rubiesanddiamonds.com
Broken Spanish
When eating in L.A., Mexican food is a wise choice, and the convivial Broken Spanish in heart of downtown is one place that's not to be missed. Chef Ray Garcia cooks his favorites dishes from his childhood using modern, artful techniques and quality new ingredients, like queso fundido with bacalao, quesadilla with oxtail, tamale with lamb, or birria with veal breast. 1050 S. Flower St., Los Angeles, CA 90015; 213-749-1460; brokenspanish.com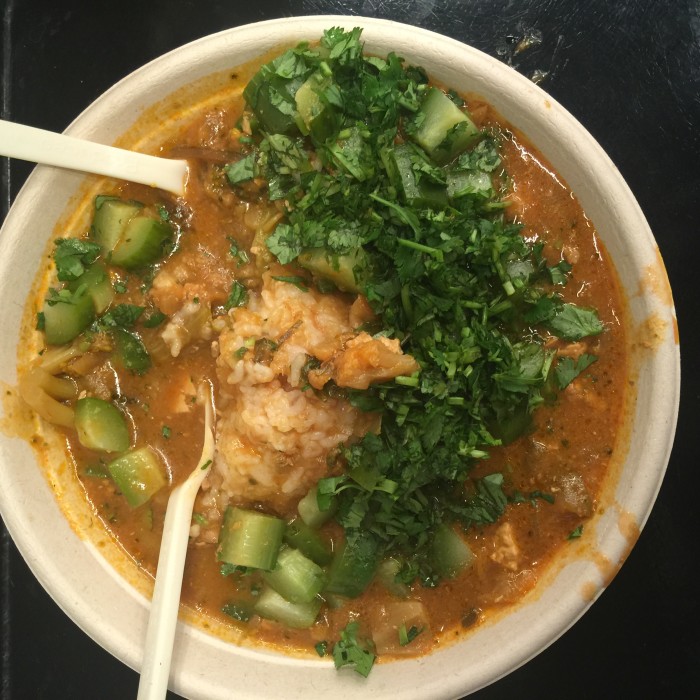 Locol
Squeezing in a quick stop at Locol before heading out to catch a flight at LAX is easy because this innovative take on fast food is not far off the highway. This greatly anticipated collaboration between chefs Roy Choi and Daniel Patterson (with other specialty chefs on advisory board, such as Rene Redzepi and Chad Robertson) specializes in iconic American foods that are served quickly but also healthy and affordable, with South Central L.A. chosen for its first location. There are burgs (sandwiches) and foldies (tacos or panades), but one can opt for a rice bowl, too, topped with crushed tofu and veggie stew. 1950 E. 103rd St., Los Angeles, CA 90002; welocol.com