What Is Michelin-Rated Street Food Doing In Macau?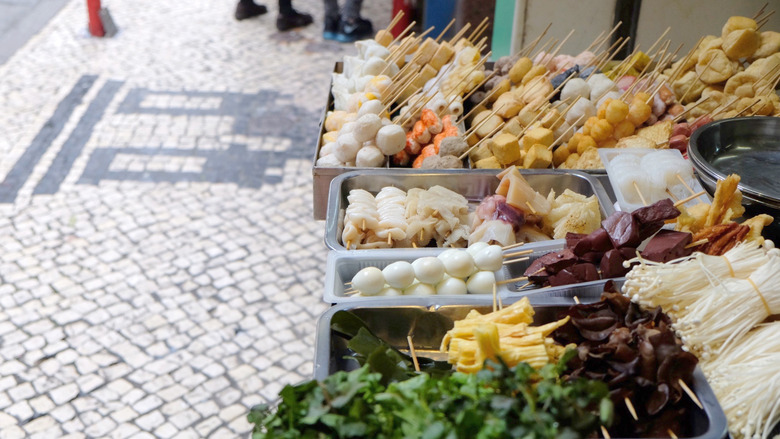 Macau's Michelin Guide includes street food because it's just that good. (Photo: Shannon Troy.
Michelin's connoisseurship just stooped to a new level. For the first time, one of the global tire giant's dining guides has added purveyors of street food to its usual crowd of sit-down restaurants. While the street is nouvelle territory for the French ratings system, it's where those streets lie that's most peculiar: Hong Kong and Macau.
Which has us thinking: Wait, Macau? Where is it, and what's with its Michelin gravitas?
Macau, a peninsula with two small islands, is just an hour from Hong Kong by ferry. Still, you likely have little reference for Macanese cuisine, let alone its street food. Reducing the cuisine to one iconic dish isn't as easy as pad thai, paella, or pizza. And certainly not pie. Sure, Macanese gets a heavy helping of Cantonese from China's Guangdong province, from which Macau's peninsula projects. Although, if you're thinking purely of dim sum, you're right, but not really; if anything, Macau's most distinct dish is "African chicken."
Macanese is considered the world's first fusion cuisine — or so the locals say. While it may seem remote, Macau was influenced by multifarious wayfarers over time. In the 16th and 17th centuries, Macau was a Portuguese colony and a principal port, receiving ships that carried spices and ingredients from Lisbon, Malacca, Nagasaki, and Mozambique — flavors well beyond Macao's 11-square-mile reach. International sailors mingled with locals, while international flare mixed with local flavors. The cultures and cuisines fused into something altogether different: a little bit of this, a little bit of that (as the story goes, African chicken is actually a mélange of dissonant recipes pulled together by sailors who'd visited Portugal's many ports).
The eventual scupper to Macau's maritime bliss, along with its global relevance, was Hong Kong. Trade shifted to the British colony by the mid-19th century, but the international flavor instilled into Macau's culinary landscape was already a done deal.
And flavors have a tendency to linger.
After Macau returned to China in 1999 (like Hong Kong, it's currently a special administrative region with relative autonomy), a boom of casinos drew a spotlight to the peninsula, and it quickly became Asia's brightest gambling hub. Thanks to that revival, downtown bustles with visitors, and money flows not only through its casinos, but also through its streets. The streets themselves — most notable in Senado Square, paved in Portuguese tiles and lined with European architecture — are now dotted with traditional eats, as well as eats from afar.
What are they, exactly? Here's a look at a handful of Macau's Michelin-rated street-level eats.
Lord Stow's Bakery
If there's one pastry that defines Macanese cuisine's mixed origins, it's Lord Stow's egg tart. Based on the Portuguese pastel de nata, Andrew Stow — a late English immigrant whose profession was not culinary but pharmaceutical — fiddled with the recipe, erring on the side of the creamier British tart's design. The result is less sweet, appealing to the Chinese palate, with a flaky, buttery crust filled with caramelized egg custard. Now ubiquitous among fellow street vendors, the original (of which about 15,000 are sold daily) are still hand-molded at Stow's original shop on Coloane island. 1 Rua do Tassara, Coloane Village; lordstow.com
Dai Gwan
You might miss Dai Gwan, an unassuming vendor just off Senado Square. But you won't want to miss Dai Gwan's Taiwanese-style buns. Like the hot pocket of your dreams, its bread is chewy, almost biscuity, and sweet with sesame seeds. Small enough to fit in the palm of your hand, it's stuffed with black-pepper pork and spring onions (surely other secret spices, too), and it really is dreamy. You'll likely turn back to Dai Gwan to get your second serving before you reach the end of the block. 1 Rua do Monte, Macau
Aboong
When non-indigenous fish hit foreign shores, they're considered invasive. When those fish are made of flour and sugar, stuffed with froyo and red bean paste, and speared with fruit skewers dipped in dark chocolate, well, that's a catch. Aboong, a Korean chain known for its school of waffled desserts, fits swimmingly among Macau's internationally sourced street eats. Its fish-shaped cone, traditionally called a bungeoppang in Korea — not unlike taikyaki in Japan — is likely the most adorable Michelin-approved treat to date. 129 Rua dos Mercadores, Macau; aboong.net
Chong Shing
Like a good neighbor, the adjacent Guangdong province — the birthplace of Cantonese cuisine — treats Macau to its share of dim sum. Even with Michelin status, Chong Shing maintains its humble ground, hidden on a side street that's easily overlooked. Nevertheless, the steamy shop serves steamed buns and classic dim sum, like shumai and mah lai goh, a Cantonese sponge cake. 11 Rua de Tome Pires, Macau
Lemon Cello
It's unclear how this makes sense, but sure, a gelateria gets Michelin's approval in Macau, too. It's no surprise for a local culinary zeitgeist that has long welcomed European imports beyond just Portugal. (In fact, one of Macau's many boasts is Don Alfonso 1890, a restaurant whose original and only other location is perched on the Amalfi Coast and also happens to be Michelin rated). Sensibly, Lemon Cello serves a limoncello gelato near Senado Square, but also indulges Eastern flavors like ginger and banana sesame. Trav. Se 11r/c, Macau
Pastelaria Fong Kei
If you have your ear to the ground, you'll hear the traditional almond cookies being knocked from wooden molds. Best to tune into Pastelaria Fong Kei, a century-old shop specializing in the almond cookies and cakes, which guarantee themselves a spot inside most tourists' luggage. Of course, while those traditional almonds are ubiquitous, Fong Kei proved itself Michelin-ready with a savory take on the delicate treat: Instead of just almond meal, one biscuit incorporates bits of seasoned pork as the signature touch. 14 Rua do Cunha, Taipa
Mok Yee Kei
Half of you will go here, and the other half might run in the opposite direction. This sweets shop is best known for its desserts, but more conspicuously, its durian desserts. The beloved Asian fruit has a tendency to taste foul to some palates, but those who are inclined toward its flavor can sample durian ice creams and puddings. Luckily, an array of more mainstream fruity flavors — say, mango — are also available, assuming you allow yourself to be within whiffing distance of potent durian. 9 Rua do Cunha, Taipa
Sun Ying Kei
Macau's closest relative to the McRib might be the ubiquitous chu pa bao, a pork chop bun. Dotting the streets with several locations is Tai Lei Loi Kei, which touts a famously fried version of the food — not surprisingly served fast — but it owes its claim to fame to the Michelin-acclaimed Sun Ying Kei. This original shop is located on Taipa (one of Macao's two islands), and its pork chops marinate first in Portuguese oils and spices. Next, the chops hit the grill, before finally landing in a crispy loaf. 2B Rua da Alegria do Patane, Macau
Yi Shun
For a sweet finish, Macao's milk pudding (more or less a custard) is a local favorite. Yi Shun specializes in the dessert (think of it like an ice cream shop) and makes it all by hand. While its regular milk pudding is plain and delightful, the shop also brightens up the simple recipe with ginger juice and lemon tea, or makes it rich with red bean. 2B Rua da Alegria do Patane, Macau
Lei Ka Choi
Another traditional joint serving express versions of Cantonese staples is Lei Ka Choi. This family-run shop dishes clay pot meals like an oxtail stew, or pork belly and braised chicken. While the options highlight familiar snacks, a duck's blood soup was among the dishes noted by Michelin. Of course, wontons and noodles also made the notes, in case blood makes you squeamish. Shop E-G028 Broadway Macau, Cotai