Juneau, Alaska, isn't on the average American's shortlist of potential relocation destinations. But Tracy LaBarge not only voluntarily moved to this remote, isolated city in the 49th state's panhandle — she succeeded in revolutionizing its entire culinary scene. After converting a crab-slinging hot dog cart into Alaska's most celebrated outpost for crab legs and bisque, the woman with the "best legs in Juneau" has become an influential seafood mogul in Alaska's capital city, and her success over the last 20 years is due as much to her love for Juneau as it is to her business acumen.

Originally from Colorado, LaBarge moved to Juneau in 1996 for a job in seasonal tourism with Gray Line Alaska. Working alongside fishermen on the docks, she almost immediately fell in love with crabbing. "Pulling up pots and seeing these big creatures was pretty incredible," she recalls. "And the taste of them was amazing." Crustacean trapping was just a means of securing a meal until she joked with her friends about buying a hot dog cart to sell crab legs. "They laughed and were like, 'That's a stupid idea!'" she remembers. "But it always stuck with me."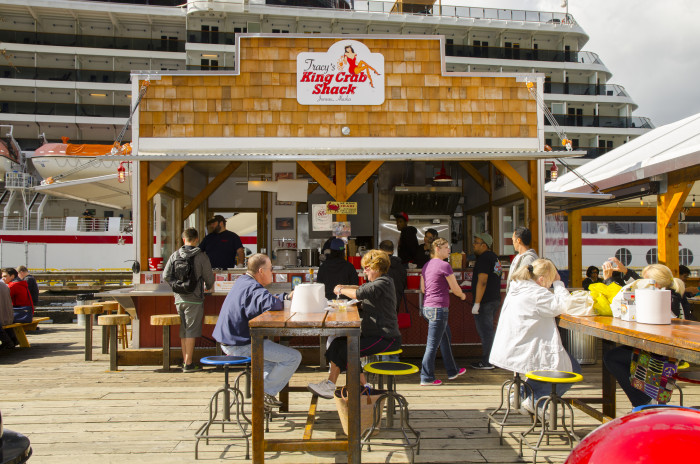 It stuck with her for 12 years, in fact, until she finally took the plunge and opened Tracy's King Crab Shack in 2006. Against the recommendation of city officials, she set up shop down at the dock where cruise ships would unload. The harbor atmosphere and her ability to obtain the very freshest product appealed to tourists and boat crew members alike, who all began clamoring for the one menu item she had to offer: shucked crab leg.
Despite her growing consumer base, she initially struggled financially as she learned how to run a business, costing out and pricing goods properly. Not helping matters was the fact that she had little experience in the food service industry. "I was a terrible waitress," she says, recalling a brief stint at Olive Garden. "I dropped a bowl of salad on a guy's head and they moved me into the kitchen."
But it was during her second year at the Shack that LaBarge would pave the way for the rest of her career, when she invented a new menu item that caught on quickly during a cold and rainy summer. "I learned not to waste anything because crab was so expensive," she explains. "I didn't know a lot about cooking so I [asked] a chef friend of mine if he could help me make a soup. He gave me a recipe that was way too hard for me, but I said, 'I think I can dumb this down and make it taste good.' So I just experimented and I'd give samples to whoever would come to the shack. I listened to feedback, finally came up with a recipe and sold one whole pot in a day."
She now serves about 28 whole pots of her famous King Crab bisque per day.
Despite her incredible sales volume, LaBarge is adamant about only purchasing locally from Alaska's Bristol Bay — even when 75 percent of the king crab sold in the U.S. is imported from Russia. "Russia takes so much crab illegally that it's going to affect our stocks," she warns. While the Russian female crab stock is already down as much as 84 percent due to lax fishing regulations, all Alaskan seafood must be sustainably caught, as required by state law since 1959. Most restaurants will buy crab from Russia simply because it's cheaper, but LaBarge refuses. "That's been something I haven't compromised on. And I have a lot of friends that are crab fishermen, so I'm securing their jobs, too."
LaBarge has a history of looking out for other businesses. In those first few winters at the Crab Shack, she also worked in Alaska's Department of Commerce, where she fought for microloans for seafood purveyors. As she recounts, "I would tell [the department], 'We have billions of dollars in fish here, but I can't get a loan because I have a perishable product. You have to take a chance on these people or we're not going to have an industry anymore.'" And shortly after LaBarge left to work full time at the Crab Shack, Congress began approving $35,000 microloans for qualifying businesses. She learned that — especially in a smaller city — entrepreneurs have more influence on the government than they think. "People just have to be willing to put themselves out there," she says.
LaBarge's success at the Crab Shack prompted her to open McGivney's Sports Bar and Grill with her boyfriend, Dave McGivney, in 2012. Two years later, she spent half a million dollars to renovate and rebrand another eatery: Salt, an upscale creative seafood restaurant the likes of which Juneau had never seen. "When we started out, we had white linen tablecloths," she says. "That was considered the fancy place to have dinner. And in a town of 30,000 people, I don't want them to come out once a year." Her solution was to make the restaurant more welcoming and modern: In addition to remodeling, she added an excellent craft cocktail program and began serving sophisticated dishes without pretension. At last, local foodies no longer had to travel to Seattle or Portland for a progressive culinary experience.
In elevating the culinary bar for Juneau and its residents, LaBarge initially faced resistance from other local establishments. "Some of the restaurants here offered the same thing for 18 years, but kept raising the price. When we came along, we started changing that and [these restaurants] were getting mad at us. I said, 'Wait a minute, you're missing the point here: People are going to come out to eat, spend more money and it's going to be better for all of us.' And that's exactly what happened." She claims that some restaurant owners have since thanked her for helping to reinvigorate the downtown dining scene.
Sticking to her philosophy, LaBarge now welcomes further competition as an open advocate for food carts, encouraging younger people to start businesses that will contribute to Juneau's culinary culture. "I tried to actually buy the land to provide food carts, and people thought I was crazy," she says. "They were like, 'Why would you do that? Why would you compete against your restaurants?' And I said 'Why not? It's not going to hurt me that badly. Help promote these guys, it's going to come back to you tenfold.'"
Call it karma: LaBarge also recently bought a seafood processing plant — renamed Hooked Seafood — using one of the very microloans that she'd lobbied for years ago. The plant gives her the opportunity to utilize storage space and obtain fresh seafood more directly, at better prices. "In restaurants, you've got such a slim margin that anything you can do will help," she explains. "We [also] get to be a little bit more creative with unique things that come out of the ocean here." Owning the property has enabled her to partner with other businesses, too: She now makes salmon jerky for a local company called Dear North.
Her business reach also goes beyond seafood. With Alaska's pending marijuana legalization, LaBarge has begun helping entrepreneurs in the cannabis business set up a grow operation. She's not a regular marijuana user herself ("I'm the one-hit wonder," she claims) but believes in helping the little guys in any industry. "[Other Juneau business owners] aren't willing to put their necks out. They're afraid of how it's going to affect their business," she laments. "We did think of that, too: Are we going to lose all of our higher-end customers? Are they too conservative? Is this not going to mesh? So far we've just gained customers."
LaBarge's attitude is representative of the same spirit that has inspired progressive culinary communities across the country. For a city's food IQ to grow, "local," "sustainable," and "organic" can't merely be treated as branding or marketing concepts; attention must actually be paid to the people, animals and environment that these concepts relate to. Likewise, LaBarge is invested in her local community both economically and ethically, personally interested in seeing her adoptive hometown prosper. "We have to be able to survive and take care of our employees and families," she says, "but it's our responsibility to also take care of the people who are out there fishing, and the state and this country."