Researchers at the University of Pennsylvania's Perelman School of Medicine have discovered an easier, more effective way of reducing diners' caloric intake than by simply posting numbers. Placing a traffic light symbol (something everyone knows and ideally obeys) next to menu items resulted in up to a 10 percent decrease in calorie consumption by 249 participants ordering lunch online over a six-week period.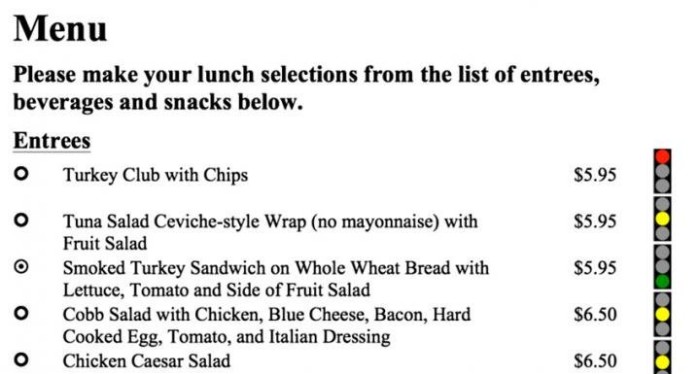 Rather than approximating (probably poorly) the calories in the food you're ordering and adding them to the daily tally (that you're probably not keeping), the red-green-yellow system allows you to, well, stop, go and proceed with caution. If your big breakfast would probably fall in the "red" category, a "green" smoked turkey on whole wheat with fruit and vegetables balances it out. No math required.
This approach allows the diner to hone in on what about the menu item lands it under a certain color classification without it being spelled it out for them. If the tuna salad doesn't have mayo and comes with fruit instead of chips, why is it classified as yellow and not green? Isn't tuna healthy? It sure is, especially without mayo; however, a 10-inch sandwich wrap — yes, even multigrain and spinach — contains 210 calories, with more sodium and fat than you might imagine. Two slices of whole wheat bread, on the other hand, contain 140 calories, 2 grams of fat, half the sodium and more fiber. By putting the mystery of "why red instead of yellow" in the hands of consumers, the UPenn researchers may have struck a balance in the constant struggle for effective, non-patronizing wisdom.