What Is Rocky Mountain Cuisine?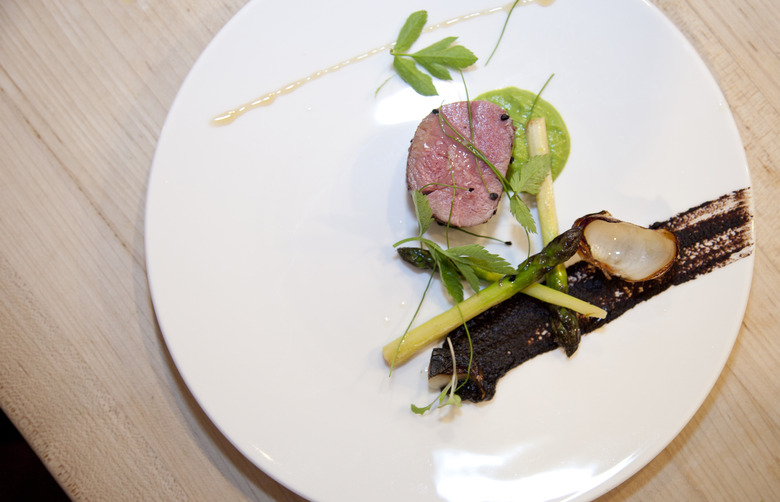 (Photos: Rina Ogh
During a rainy week in May, chef Brian Vaughn traveled from the small Colorado mountain town of Steamboat Springs to the historic James Beard House in New York City to cook a special dinner featuring the local flavors of the Rocky Mountains. The regional cuisine has been Vaughn's specialty since he opened his first restaurant, Bistro CV, in the area in 2007. To bring this unique dinner to NYC, 11 members of his team joined him on the plane, along with seven large coolers filled with ingredients straight from their homes. This included Moon Hill Dairy ricotta, glacier lilies, wild sweet anise, heirloom hydro tomatoes and mountain-grown hops, which later made up the five-course menu served at the sold-out dinner.
The first item Vaughn showcased was Wagyu beef from Idaho-based Snake River Farms, which he chopped into a rich tartare, topped with charred yogurt, cured and deviled eggs, bright herbs and fresh flowers. Next came a pretty dish of smoked brook trout roe enhanced with ramps, forged morels, the aforementioned hops and a sauce of reduced coffee porter made by Colorado's Storm Peak Brewing. The other three courses consisted of pork from Steamboat Springs' own Yampa Valley Farms, mountaintop-pastured lamb with the chef's signature steak sauce, and a flourless chocolate cake spiked with frozen mountain huckleberries and orange geranium cream. With all those flavors meshing and the hyperlocal focus of the meal, which mirrors what Vaughn does in his own Colorado kitchen, it's not hard to see the appeal of Rocky Mountain cuisine.
To help explain what exactly it is he is trying to do with food, the Kentucky-raised chef sat down with us and divulged his mountain-forging and high-elevation cooking goals.
What is Rocky Mountain cuisine?
First off, it's very much the farm-to-table concept, which is nothing new by any means, but it tackles using a lot of ingredients forged here in the Rocky Mountains during our micro seasons. For example, we use a lot of the local herbs we have around here, as well as flowers. Throughout spring and early summer, there is an herb called wild sweet anise that has a strong fennel-licorice flavor and pops up as soon as the last snow melts. We use that in soups and stews and also use the flowers as a garnish and to give a nice pop of fennel flavor to dishes. We also have meadows pop up with thousands and thousands of glacier lilies that are really delicious. They have a light honeysuckle flavor to them, and they can also be dried and used in a tea. They are really unique to the Rocky Mountains, and they are beautiful to look at too. Also columbines.
Columbines? You cook with the state flower of Colorado?
Yeah, we use a lot in our dishes and as garnishes. But since it's the state flower, it's illegal to harvest them in the national forest, so we grow them as well, and get them from another farmer, too. They taste exactly like honeysuckle. I grew up in the South, and having honeysuckle growing around the woods was something I was used to. I'm a big fan of how food evokes your memory of childhood, and it's pretty cool to have that in a flavor profile here at 7,000 feet in the Rocky Mountains, which is definitely not the South.
What made you even think about harvesting the flower?
That thought process never crossed my mind until I was pretty far along in my career as a chef. Now when I am out foraging, I am looking for anything I can think of as a regional item that I can use on plates.
Aside from pretty flowers, how do you decide what to cook with?
It's really all based on the weather. We are basically within the Routt National Forest, so the seasons can vary vastly depending on how much snowfall we get season to season. And since it's up to the season to dictate the menus, in April and May we could be out foraging for morels and wild nettle, but sometimes those same ingredients aren't available until June or July.
Why did you move to the mountains in the first place?
I came to be a ski bum when I was 18 years old and right out of high school. That was the one and only reason. And since I started working in restaurants when I was 14, working in kitchens was the only thing I knew how to do. My first jobs in Steamboat were in restaurants, and that's what led me to go to culinary school [at the Culinary Institute of America in St. Helena, California] and then eventually move back to Steamboat.
Before you moved back to Steamboat Springs, where did you work?
I lived in Florida and worked with chef Norman Van Aken [of Norman's] for four years before I went back to Colorado and opened up Bistro CV [and later, his second restaurant, Low Country Kitchen, a Southern-inspired joint].
How did you develop your style of cooking?
While I was working in Florida for Norman and Jeffrey Brana, we had access to all this amazing seasonal produce and farms. It's amazing that the winter down there can be the main growing season, and tomatoes and great fruit were always available. When you go from a place that has so much seafood and fresh vegetables to place that six months out of the year is covered in 100 inches of snow, it's a big change. For starters, you don't have that much access to cool products. So I basically have spent the last eight to nine years since Bistro opened to focus on what we can get here seasonally and what can be grown here year-round. We have some great farmers here that work at growing food all year.
Like the shipping-container planters Robert Ellsworth of Boxcar Gardens uses to grow heirloom tomatoes?
Yeah, and he is taking the technology Colorado has developed growing marijuana [and applying it to] growing tomatoes. So we are getting good stuff.
What about Rocky Mountain meat?
We are using lamb from John and Jeanie Maneotis in Craig, Colorado, and in the spring and summer, when the snow has melted, he brings the lambs to the flat-top area and pastures them at 8,000 to 9,000 feet for the summer. It's amazing because the lambs are just eating pristine greens. We also use Yampa Valley Farms to source all our pork from. They crossbred a Berkshire pig with the heritage breed, Mangalitsa, that curly-haired pig from Hungary. He [owner Josh Kilbane] is calling it the Steamboat Mountain Pig and feeds them spent grain from the local brewery, Butcherknife Brewing Co. We are getting local cheeses, too, and 30 to 40 miles north of Steamboat, we get veal calves from Moon Hill Dairy.
Can you tell us how you decided on the menu for the James Beard House dinner?
We brought it all with us — we wanted to represent what is Rocky Mountain cuisine. It's not been a type of cuisine that's been labeled [in NYC] in the media too much, and we wanted to showcase what we had access to and what we use in our limited growing season. We made it a challenge to put on about 90 percent of ingredients we sourced from 40 to 50 miles from our restaurant. For example, the pork dish used the local tomatoes and for the mountain pig, all the herbs in the herb puree were from Elkstone Farm.