Last year, Aby Rosen, owner of the historic Seagram Building in New York City, announced that the 38-story skyscraper's most notable story would soon end: The lease to the ground floor's landmark Four Seasons restaurant would not be renewed.

Nostalgic business types shuddered throughout the city. Among many things, the seemingly indefatigable 57-year-old restaurant — soon to be replaced with a more "rejuvenated" venue — is credited with introducing the dining ritual of its time, the so-called "power lunch."

Thanks to its penchant for attracting bigwigs, and a hunch that two bigwigs at one table were bound to be lucrative with a little finesse, the Four Seasons mastered a lunchtime service in the late 1970s that allowed businesspeople to dine, deal and dash: light dishes, lighter prices, lightning-speed service. The style propagated throughout the country's major cities, solidifying the Four Seasons' legacy.

The decision by Rosen, something of a despot critical to midday business success, to effectively close the joint stirred headlines, like GQ's "You'll Never Power-Lunch in This Town Again," calling the Four Seasons' shuttering a bellwether of the ritual's demise.

But is the power lunch truly dead? Ask John Meadow, the 36-year-old founder and president of LDV Hospitality — which operates 27 venues around the world — and his answer is a resounding no. "The premise of the power lunch has not changed over time," says Meadow. "What has changed are people's eating, drinking and dress habits." The ingredients may look different, but the ritual remains. Steak is replaced by fish, a martini by a cup of tea, a blazer by, well, no blazer.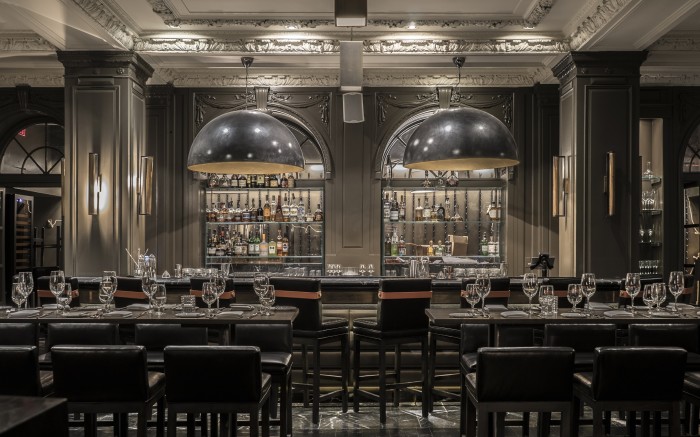 Meadow's latest opening, American Cut, representing an informal approach to the classic steakhouse, is thus primed for today's power lunch: It's located in bustling midtown Manhattan (in addition to its original digs in Tribeca); it's open for lunch; its prix fixe menu serves up an app, entrée, side and dessert for a modest $28. There's also Wi-fi.
What's the deal with today's power lunch? Here's Meadow's take:
Location, location
"Location is key for a power lunch," he says. "It has to be accessible." Sure, you're looking for an address that's easy for everyone to get to, but to Meadow, it's also about comfort and approachability — today's power lunch can be casual, and the restaurant can be, too.
It's about time
In the Four Seasons' heyday, the sweet spot was an hour and 15 minutes. Today, an updated power lunch is just as sweet, but even shorter: "The ideal power lunch is 45 minutes at the table," Meadow says. Certain things will speed up the process; he suggests scoping out a spot with a prix fixe lunch menu, which can help expedite the logistics of ordering. Worth noting, too, is American Cut's most millennial-ready item on its prix fixe: Cookies to Go.

Lighten up
Meadow stresses "health-focused" as another element to consider. Early on, the Four Seasons restaurant incorporated salads and grilled vegetables onto the lunch menu. It sounds common now, but it lightened the sit-down meal of its time, which was heavy, and not exactly brain food suitable for the workday. The same idea continues today, with menu items like American Cut's glazed carrots (with just mint and Maldon sea salt) or its steak tartare salad.
It's less about dress
"It is still the old-school club feel," says Meadow, "but often our most 'powerful guests' are dressed the least formal." While his restaurant is designed with original Art Deco furnishings, patrons by no means dress the period. And that's why Meadow specifically nods to millennials. "This generation wants an experience and does not need formality," he says. You can still mean business even if you're business-casual. No jackets required.
Three-martini? How about no martini?
A close cousin of the power lunch, of course, is the three-martini lunch, a more indulgent, but no less convivial, version of the business lunch. But times change. "We do not see the three-martini lunch the way we used to — aside, of course, from Fridays," says Meadow. Ultimately, he wouldn't recommend ordering booze during a business lunch. The powerful guests he mentioned? They order tea.
Long live the wine and dine
While martinis are off the table, Meadow's next words are encouraging: "It is certainly still acceptable to have wine at lunch!" Again, the Four Seasons asserted this early on, putting a few wines on the menu that diners could order by the glass. "More often than not, there is a comfort or familiarity amongst lunch guests," says Meadow. "Therefore, the candid gesture of enjoying a glass or two of wine with lunch implies an appropriate desire to actually enjoy the experience with one's guests as opposed to just another business meeting."
Taking the check
Who gets the bill? The classic power lunch was contemporary to the now fabled "expense account." While those have all but dried up, Meadow says the logic of who gets the bill is simple: "Whoever initiated the lunch should treat."