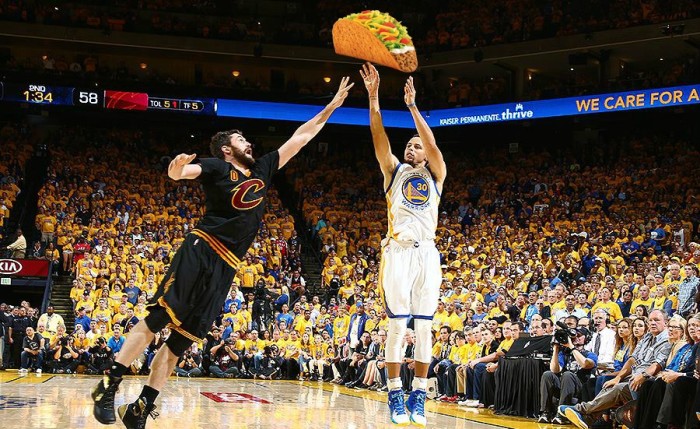 Fans of pro hoops won't be going "in the bonus" when it comes to free tacos this playoff season.

Back on May 26, fast-food giant Taco Bell announced that it would be giving away free Doritos Locos tacos to customers nationwide if a visiting team manages to win a game on its opponent's home turf during the NBA finals.

Sure enough, on June 10, the visiting Golden State Warriors defeated the Cleveland Cavaliers on the road, 108 to 97. And Taco Bell promptly pledged to make good on its end of the deal, announcing that customers could claim their complimentary crunchy prize at participating locations on June 21 from 2 to 6 p.m.

Then, last night, something unexpected: The Cavs came back and won the next game at Golden State, leaving freebie fans to wonder: Do we get two free tacos now?
@DustinFox37 Does this mean Taco Bell owes us two days of free tacos? #daretodream

— Sam Amico (@AmicoHoops) June 14, 2016
Sadly, no. A rep for Taco Bell clarifies that the "Steal a Game, Steal a Taco" promotion is a one-shot deal. "Just one redemption day for one free taco," he tells Food Republic via email. "The promotion was for the 'first' stolen game."
See the contest's full terms and conditions here.
Nonetheless, the NBA championship series continues Thursday night, June 16, in Cleveland.