Houston's Annual Southern Smoke Event Features A BBQ Dream Team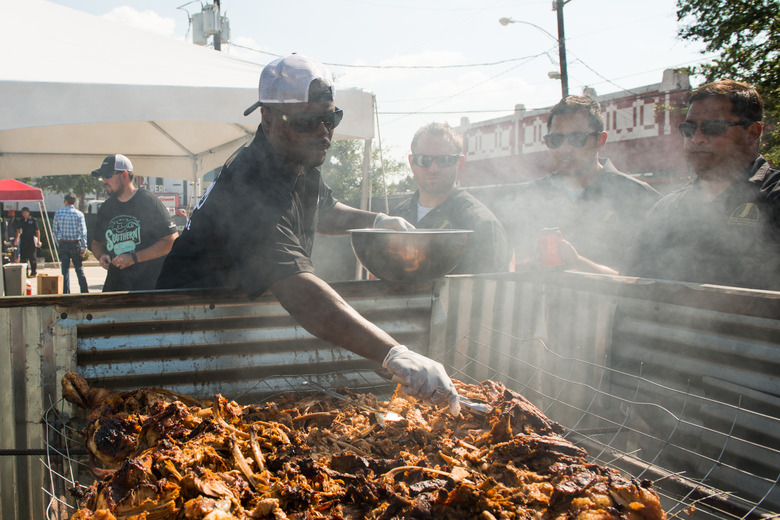 Rodney Scott smoking a whole hog at the 2015 Southern Smoke. (Photo: Catchlight Photogra
For the second consecutive year, Houston chef Chris Shepherd is taking his restaurants Underbelly, Hay Merchant and Blacksmith to the streets and inviting a dream team of Southern chefs to join. The group will raise money for multiple sclerosis research in honor of Shepherd's friend and former sommelier Antonio Gianola, who was diagnosed with the disease in 2014. Last year, the inaugural event raised nearly $184,000 for the MS Society.
So who is involved with this year's barbecue street party on Sunday, November 6? In addition to Shepherd, the impressive talent lineup includes Aaron Franklin (Franklin Barbecue in Austin, Texas), Rodney Scott (Scott's Bar-B-Que in Hemingway, South Carolina), Ashley Christensen (multiple restaurants in Raleigh, North Carolina), Stephen Stryjewski (multiple restaurants in New Orleans, Louisiana), Ryan Prewitt (Pêche Seafood Grill in New Orleans, Louisiana) and Tandy Wilson (City House in Nashville, Tennessee). The HOUBBQ Collective, a cooking collaborative of local chefs who are not professional pitmasters, will also return for a second year.
"Houston is an incredibly generous city and helped us almost double our fund-raising goal last year," says Shepherd. "This year, with this incredible group of talented cooks, the goal is even higher. I can't think of better people to help me honor Antonio and do what we can to fight this disease that has taken such a toll on our industry."
Tickets are available beginning at noon on Monday, September 12. A $200 ticket is good for general admission, while a $350 VIP ticket grants early entry and features premium wines and a gift bag including participating chefs' cookbooks. Visit the charitable event's website for more information.