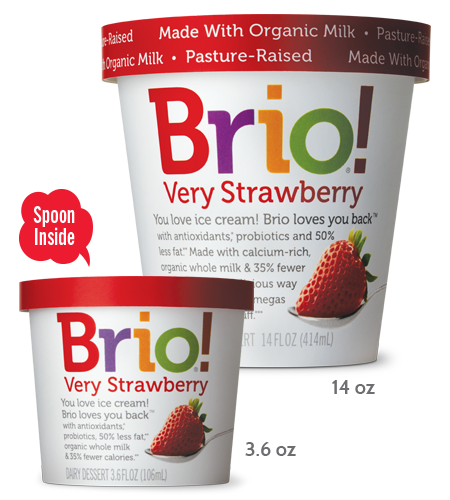 Just because you consumed a giant meal's worth of calories in that pint of ice cream you took down doesn't mean you have a giant meal's worth of nutrition in you. You probably just have a stomachache and some mild to moderate guilt.
Health food industry vets Arnie and Ron Koss, developers of Earth's Best Baby Food, have launched Brio, a new healthy ice cream, into a market where the phrase "healthy ice cream" normally resonates like a hallelujah chorus…and ends in a record scratch and crickets chirping. Many low-fat, low-calorie, dairy-free (the list goes on) ice creams or "frozen desserts" prove watery, grainy and unsatisfying in general. To call these "treats" a poor substitute for the real deal would be an understatement.
"We saw a stagnant category, and we really wanted to do something special," Arnie Koss told FoodNavigator-USA about the product, which launched at the Expo West trade show last March. With around 150 calories, 6 grams of fat, 16 grams of sugar and 6 grams of protein per serving, it nearly halves the "bad" parts of ice cream and pumps up the good.
Joining products like Halo Top, touted as the first ice cream you can eat a full pint of and not feel like dying after, Brio is full of protein, vitamins, antioxidants, probiotics and low in fat, calories and sugar. And it strikes the perfect balance of flavor and texture, with all the nutrition of a balanced meal. This new dessert — or couch buddy, whichever you're in the market for — comes in pints and single servings (tiny spoon included) in six flavors: Very Strawberry, Dark Chocolate, Vanilla Caramel, Tropical Mango, Café Latte and Madagascar Vanilla. Look for Brio in supermarkets throughout the Northeast and Texas soon!