Octopus: You know you want to cook it.

Whether you've tried before and struggled with its rubbery mightiness or can't bring yourself to handle tentacles in general (let alone eight), we've got solutions. Meltingly tender, flavorful, lean and surprisingly affordable, octopus is one protein you should be making on a regular basis. If you think an octopus terrine is too complicated for you to pull off, think again! Start off with a few stories to get your cephalopod engine revved, then hit a well-stocked fish market and pick up an octopus of your very own to make a few of our favorite recipes of all time. If your fishmonger doesn't stock octopus, believe us, he'll be more than happy to order you a nice big one and offer a few pro tips.

We are in the Golden Age of Octopus. It's not clear exactly when it happened, but seemingly out of nowhere, octopus popped up on the menu of every chef-driven restaurant in America. It makes sense. As the economy continues to drive restaurants to cut food costs, octopus has emerged as the perfect protein. Both cheap and satisfying, it's meatier than most seafood and gives chefs the chance to really showcase their skills because octopus is one of those ingredients that's terrible if it isn't perfect. It's a crowd-pleaser, too. For those sick of seeing short ribs and pork belly all over the place, octopus offers a refreshing (and much leaner) change of pace in the cheap protein category. Octopus is the right ingredient at the right time, and now it's having its day in the sun (note: don't leave octopus out in the sun).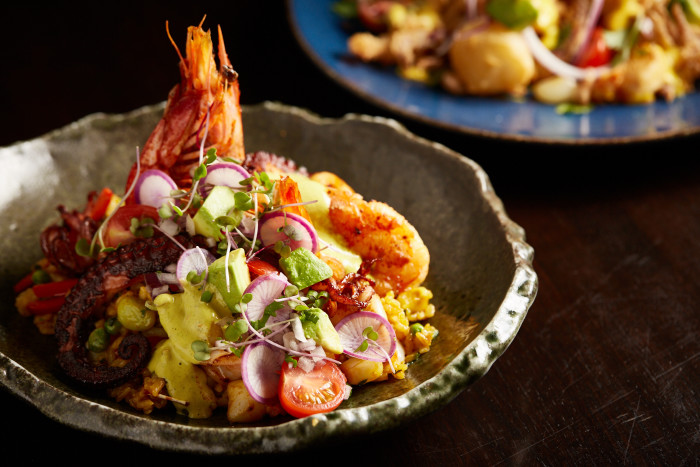 Tanta chef Jesus Delgado is serious about fresh seafood. While he's been getting accustomed to lakefront life in Chicago since the River North restaurant's August 2013 opening, he travels frequently to his home country of Peru. So much so, in fact, that he recently bought a hostel and bar in Mancora, a surf town in the country's northwestern region where he spent nearly all of 2007.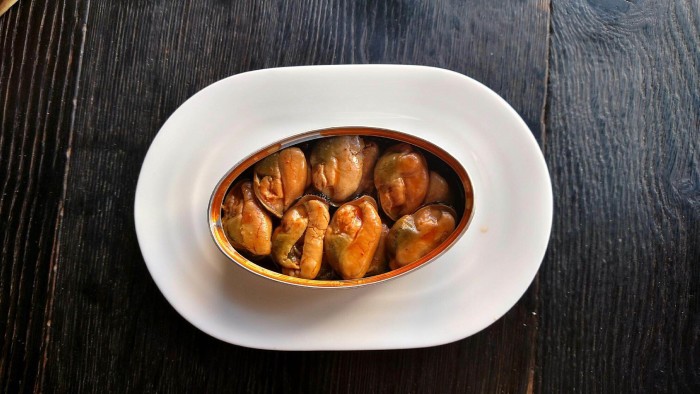 Ashlee Aubin, chef at Chicago's modern Spanish restaurant Salero, is well aware of the stigma associated with canned seafood. "In America, it was always a cheap thing, linked with tuna sandwiches when you were a kid, or a bad experience with a crappy anchovy," he says. "I think some people have been scared off by bad examples because there's not a lot in American culture to get people familiar with it."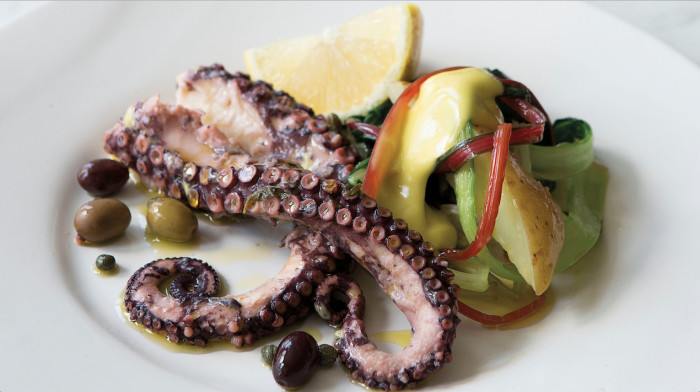 Octopus — cooked slowly until it is meltingly tender — is wonderful to eat, and its long, languid, purple-colored tentacles have a striking appearance on the plate. Scattered with capers and olives, and accompanied by nutty young potatoes and cima di rapa, it tastes perfect at room temperature. As a rule, I am averse to the use of frozen food, but this cephalopod is an exception — octopus that has been frozen first gives a much more tender end result.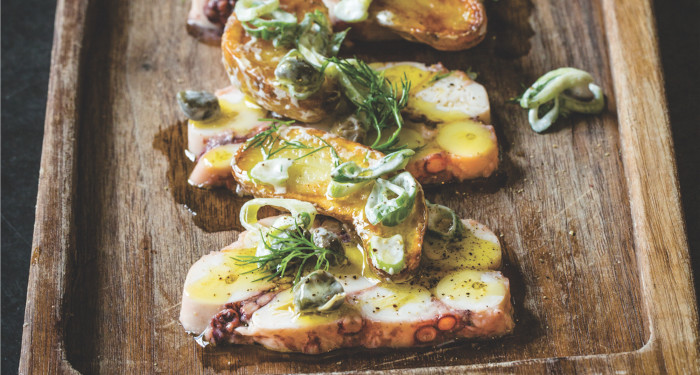 I'm semi-obsessed with the deliciousness of this dish and often find myself devouring it so quickly that I forget all about my wine. However, when I manage enough restraint to stop for a sip, I hope to find a crisp and silky Loire Valley sauvignon blanc in my glass. The subtle grassiness in the wine with the fresh, herbaceous dill in the dish are two peas in a pod, and the salty octopus fits the minerally sauvignon like a glove. If you're feeling earthy and natural, get yourself some Clos Roche Blanche Touraine Sauvignon No. 2, but if you want to peer into the gates of heaven, find a bottle of Thomas-Labaille Sancerre. You will not regret it.
This salad is a celebration of the beautiful combination that is octopus and chorizo — a match made in heaven. It's important that once your octopus is cooked, you let it rest and come to room temperature before grilling. Don't think of grilling as an extra step — it takes only a few minutes and substantially enhances the taste of octopus by creating smoky, crispy bits on the outside while the inside stays tender.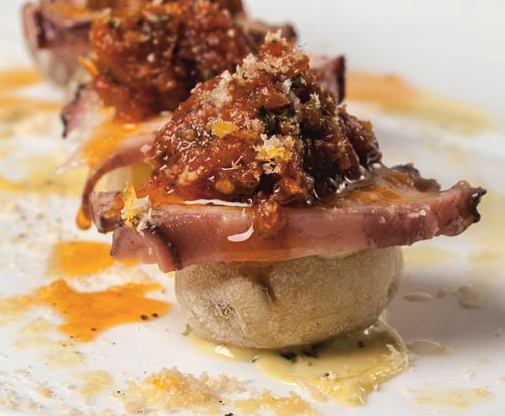 The hardest part of making this recipe is waiting for the octopus to cook. The great thing is, you're under no obligation to hang out while that's happening. Roast the tomatoes for the tomato jam ahead of time (like maybe while you're waiting four hours for your octopus to tenderize) and focus on presentation for a first course that will truly impress your dinner guests.