Get To Know Korea's Hottest Snack: Honey Butter Potato Chips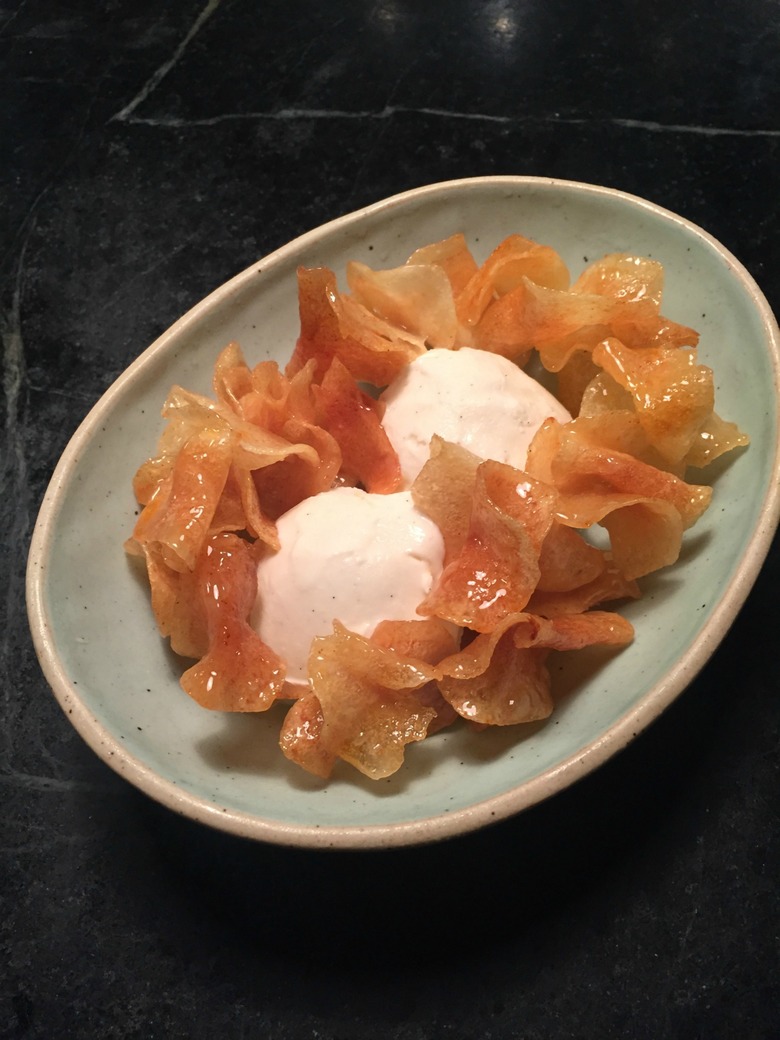 If you haven't gotten acquainted with the honey butter chip yet, here's your chance. (Photo: Oij
The Korean craze over honey butter chips has reached New York City, and it has been summer-fied.
Brian Kim and Tae Kyung Ku at Oiji in Manhattan's East Village are setting up a pop-up in their restaurant dedicated to the chip, which will top ice cream.
"The honey butter chips have been so popular since we opened Oiji that we wanted to offer a summer-friendly version with ice cream that is more accessible to our diners," Kim and Ku write in an email. "We came up with the open-window pop-up, which is reminiscent of the traditional street-style food stalls so common in Korea; the idea is that people can quickly grab and go while out and about."
Honey butter potato chips have become so ingrained in South Korea's popular culture that the craze has its own Wikipedia page. It has also created a sort of black market for those who don't have a Korean supermarket handy. If you Google "honey butter chips," two eBay links are among the top 10 searches.
The chips and ice cream will be available at Oiji's pop-up window between noon and 5 p.m. on Saturday, June 11, and between noon and 4 p.m. on Sunday, June 12, for $10.
For those who'd like to attempt the slightly sweet chips at home, check out the recipe below.
Oiji's Honey Butter Chips
Note: You'll need to soak the potatoes for 6 to 10 hours before making the chips.
Ingredients:For chips
4 medium-sized baking potatoes
Premium oil for frying
For honey emulsion
1/6 teaspoon ground cayenne pepper
1/2 cup honey
1/4 cup rich butter (high percentage of milk fat)
2 tablespoons brown sugar
Salt to taste
Directions:
Peel the potatoes and then slice very thinly with a mandoline. Make sure to keep the thickness the same for each slice to ensure even frying.
Soak the potato slices in water for 6 to 10 hours. This helps loosen the starch and will keep the slices from sticking to each other when frying.
Rinse the slices in running water to remove excess starch and then dry the slices completely on a paper towel. Make sure all water is removed.
Heat oil in a deep fryer or deep skillet to 325 degrees. Add the slices to the oil and work in batches to keep frying equal. Do not overcrowd your chips. Fry them, turning if needed, until each is a crispy golden brown.
Remove them from the oil; drain and cool them.
In a saucepan, combine the honey, cayenne, butter, and brown sugar over medium heat, whisking to combine. Once the mixture is warm, melted, and fully combined, drizzle it over the chips evenly and toss them lightly to fully coat. Serve immediately.