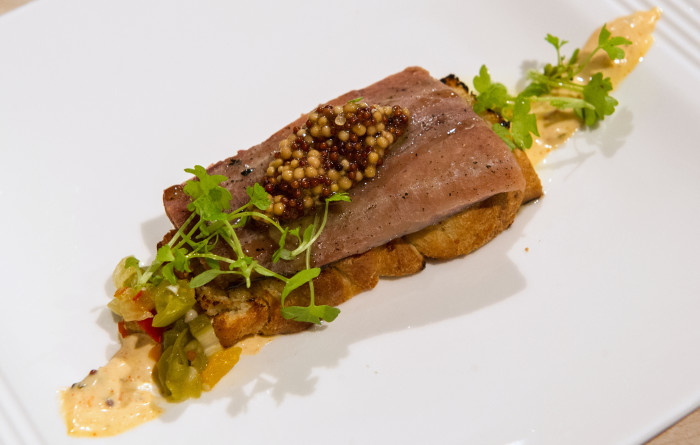 Chef Kenny Gilbert may be most recognizable for television appearances that have included an impressive showing in season seven of Top Chef and a successful turn on a recent episode of Beat Bobby Flay. The Cleveland native's affable personality is on display at all times on TV, but it's his creative culinary approach at Gilbert's Underground Kitchen on Amelia Island, Florida, that has people talking — and coming back for more.
Gilbert is a master of innovation with spices and herbs, having recently come out with his own line of seasonings. It's this prowess that shined through in a recent meal we enjoyed at his eponymous restaurant, one that featured gator ribs, Nashville-style hot chicken and a plethora of smoked meats. It's also over the course of this meal that Gilbert learned about Charcuterie Week here at Food Republic and enthusiastically asked if he could share some of his cured creations with us. He then proceeded to shock the hell out of us by bringing out alligator and mullet. Welcome, ladies and gentlemen, to the vastly untapped world of seafood charcuterie. Break it down for us, Kenny.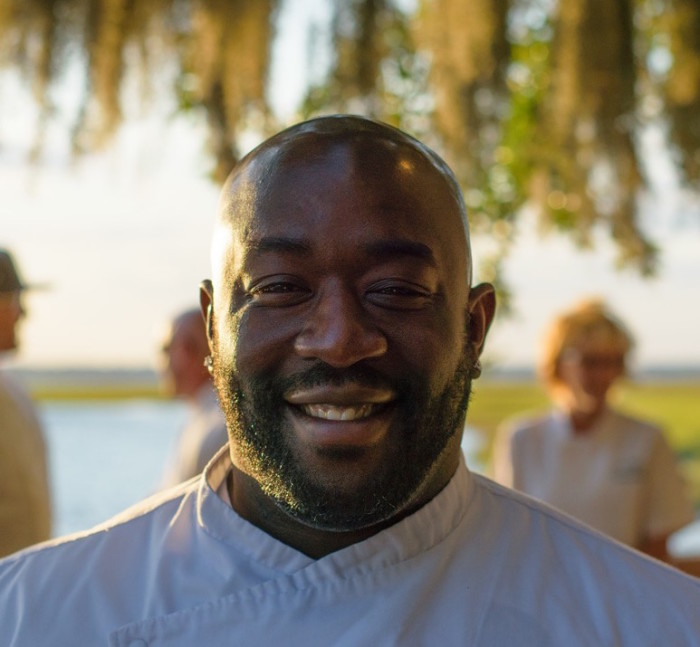 What's the first thing that comes to mind when you hear "charcuterie"?
The art of cured meats. Taking the product and preserving it and treating it like a high-quality product at a very high level to preserve it.
What is seafood charcuterie?
What I'm doing right now, specifically with alligator, is smoking the ribs, then cooking it in water to create its own little stock. I'm pulling the meat, and there's so much gelatin in the ribs that it's sort of like a headcheese texture. Once we get the alligator ribs tender, we pull the meat, remove the cartilage, take that stock, produce a little bit more and add a little bit more gelatin in it — it has the gelatin in it, but not quite enough to make it work. We add some fresh herbs, some capers, mustard and we get this headcheese style.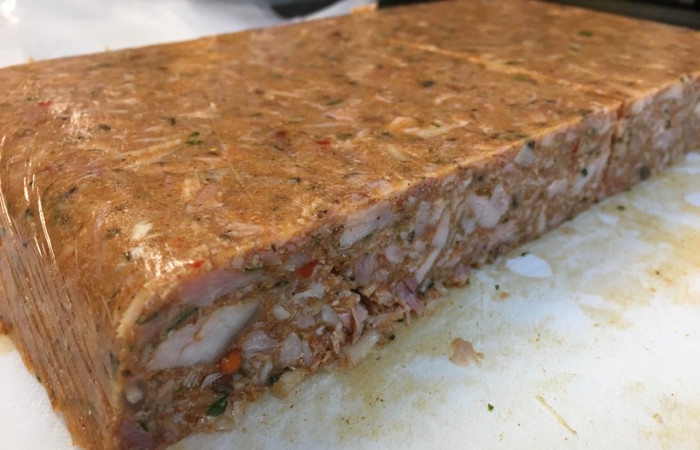 What do you call this end result?
The end result is a Cajun alligator headcheese terrine. We serve it on a grilled country bread. We make our own Benny's cheese bread, focaccia-style bread, and put a slice of that headcheese right on top of it. Then we do a sweet potato chow-chow. We garnish it with shaved radish, some edible flowers and a little olive oil.
Would you say that the alligator is "charcuterie"?
I like to think that it's in the same realm as charcuterie. I was looking at Brian Polcyn's book, Charcuterie, and it shows not only meat, but it also shows making a smoked salmon or smoked trout, things like that. I think when you're talking about preserving a product with salt and sugar, it all falls in the same realm.
Wait a second. Smoked salmon is technically "charcuterie"?
Yes, absolutely.
Is that the only seafood charcuterie you're doing right now?
We also do a smoked, cured mullet. We're literally just doing a quick cure — it doesn't have any kind of pink salt or anything. It's equal parts salt, brown sugar and my fried-chicken seasoning, then we serve it with a lot of black pepper, mustard seeds, corianders, you name it. We put that all on the fish and let it cure for about an hour and a half to two hours, depending on the size of the fish. Then we hot-smoke it for about 10 to 12 minutes, run it around 320°F.
Do you have any ideas for future items in this realm?
I've played around with a gator tasso. I've taken the tail and the tenderloin of the alligator and treated it like a tasso ham where you salt-box it. You take your salt and sugar and finger salt and let it cure for six hours, then you rinse it all off the meat. And this pack of gator spices that's hot-smoked at a temperature of 365°F.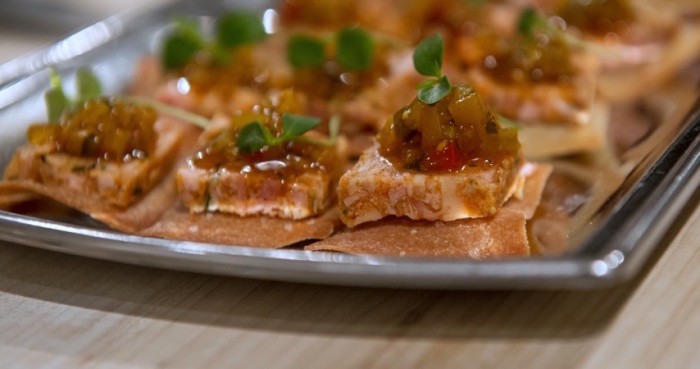 How did you come up with this idea for alligator headcheese?
I started off doing traditional charcuterie at the restaurant. It got to the point where I felt like I was talking to a lot of the old-timers here, and they were talking about mullet and Lowcountry seafood. When I started introducing the gator ribs back into the mix at the restaurant, I was playing around with it and with my gator ribs, I always get all that water as soon as I finished it in the oven. When I let it cool down overnight, I would notice the gelatinous properties coming from the gator fat. So I said, "This would be an amazing terrine." I went ahead and did that, and when I went to the James Beard House [in New York], that's the first time I did it.
Do you think seafood charcuterie will ever challenge traditional charcuterie in terms of popularity?
I think it should. I think chefs can do an amazing job regionally with it. There's so much gator here in northern Florida. I imagine they could do something in Hawaii, something up north. I think charcuterie is a lost art that has come back. I respect it totally, and I think if you can expand your mind beyond the norm of a guinea hog and make a bunch of charcuterie like that, how about we get a beautiful fish in and make a terrine?
Presented by