Downtown Pittsburgh is home to Butcher and the Rye, a New American meat-centric restaurant by chef-owner Richard DeShantz, which has been nominated twice for a James Beard Award for Outstanding Bar Program. In the kitchen, you'll find chef de cuisine and chief charcutier Dan Carlton. There's a farmers' market two blocks from the restaurant, where you'll find Carlton selecting greens, vegetables and elements to incorporate into the restaurant's vast charcuterie program. And there's a special place in his heart for…heart. If your only idea of pepperoni is oily slices on a piece of pizza, prepare to have your mind blown.
Tell me about working with beef heart in charcuterie. I once had a fried pig heart and cheddar bologna sandwich in Charleston that pretty much completed my life.
CARLTON: Heart is more a muscle than an organ, so it's super rich and beefy-flavored, super iron-heavy, and that all really comes through. We've done everything from pepperoni to cured beef heart bresaola. We work with a lot of local farmers who bring us cuts that aren't selling. Once we got five beef hearts, turned a bunch into bolognese, had one left and just came up with the idea of curing it like bresaola.
Does the inclusion of an "advanced" ingredient like beef heart turn anyone off to ordering the charcuterie board? 
We don't really give them an option — if they order a plate and we're doing beef heart, they're getting it. Once people taste it, they're much more open. Beef heart in pepperoni form is much more approachable.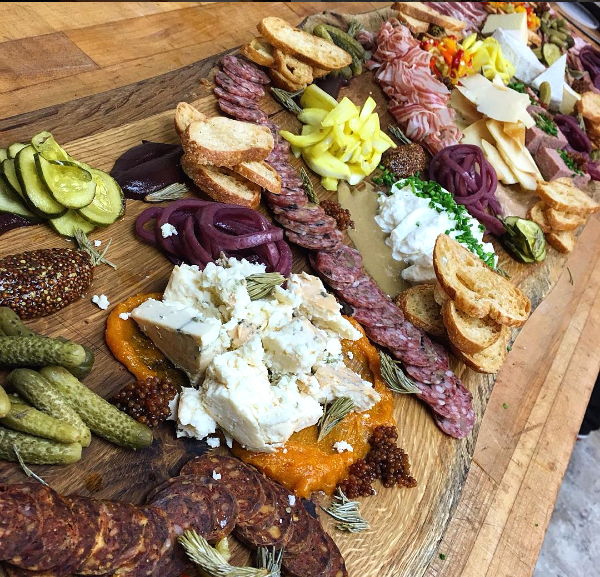 What was the first charcuterie you ever made? How did it go? 
We built our own curing room in a closet that wasn't being used, then made finocchiona, tartufo (truffle salami) and chorizo. And surprisingly, we hit a home run from the start. There have been some hiccups along the way — we came in one day and our whole controls were down, no air conditioner or dehumidifier, so it was 90 degrees and humid. We lost everything. I know people who have gone through the same thing, and whether it's a power outage, a circuit blows or something like that, they end up with a steam room, everything's ruined and it takes months to catch back up.
You make all your condiments in house. Let's do some word association. Tell me the first pairing that comes to mind. 
Finocchiona.
Pickled onions.
Soppressata.
Apple mustard.
Beef heart pepperoni.
Pickled peppers. That is the perfect late-night snack, beef heart pepperoni and pickled peppers.
Crispy pig ears.
Sweet honey mustard. Sweet and sour pickled mustard seeds.
Serrano ham.
Violet mustard.
Pancetta.
Apricot marmalade.
How about incorporating charcuterie elements into composed dishes, like your beef tongue ravioli? 
We try to use funkier meats and pair them in a more approachable manner. Putting beef tongue in something familiar like ravioli makes it easier for the masses to wrap their minds around beef tongue. If you put it on the plate as-is, or even sliced, it's less approachable. It's less scary if you put it in something people already love.
What has been Pittsburgh diners' reaction to the rise in popularity of charcuterie? 
You gotta try it, is the best thing I can say. Pittsburgh used to be a meat-and-potatoes town. You'd never be able to sell beef hearts and tongue, but now we don't think twice before putting it on a menu.
What's your go-to pairing for Butcher and the Rye's charcuterie board?
We're well known for our whiskey here, so a good whiskey cocktail — Boulevardier or Manhattan — would be fantastic. You get smoky and earthiness out of whiskey, so it pairs well.
What's on the board tonight?
Some beef heart pepperoni, some lomo, some bresaola — I just pulled down our lamb and ramp soppressata that may find its way on tonight.
Which element of the board do you identify most with, and why?
I have to say the beef heart. It's honestly been one of the things we always keep around because when anyone tries it, it's just fantastic. I haven't seen it at too many places — it's something special we do. I'm sure it's out there somewhere, but it really makes our board shine.
If you were to die and be made into charcuterie, what would it be?
I'd be a big old leg of prosciutto, something that's going to need to hang for a while and then savor and enjoy.