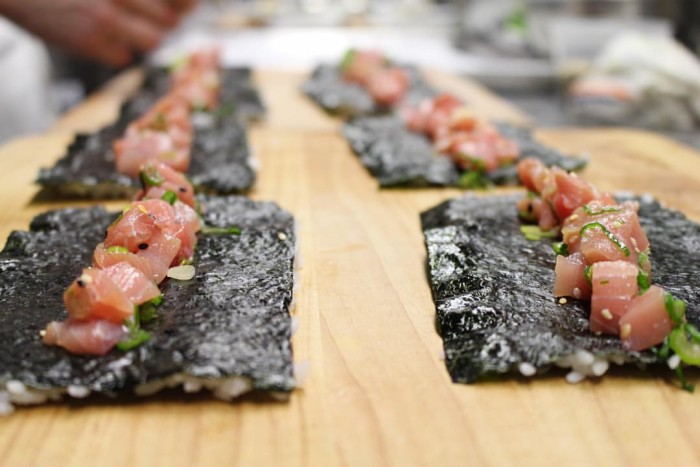 A few years ago, music executive turned food blogger Steve Plotnicki set out to devise an all-new rating system for restaurants. He envisioned it as a more accessible alternative to the aloof views of the anonymous professional reviewers at Michelin Guide, but also better informed than the common gripes of the average joes on Yelp. And so he developed a considerable community of "highly literate connoisseurs of the culinary arts who travel the world to experience the art of food" — that is, by and large, rich guys — and now compiles their opinions into a yearly survey on his website, Opinionated About Dining.
Now in its fifth year, Plotnicki's annual ranking of America's best restaurants just went live. And which illustrious dining room wowed the vast majority of Plotnicki's well-heeled critics in 2016? The same one they raved about in 2015, it turns out, and also in 2014, for that matter. For the third year running, San Francisco's Saison snagged top honors, with Washington state's Willows Inn coming in at no. 2 — same spot it occupied last year as well.  There is, however, some movement in the top 5. Manresa in Los Gatos, California, moves up this year from no. 4 to no. 3, replacing Urasawa in Beverly Hills, which drops all the way down to tenth place. Chicago's Alinea, meanwhile, jumps three places from no. 7 to no. 4, while Damon Baehrel at the Basement Bistro in Earlton, New York, makes the highest debut in the list's short history at no. 5.
Also notably different this year: The list itself has shrunk in half, from 200 mentions to 100.
Here is the full list for 2016:
1. Saison, San Francisco, CA
2. Willows Inn, the Lummi Island, WA
3. Manresa, Los Gatos, CA
4. Alinea, Chicago, IL
5. Damon Baehrel at the Basement Bistro, Earlton, NY
6. The Restaurant at Meadowood, St. Helena, CA
7. Blue Hill at Stone Barns, Pocantico Hills, NY
8. Sushi Taro (Omakase Counter), Washington, D.C.
9. Catbird Seat, Nashville, TN
10. Urasawa, Beverly Hills, CA
11. minibar by Jose Andres, Washington, D.C.
12. Chef's Table at Brooklyn Fare, Brooklyn, NY
13. é by José Andrés, Las Vegas, NV
14. Aubergine, Carmel-by-the-Sea, CA
15. Eleven Madison Park, New York, NY
16. Blanca, Brooklyn, NY
17. Jean-George, New York, NY
18. Tempura Matsui, New York, NY
19. Masa, New York, NY
20. Kyo Ya, New York, NY
21. Benu, San Francisco, CA
22. Sushi Yasuda, New York, NY
23. Sushi Nakazawa, New York, NY
24. Kuruma Zushi, New York, NY
25. Providence, Los Angeles, CA
26. Castagna, Portland, OR
27. Elements, Princeton, NJ
28. Grace, Chicago, IL
29. McCrady's, Charleston, SC
30. Momofuku Ko, New York, NY
31. Schwa, Chicago, IL
32. Trois Mec, Los Angeles, CA
33. Coi, San Francisco, CA
34. Next, Chicago, IL
35. Ichimura at Brushstroke, New York, NY
36. Atelier Crenn, San Francisco, CA
37. Hugo's, Portland, ME
38. Marea, New York, NY
39. 42 Grams, Chicago, IL
40. Oxheart, Houston, TX
41. Nozawa Bar, Beverly Hills, CA
42. Sanford, Milwaukee, WI
43. Sushi Zo, Los Angeles, CA
44. Commis, Oakland, CA
45. Square Root, New Orleans
46. Soto, New York, NY
47. Quince, San Francisco, CA
48. Betony, New York, NY
49. The Bazaar, West Hollywood, CA
50. Birch, Providence, RI
51. Mourad, San Francisco, CA
52. Contra, New York, NY
53. Komi, Washington, D.C.
54. Blue Hill, New York, NY
55. Minetta Tavern, New York, NY
56. Gunshow, Atlanta, GA
57. Mori Sushi, Los Angeles, CA
58. Totoraku, Los Angeles, CA
59. Semilla, Brooklyn, NY
60. Nomad, New York, NY
61. Carnevino, Las Vegas, NV
62. Craft, New York, NY
63. Luksus at Torst, Brooklyn, NY
64. Frasca Food & Wine, Boulder, CO
65. Estela, New York, NY
66. Sixteen, Chicago, IL
67. Orsa & Winston, Los Angeles, CA
68. Ink, West Hollywood, CA
69. Chi Spacca, Los Angeles, CA
70. Q Sushi, Los Angeles, CA
71. O Ya, Boston, MA
72. Mélisse, Santa Monica, CA
73. Commonwealth, San Francisco, CA
74. Uchi, Houston, TX
75. Volt, Frederick, MD
76. Uni, Boston, MA
77. Goosefoot, Chicago, IL
78. Shuko, New York, NY
79. Blackberry Farm, Walland, TN
80. Sons & Daughters, San Francisco, CA
81. Miyake, Portland, ME
82. El Ideas, Chicago, IL
83. Alter, Miami, FL
84. Gramercy Tavern, New York, NY
85. Niche, St. Louis, MO
86. Maude, Beverly Hills, CA
87. N'Naka, Los Angeles, CA
88. Ardent, Milwaukee, WI
89. The Modern, New York, NY
90. Gabriel Kreuther, New York, NY
91. Barley Swine, Austin, TX
92. Fork, Philadelphia, PA
93. Californios, San Francisco, CA
94. Babu Ji, New York, NY
95. Shaya, New Orleans
96. Piora, New York, NY
97. Roe, Portland, OR
98. Cosme, New York, NY
99. Elizabeth, Chicago, IL
100. Baumé, Palo Alto, CA