How Wine Found Its Way Back Into Charcuterie-Making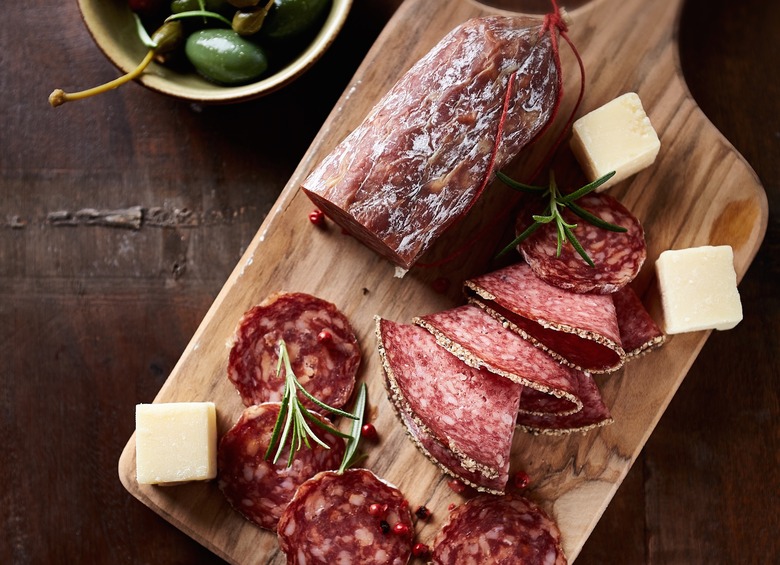 Nothing on earth goes better with charcuterie than a crisp Chenin Blanc or a hearty Barbera, so what could possibly be better suited for producing cured meats than wine? Thankfully, more and more butchers and chefs are coming to realize the value of curing or cooking animal flesh with fermented grape juice. But this delightful infusion of gourmet indulgences is no new trend: It's actually a rediscovered tradition.
Jordan Urbani, co-owner of Urbani Foods — a Canadian gourmet appetizer manufacturer — says the practice of infusing charcuterie with wine goes back many generations. "My grandfather basically grew up a peasant boy in Italy, and when they would make [charcuterie]...wine was just an extra flavor enhancer," he attests. "It was their homemade wine, the stuff that they had around." Today, the Urbani family produces an Argentinian chorizo made with Spanish paprika, chilies, oregano, and red wine at Salumist, the company's sales outlet for charcuterie and related goods. "You take your [ground] pork mixture, mix it with the wine, let it steep for at least five hours, and then that's stuffed into a casing and aged for 88 days," he explains.
"It kind of goes back to the philosophy of 'If it grows together, it goes together,'" says Chris Thompson, executive chef at soon-to-open Coda di Volpe in Chicago and formerly of A16 in San Francisco. "You're raising pigs on your farm; you're growing grapes on your farm. The wine gets fermented and put into barrels, and then you kill your animals, salt them and hang them in the same cellar where you're cellaring your wine. It makes sense that [wine infusion] has been going on for a long time."
Thompson makes his own finocchiona, salami and pepperoni with wine and meat from Berkshire pigs, appreciating how the environments in which both ingredients are cultivated are expressed in the final product. "Because [Berkshires] have such nice fat, they pick up a lot of the flavors of the food that they're eating," he explains. "If they're raised in orchards and eating a lot of downed apples, walnuts and acorns, those flavors definitely are expressed in the meat. The flavor of the terroir of the pig is meant to play with some of the nuances of the terroir provided in the wine."
Winemakers also understand the beverage's close relationship with animal fat. "My father used to complain to the butcher if there was not enough fat on a cut of meat," remembers Roman Roth, a winemaker for Wolffer Estate in Sagaponack, New York, since 1992. "Yet a cheap butcher will [allow] too much fat! It's all about finding the right balance. Wine and its acidity and tannins can help bring that balance." This is especially the case for less expensive cuts of meat, which are often used to make sausage.
Roth suggests rich and concentrated wines with lots of tannins and structure, such as Wolffer's Fatalis Fatum Red Blend, to give weight and balance to charcuterie. Meanwhile, the rich flavors of the merlot and cabernet sauvignon in this wine can stand up to the spices typically found in a good sausage and bring out additional aroma, flavor and texture from the meat. 
This is why executive chef Shane Graybeal of BIN 36 in Chicago rinses his cured pork belly with a bold red wine heavily infused with fresh garlic. To do so, he adds the wine to a mister or atomizer and sprays it on the surface slowly to keep the meat moist.
"The wine's flavor mixes well with the herbs and spices but also helps in the formation of a pellicle [a surface coating of proteins], which makes the smoke bind to the surface of the meat," says Graybeal. As the salt and cure penetrates, it pulls in the wine flavor from the surface of the charcuterie. 
Charcuterie makers use dry white wine, too, as in the case of soppressata, a sausage pressed with coarsely ground fat. And Dave Crinieri, executive chef at Tuscan Market in Salem, New Hampshire, makes guanciale, a whole-muscle cure that isn't ground, so it can't be infused. Instead, it's washed with white wine before it's hung. As Crinieri describes it, "We make a spice blend with sel gris [French grey sea salt], black pepper and fennel, pack it in the cure for two weeks, then remove it from the cure and wash off about 60 percent of that cure with white wine and lemon juice. Then we tie them up and hang them in our salumificio [drying chamber] until we feel they're ready."
Wine infusion isn't limited to pork-based charcuterie, either. After braising an octopus in red wine for octopus carpaccio, Crinieri removed the gelatinous parts and much of the braising liquid and rendered it down to an aspic. "Octopus was definitely still at the forefront, but you needed that wine to round it out," he points out. "Had I just done a straight octopus aspic, it would have been one-note, very overpowering." Next, he plans on doing a bresaola — cured beef — with a wash in red wine.
Many of these chefs rely on input from sommeliers in order to find the perfect wine for the job. One such chef is Francis Derby, who works Riesling into his lamb and Gruyère sausage at the Cannibal in New York City. Though the recipe had always called for white wine, he wondered if he could find a particular varietal that would better complement the dish. "I stopped myself and was like, 'Hold on: Why don't we think a little further on this, and not just grab the box of white wine from dry storage,'" he recalls. "'Let me talk to the sommelier and see where else we can go with that.'"
Collaboration isn't limited to wine experts and chefs; kitchens have been incorporating beer and booze into dishes for centuries, and cicerones (beer sommeliers) and bartenders have plenty of influence, too. "We include apples in our chicken liver pâté, so I deglaze that with — instead of Cognac — Calvados [French apple brandy]," says Derby. "We use an IPA for a mustard for one of our sausages. It's always a conversation [with beverage staff]." Similarly, Urbani Foods makes beer salami with a hoppy, bitter beer from a local brewery in Vancouver. But infusing liquor into charcuterie is a bit trickier, because highly concentrated alcohol can kill the bacterial culture used to cure the meat. For this reason, chefs must stick to the same ratio of liquid to pounds of meat each time. 
In adding wine to charcuterie, a chef is employing one fermented product to further ferment another, which is exactly what gets Crinieri most excited. "You can drive so many complex flavors out [with] fermentation," he says. "You're basically making the meat go sour, and then it becomes its own living, breathing thing after that. You can see as it ages how the mold really starts to change. If it never soured correctly, you'd just have bad, unhealthy mold. There's a fine line."
Because of just how fine that line is, most commercial meat processors avoid slow curing altogether, so as not to risk spoilage or waste production time. "What Americans were used to as salami is very different than what we have available now," says Jennifer Johnson, director of marketing for cured-meat purveyor Olli Salumeria. "Most of the stuff you'd find in the [United] States was a hard salami that had been heat cured, not slow cured. The ingredients and process were different; it wasn't as authentic."
Crinieri agrees, pointing out that salami not only costs more to make with wine, but that the wine's subtle nuances would be lost on an industrial salami anyway. "You're forcing the process when you do a heat cure," he says. "Charcuterie is something that you can't rush if you want it to be proper, and you need those flavors to develop, including the wine. To do things the Old World, proper way, you can't rush it. It's a flavor investment."
Olli Colmignoli, founder of Olli Salumeria, comes from an Italian family that had been using Sangiovese wine in all of its artisanal salami for more than a century and a half. "[Colmignoli] was wondering why he couldn't get any good prosciutto or salami here in the States, so he started his own company, making those things that he would normally be able to get in Italy that he couldn't find here," explains Jennifer Johnson. "Salami, traditionally, has been made with wine forever."
Thankfully, more and more producers are getting back to traditional ways, blending wine into their fermented sausages, and allowing them to age with mold in a drying room for weeks on end. Such Old World production techniques seem to be coming back across many industries. "When I was younger, cheese was something that you bought at the deli counter, or it came in a big rectangular block," Johnson recalls. "Now, even the simplest of groceries have a huge assortment of cheese with real mold on it. I think salami and artisanal meats are taking off the way that artisanal cheese took off years ago."
Let's just hope they're finally here to stay.